Wellbeing, Dignity and Respect
We are committed to creating a workplace that promotes wellbeing and challenges poor behaviour, as we know that can have a detrimental impact on staff wellbeing.
Wellbeing
We have a strong commitment to wellbeing, recognising that a good working environment can positively impact on the health and wellbeing of our employees. We want to create a culture where we talk openly about our challenges and where we signpost to appropriate support.
Some of our wellbeing highlights over the last year include:
Finalists in the Highways Awards in the Mental Health & Wellbeing Award category.
Improved our Wellbeing Hub to be a central location for resources, self-help tools and signposting.
Trained 24 colleagues to be Wellbeing Champions.
Reviewed and updated our Wellbeing Strategy.
Established Wellbeing Advocates in each directorate senior leadership team to sponsor and support wellbeing champions.
Renewed our Mindful Employer Charter.
Designed and launched a Wellbeing Dashboard to monitor wellbeing across the organisation.
Created a 'Cost of Living' hub to signpost employees to support available including financial advice.
Expanded our wellbeing learning opportunities to include Mental Wellbeing at Work.
Regular communications under our 'Five ways to wellbeing campaign' focusing on themes such as Christmas time, loneliness, anxiety, suicide awareness and World Mental Health Day.
46 employees have participated in our wellbeing workshop and 50 managers have participated in Connect 5 training (a mental health and wellbeing programme designed to increase confidence and skills).
Mental Health First Aiders
The Met Office's Mental Health First Aider team is an information and signposting support service for employees and managers. Our team of 30 volunteers are trained to recognise the signs and symptoms of common mental health issues and provide help on a first aid basis, signposting to appropriate support. In the last year, our Mental Health First Aid team has undertaken refresher training to improve their knowledge and practice.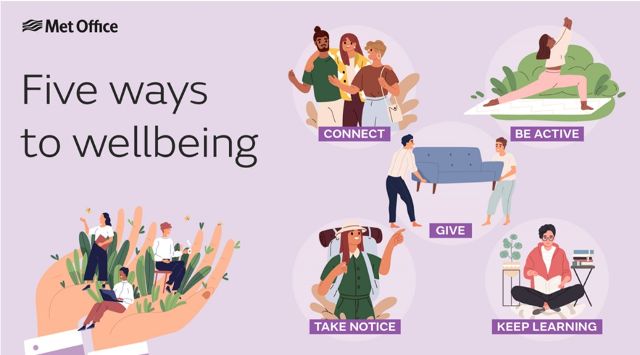 Dignity and Respect
Bullying and harassment undermine dignity and respect and we have a zero-tolerance approach to such incidents. We want a workplace where staff, contractors and visitors have the confidence to report harassment or bullying without fear of victimisation.
We have a network of Dignity and Respect at Work Advisors (DRaW), members of staff who volunteer their time to provide a confidential and informal service to staff on issues relating to unacceptable behaviour including bullying, harassment, and discrimination. Volunteers provide a listening ear without judgement and signpost to sources of support and next steps.
In the last year, we have been working with the DRaW volunteers to identify training needs and improve monitoring, so we can better understand the number of people contacting DRaW and the reasons why.
We used Anti-Bullying Week to also raise awareness of DRaW and other sources of support such as our Employee Assistance Programme through a toilet door poster campaign across our office locations.
As members of Exeter Community Safety Partnership, we signed the Exeter Safety of Women at Night Charter. The charter unites organisations in developing a whole-city approach to keeping women and girls safe at night in Exeter. The charter includes a number of pledges that we are keen to support, such as:
Supporting our staff by creating clear routes for reporting unacceptable behaviour while at work.
Designing for safety - auditing our spaces and adapting them to promote a safer environment.
Changing the conversation with regular conversations about women's safety.
We are working with our networks to develop actions for the year ahead.
Our Programmes directorate have developed a Building Respect pilot, which uses ambassadors across the directorate to facilitate conversations within teams about acceptable and unacceptable behaviours. A toolbox of resources is currently in development to support ambassadors in this role.  The aim of the pilot is to encourage a culture where everyone receives respect, can work effectively, and voice their views and perspectives.