Catrina's career in Applied Science
Catrina Johnson, Applied Science Manager, shares her varied career path after starting out as Rainfall and Evaporation Calculation System section.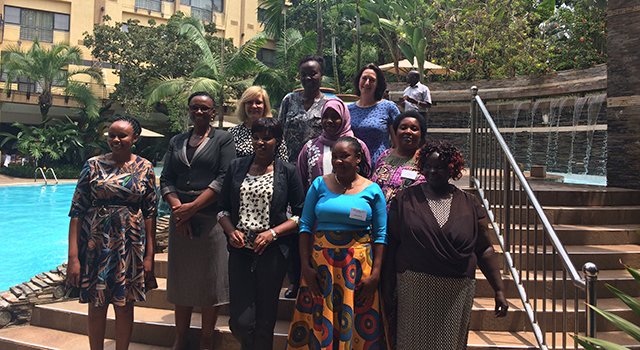 What do you do and why is it important? 
I am a Science Manager within Applied Science with a focus on weather timeframes. Currently, a large proportion of my time is as lead for the Asia Regional Resilience to a Changing Climate (ARRCC) Impact Based Forecasting (IBF) work package. I also lead a team which has a focus on the road sector in the UK and has a strong expertise is Geographic Information Systems (GIS). In addition to this I am the Science Lead for wildfire risk in the UK, marine work with the UK Hydrographic Office (UKHO) and the Met Office Rainfall and Evaporation Calculation System (MORECS) service to the Environment Agency. I'm also on the expert panel of the World Meteorological Organization (WMO) Standing Committee for Agricultural Meteorology.
My work is important as it directly relates to solving customer and stakeholder problems. My work on ARRCC is to enable an increase in capacity and capability of National Hydrological and Meteorological Services (NHMSs) in Nepal, Pakistan, Afghanistan and Bangladesh together with developing IBF services. The overall aim is to improve the resilience of vulnerable communities by increasing the confidence of the forecast and delivering it to them in an understandable and actionable format.
Tell us a bit about your career journey…
I studied Pharmacy at university but then decided that I wanted to work in the more applied side of science, so I joined the Met Office in 1988; back when HQ was based in Bracknell. My first role was in the Met Office Rainfall and Evaporation Calculation System (MORECS) section. In 1990, I went on a secondment to ADAS (who were then an agency of the Department for Environment, Food and Rural Affairs (DEFRA)) in the Agromet Unit based in Wolverhampton. The secondment lasted 14 years. In this role I undertook research and development of new services including the leaf fall forecast for Network Rail.  I also utilised short range dispersion models to model the dispersion of odour from new pig and poultry units. This was used to measure their potential impact on the local environment.
I returned to HQ following the move to Exeter in 2004. I joined the Science Outcomes team where I further extended my use of dispersion models to Numerical Atmospheric-dispersion Modelling Environment (NAME) I was also involved in the development of the Met Office Fire Severity Index which models the severity of wildfire in the UK. I took up my first management role in 2005 leading the Central Climate Unit team who were responsible for delivery of all ad-hoc and routine data services to customers across all sectors. It also included a group of Expert Witness Specialists who provide meteorological-based legal reports for both land and marine sectors.
In 2007, I took over the management of the Scientific Consultancy Group and led a wide range of projects which related customer business to weather. While in this role, I started work in International Development in 2016 with initial work with Tanzania and Rwanda NHMSs. From November 2018 I took on the role of Work Package Lead for IBF in the ARRCC programme. This involves a large amount of customer and stakeholder engagement. It has resulted in visits to Sri Lanka, Nepal, Bangladesh, Pakistan, Thailand, India, United Arabic Emirates and Turkey.
In addition to this, in 2017 I was the joint co-ordinator for the Athena SWAN submission, and together with the Self Assessment Team (SAT) the Met Office achieved a Bronze award. This was a big achievement as the success rate was only 57%  due to very strict criteria. The associated action plan has resulted in changes including flexible working locations on all job adverts and mixed gender interview panels.
What's the best piece of career advice you have received?
The best advice I have received was to 'stick my neck out' and look for opportunities. I received this from a professor at the University of Orange Free State, Bloemfontein, South Africa. This highlighted to me that you can't wait for someone to tap you on the shoulder, you need to take personal ownership of your career. She gave me a keyring of a giraffe to symbolise this and I carry it in my work backpack as a reminder.
What do you enjoy most about what you do? 
I really enjoy meeting customers and stakeholders and then developing consultancy or services to help improve their business or resilience. I also enjoy travelling, visiting new countries and learning about different cultures across the world. It gives me a sense of achievement that the work of the Met Office has tangible benefits across the globe.
Who has inspired you most in your career?
My manager when on secondment to ADAS inspired me to relate meteorology to problems faced by customers and stakeholders. He was always developing ideas based on conversations with clients; many were successful e.g. the leaf fall service. This highlighted that meteorology impacts all sectors of work and life. It is the role of an Applied Scientist to translate research into solving customers and stakeholders' real-life problems whether that be through clearly understandable consultancy reports or actionable forecast services.