Clare's career in Media
Clare Nasir, Senior Broadcast Meteorologist, Content Producer, Media Trainer and Channel 5 Weather Presenter discusses her career to date.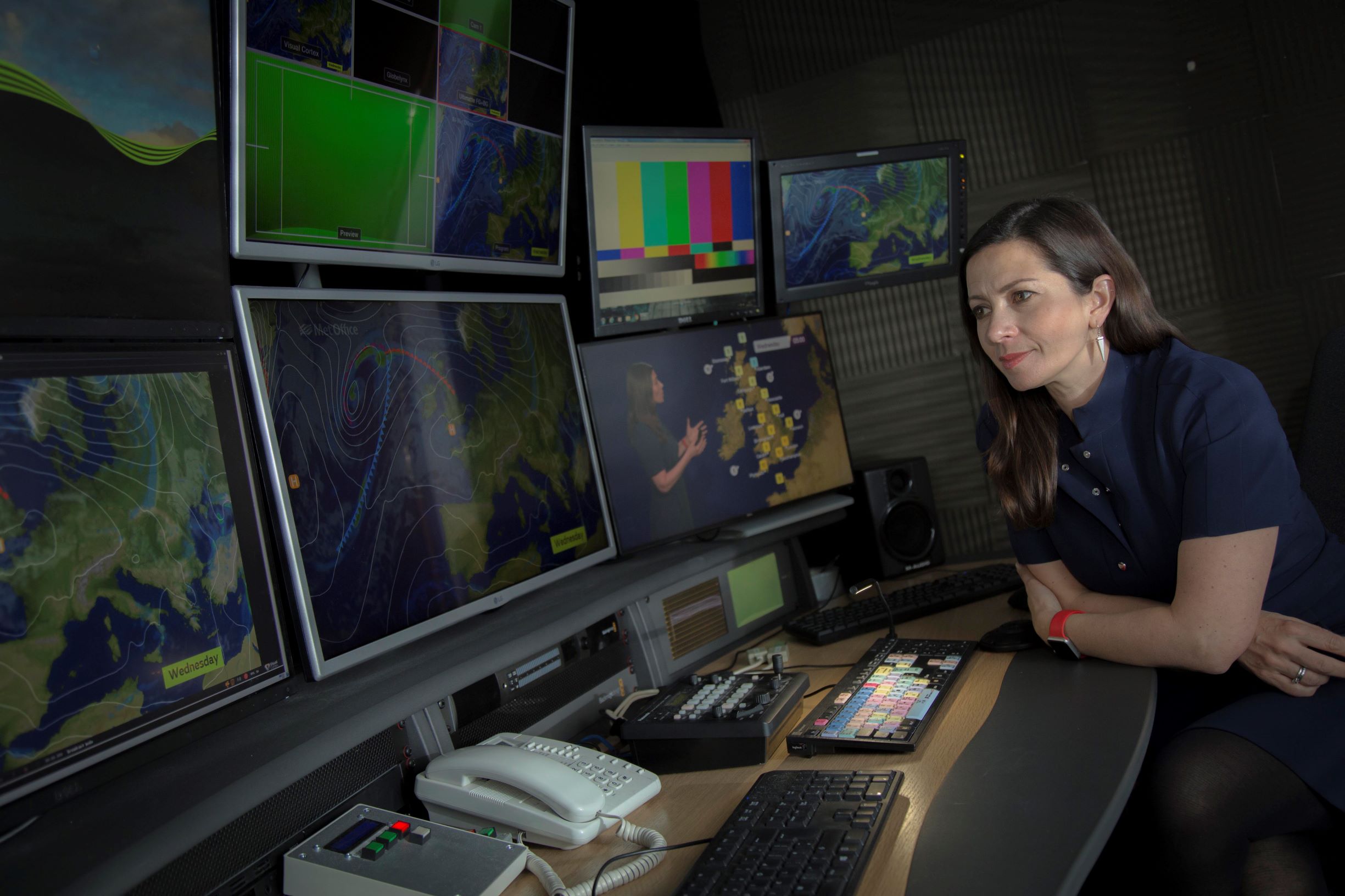 What do you do and why is it important? 
I love science; learning about it and talking about it.  Working in weather every day keeps my mind  stimulated and challenged. The media bias to my job means I can talk about my passions every day. There is something very empowering about being part of the world of meteorology with clever people who live and breathe the subject. I am continually humbled by how much I don't know, but always inspired to learn something new – which I do daily. There is a rhythm to my daily work; an innate understanding of the dynamics of the sky and an openness to listen to experts as they impart their wisdom.
Climate and meteorology are incredibly important and relevant subjects to every person on this planet. My role as a Communicator of weather and climate means that I translate tricky concepts into an everyday language – so that they become relevant.
Tell us a bit about your career journey…
I joined the Met Office in 1994, where I trained as a Meteorologist, IFC, and AFC and spent 7 years at different weather centres working shifts alongside TV and radio work; first in the Anglia region and then progressing to ITN. I decided to leave the Met Office in 2000 to pursue the next stage of my career as a Weather Anchor/Producer at GMTV where I stayed for 11 years, before moving to CBBC in 2012 for 2 years as a Co-Presenter of an environmental science show called Fierce Earth, which investigated how people live day to day in extreme environments, mostly on location around the world. Whilst at CBBC, I completed a Maths degree focusing on fluid dynamics, an Oceanography Masters and a Post Graduate Diploma in International Environmental Policy.
After that, I was a BBC Weather Presenter for 2 years and a Weather Channel Weather Presenter for 6 months before returning to the Met Office in 2016 as a Senior Broadcast Meteorologist, Content Producer, Media Trainer and Channel 5 Weather Presenter which is still my role to date. During this time, I also co-hosted the BBC 5 Live Podcast "Under the Weather" with Simon King.
As well as my more formal career path, I've had 5 books published – 4 children's books on weather including Colin the Cloud, and a book for older readers called What Does Rain Smell Like? which was published late last year.
What's the best piece of career advice you have received?
The weather is the star of the show, not you. – Jim Bacon (BBC presenter and weather guru)
Genius is 1% inspiration, 99% perspiration – Thomas Edison
What do you enjoy most about what you do? 
I love working with my team and extended teams here in the Met Office; their dedication, passion and knowledge is infectious. There's tangible buzz to our work, and we love it.
Who has inspired you most in your career?
My mum – total belief in everything I ever wanted to do. Thanks MUM!