Clive Rimmer: "Why I joined the Met Office as an Enterprise Architect"
I joined the Met Office in February 2021 after 36 years at a US financial services company.
I joined the Met Office in February 2021 after 36 years at a US financial services company which provided business information and credit scores.  I had worked in many roles, from Business Analyst, COBOL programmer, Project Manager, Solution Architect and, latterly, Enterprise Architect.  The last 10 years of my career were focused on modernising the corporate data processing infrastructure to cope with ever increasing data volumes and varieties and regulatory changes like GDPR.  Corporate re-structuring meant that in January 2020 I was faced with a choice of commuting into London five days a week or taking redundancy.  I chose the latter.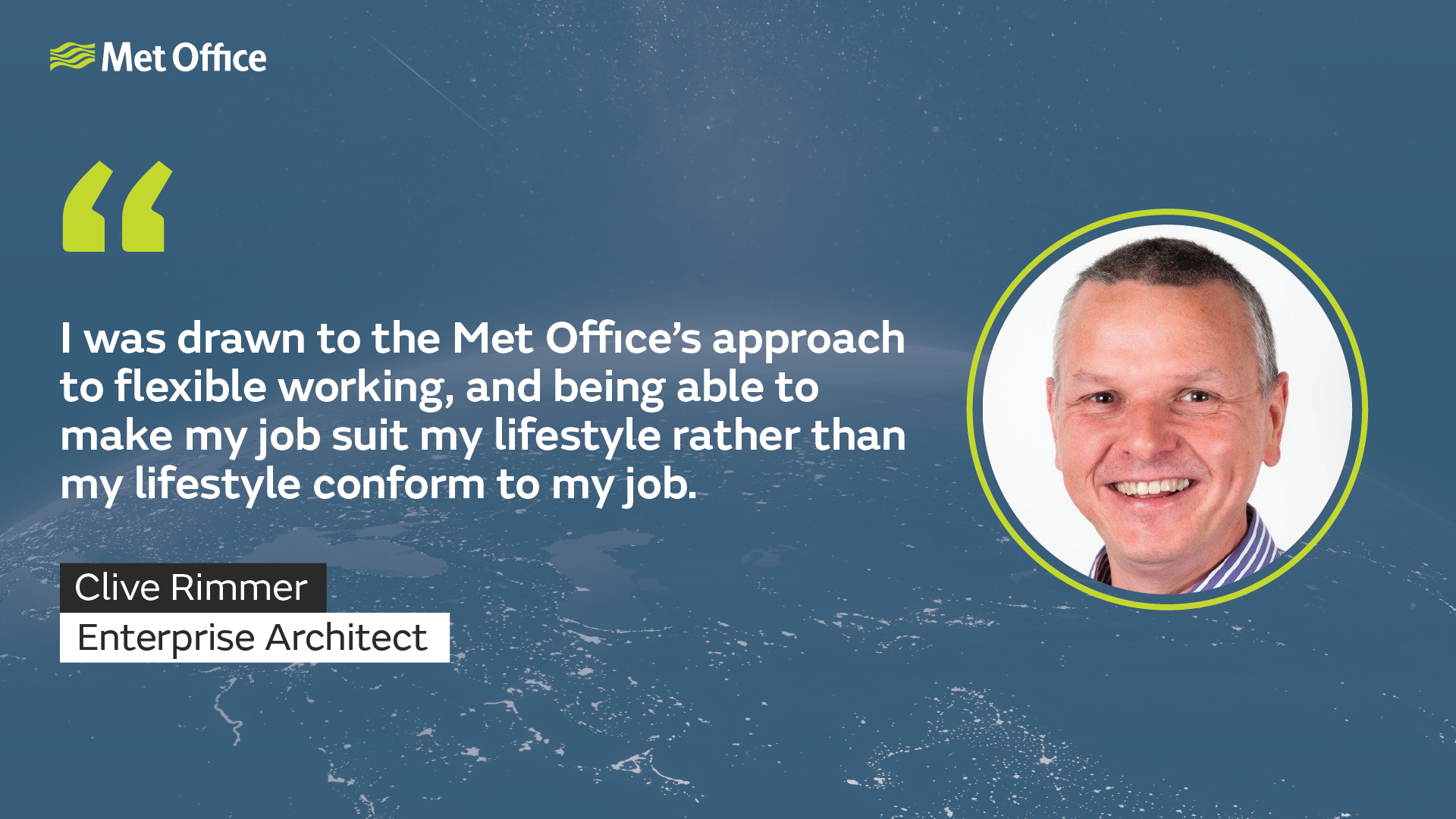 Intending to take a 6-month sabbatical while I considered my options, COVID-19 intervened, and I became teacher-dad instead.  During that time, I was able to take the time to reflect on what I really wanted out of my next career move and realised that I enjoyed the problem solving of Enterprise Architecture but needed to look at a different industry where what I did made me feel like I was contributing to wider society.  Living in the UK, I then thought: who isn't fascinated by the unpredictable nature of the weather? 
A significant factor for accepting the role of Enterprise Architect at the Met Office was that I would be remotely based so I would be able to achieve a good work-life balance. I live in Buckinghamshire, and as there are many higher paying tech roles in London than elsewhere in the UK it would usually make sense to find employment there, however there is the small matter of buying a season ticket (£4,500 per year) and the 3-4 hours per day spent on a crammed commuter train. I am at a point in my life where the 'cost' of lost time significantly outweighs the 'benefits' of more money, so I was drawn to the Met Office's approach to flexible working and being able to make my job suit my lifestyle rather than have my lifestyle dictated my job. This approach also facilitated a move to a one car family to reduce my environmental impact, another personal priority for me that made this role an ideal fit.  
There are some fundamental differences between the Met Office and my previous employers. Some of these are significant and were a great draw to me as a technology sector worker: the supercomputing facility delivers higher volumes of data at a faster rate than I've previously ever experienced. The size of forecasts and the speed with which they must be quickly delivered to the people, sometimes making 'life and death' decisions, means I have to work with colleagues to solve these problems:  It's not as simple as querying Google to see what someone else has done! The timely, accurate forecasts delivered also have a direct impact on individuals and the country, which makes me feel part of an incredibly important wider picture where what I do plays a part in ultimately supporting the safety and wellbeing of many others. There are similarities too which provide interesting challenges: the presence of a 'data supply chain'; a 150+ year old organisation facing up to the challenges of the 21st century; and the process for how decisions get made. 
Is there anybody in the UK who hasn't heard of the Met Office?  Working here also has a certain prestige. In my first year at the Met Office, it's clear that many people have forged long careers.  This alone suggests that it's a great place to work and despite COVID-19 restrictions at times, it's clear that there is a strong social fabric in place. Considerable effort is also being expended on IT professions which is great for bringing in junior team members as well as training those interested in progressing into more senior roles effectively. 
To see the latest job opportunities at the Met Office, click here.