Jeff Shepherd: Why I joined the Met Office in a technology role
I wanted to join the Met Office because I had a degree in Ocean Science and a keen interest in weather-dependent outdoor activities.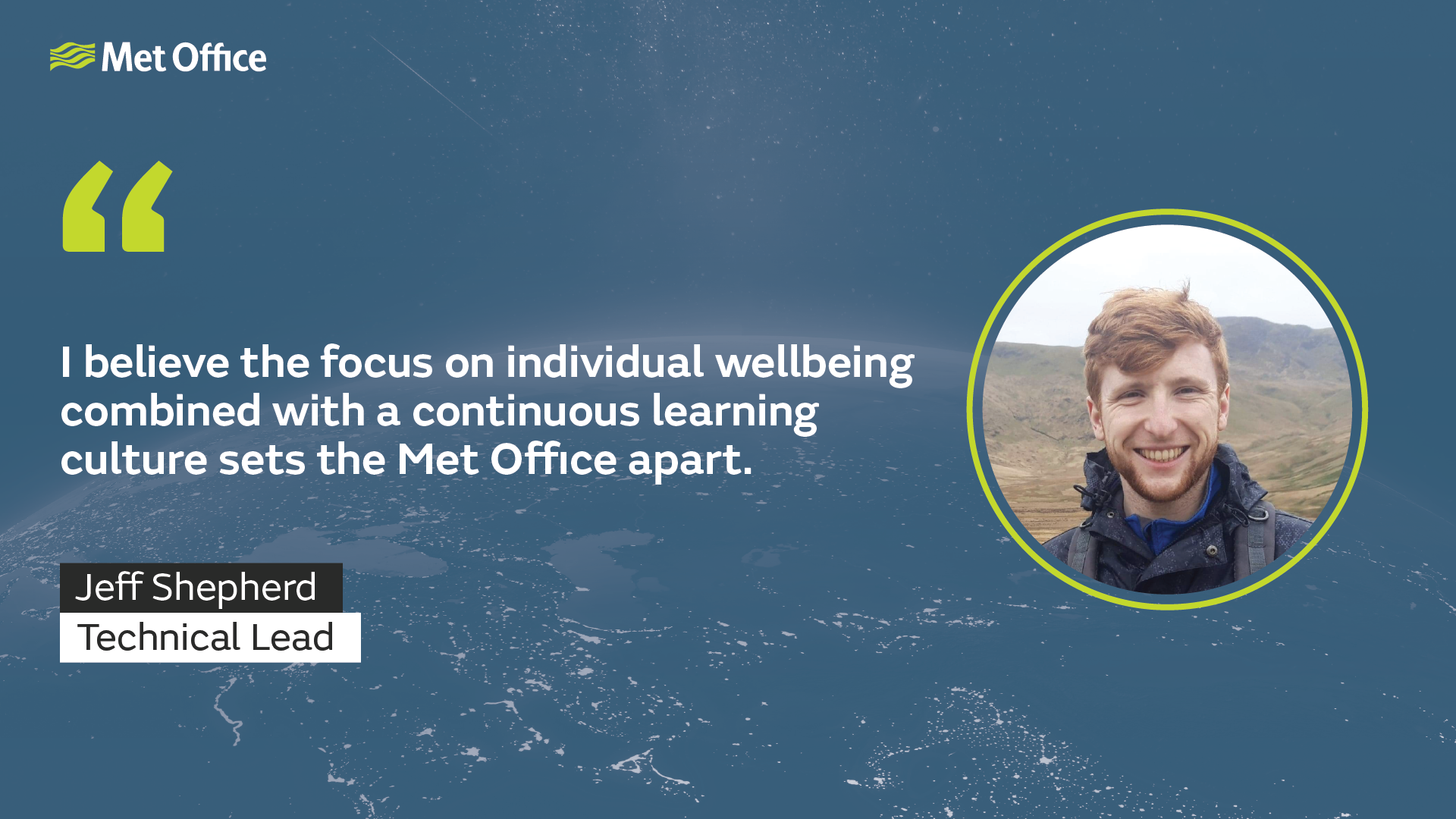 When I dug more into the Met Office and its place in government, academia and industry domains, I discovered a breath of technology opportunities that could provide a varied and challenging career path. Initially I wasn't sure exactly what I wanted to do, but I was convinced a business with such breath would enable me to find that. 
Although I'm yet to work elsewhere in the tech sector, my experience so far at the Met Office has been overwhelmingly positive. Having spoken to people I know at other organisations, I believe the focus on individual wellbeing combined with a continuous learning culture sets the Met Office apart. You have the opportunity to explore a career that is right for you, at a pace that suits you, with clear guidance from experienced colleagues. 
As Technical Lead, my day-to-day enjoyment comes from supporting, guiding and leading teams to deliver business goals. I find it especially satisfying to see individuals develop confidence and autonomy in their job role over time and to support them to achieve their career ambitions. 
Since I've started working at the Met Office, I've realised how essential our observations are to helping enable people to stay safe and thrive.  As a Technical Lead in the Observations sector, I help to inform our Operational Meteorologists of current and future weather scenarios, so they can tell the public and other customers. 
I believe we provide a great place to work for people in their early careers especially, because they can learn and absorb from knowledgeable and experienced colleagues. They are given the opportunity to develop their skills and experience through activities that stretch them and ensure they make a positive difference. 
As they move into a senior hands-on role, they become more influential in team outcomes and interact more with a diverse set of colleagues in science, engineering or other related areas. 
If they are interested in exploring leadership and management opportunities to develop their career, there are a huge range of learning and development options to support this and a network of other managers to help this transition.  People who join the Met Office in a more senior role can really impact deliverables and way of working. This is because we have a culture that is open to trying new things and constantly improving processes to work smarter not harder. 
To see the latest job opportunities at the Met Office, click here.