The role of an Operational Meteorologist Technician
We have recently introduced a new role at the Met Office - the Operational Meteorologist Technician (OMT).
This role puts you at the forefront of weather and climate, contributing operationally by supporting Operational Meteorologists as well as providing you with time for continuous professional cevelopment (CPD). The role responsibilities will vary hugely and will range from taking regular weather observations through to producing media scripts or planning forecasts, depending on your location. Throughout the role, the CPD time will allow you to focus on your individual development goals, ensuring that you have the skills to move onto the Operational Meteorologist Foundation Course (OMFC) in the future. Whatever the role though, no two days will be the same!
The training consists of 4 weeks in our college, based in Exeter, where you will learn how to observe the weather, along with an introduction to the basic theory behind weather forecasting. There will be a mixture of  practical group work and individual learning. Once this is complete you will then move to your location where you will complete on-the-job training for around 4-8 weeks until you are ready to work solo. 
"Even though I have a Master's in Meteorology, through the on the job training and working on the aviation bench, I have gained so much more knowledge about particular nuances around the weather and things to look out for which I'm sure will come in very handy not only during the OMFC, but also after that" – Josephine.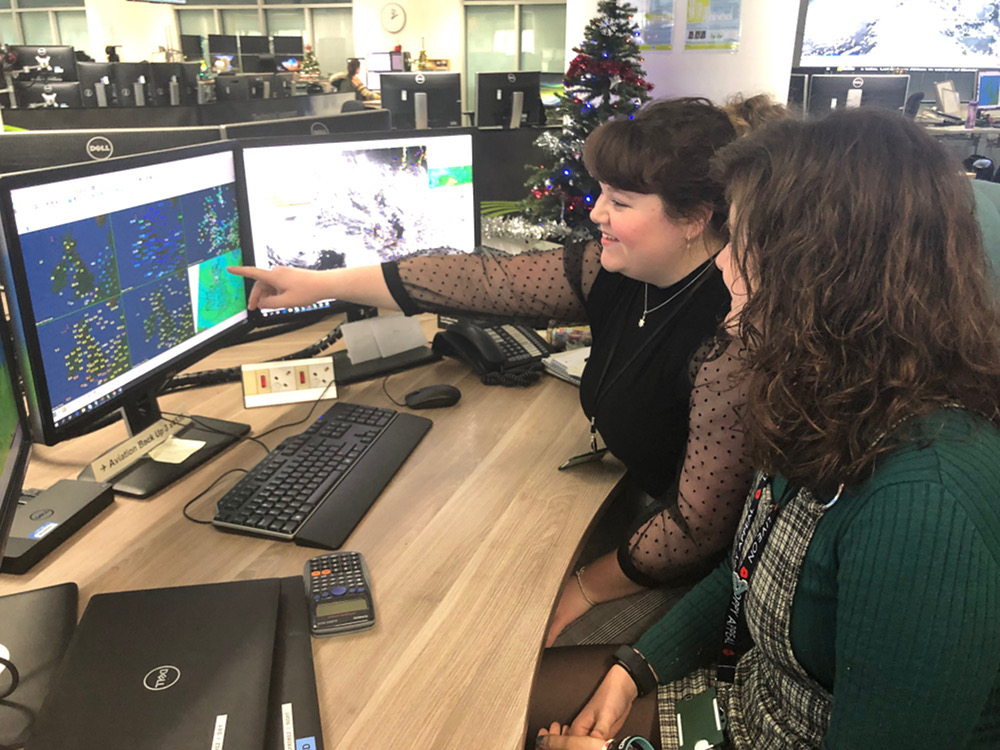 The role may be based at our Headquarters in Exeter or at any of our defence/civil sites across the UK or even the world! We currently have two Operational Meteorologist Technicians based at RAF Akrotiri in Cyprus.
"The RAF base here in Akrotiri, Cyprus, is active 24 hours a day, 365 days of the year. During the winter period the weather can vary between clear skies and sunshine to thunderstorms and a much busier office. We have been posted here to fulfil the technician post providing support for local forecasts and locations further afield, as well as providing essential flight safety work.  
Living and working here on the base is an exciting lifestyle, there is a great community atmosphere to be part of while living away from home. The island is within the Mediterranean and with mountains inland it is possible to go from skiing or mountain walking, to scuba diving or paddle boarding in the same day. There are all sorts of fantastic opportunities available and depending on how you like to spend your free time there really is something for everyone, the difficulty can come with trying to juggle exactly how to spend your time. 
Part of being an OMT means that you are working towards your forecasting training. We are lucky enough to have time allocated for Continuous Professional Development which focuses on Maths and Physics. This combined with our on the job training and weather observing means that we will be well prepared to begin the forecasting course in just a few months time. 
Living and working in Akrotiri throws you into the world of the military. Watching pilots and other RAF personnel fly out to the Middle East on their operations, knowing we are providing a crucial service, is extremely rewarding. Hearing their stories upon their return is eye opening and provides an insight on world affairs that you simply can't get from reading the news." – Lucy and Bria 
The role is rewarding and unique and provides a perfect stepping stone for a career in the Met Office.