"The learning and development opportunities mean I can really grow in my role and reach my goals faster"
Ryan Boult explains why he joined the Met Office as a university graduate, what his role involves and how he benefits from having a good work-life balance.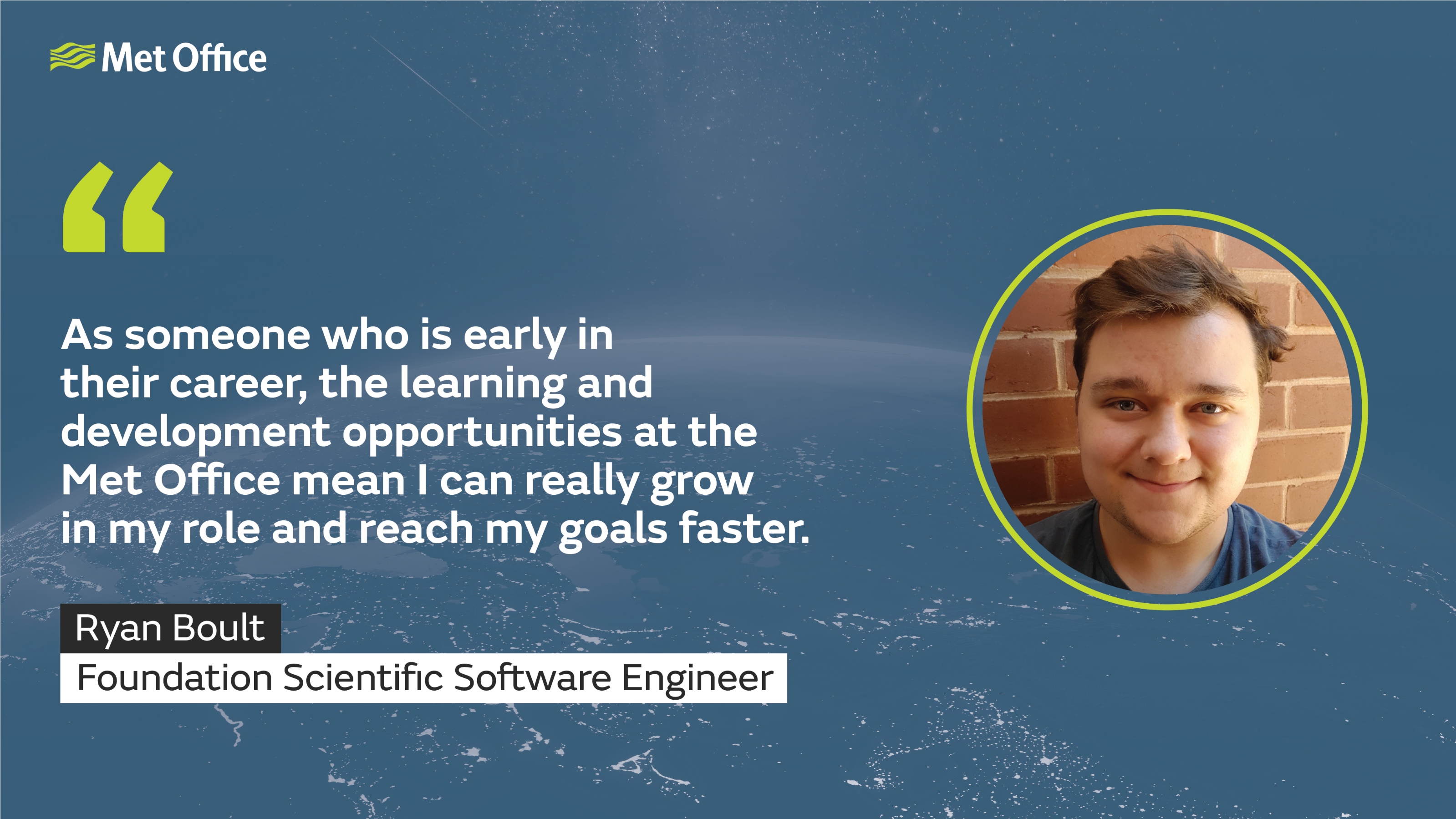 I joined the Met Office in January 2022 after finishing my degree at Exeter University. I was particularly drawn to the Met Office because of the learning and development opportunities. As someone who is early in their career, they mean I can really grow in my role and reach my goals faster. Working here also enables me to do something that makes a positive difference to the world. Our weather forecasting and climate monitoring are essential to ensuring that people can stay safe and thrive, both today and into the future.
I've really appreciated the flexibility available at the Met Office. This allows me to work the hours when I am most productive and have a good work-life balance. I have the freedom to pursue my interests outside of the office, such as making music, spending time with friends, gaming, and personal technical projects. What I most enjoy about my role is speaking to colleagues in other teams about their work, building connections, and learning from their expertise. Everyone in the office is very friendly and supportive, and they make an effort to share their expertise as needed.
I believe the Met Office is a great place to work for anyone, and especially those with an interest in science and technology. The projects I work on are large enough to have some long-term goals to really engage with the tasks, but short enough that there is always new work and experiences to take interest in. I never feel alone because there's always someone available to help. I appreciate working with others to reach goals, and to build relationships and understanding how we are better together.
What the Met Office does is wide-reaching and often surprising to people who don't work here. We help retailers know what products to sell and airlines know when it is safe to fly. We also provide information and advice about climate change based on observations of ocean temperature and sea-ice cover.
If you are interested in working at the Met Office, I'd recommending finding out more about who we are and our values to see if they inspire you to apply for a role with us. 
To see the latest job opportunities at the Met Office, click here