Tom Dufall: Being a Met Office Software Developer
I have been a Software Developer at the Met Office for almost three years since joining after graduating from university.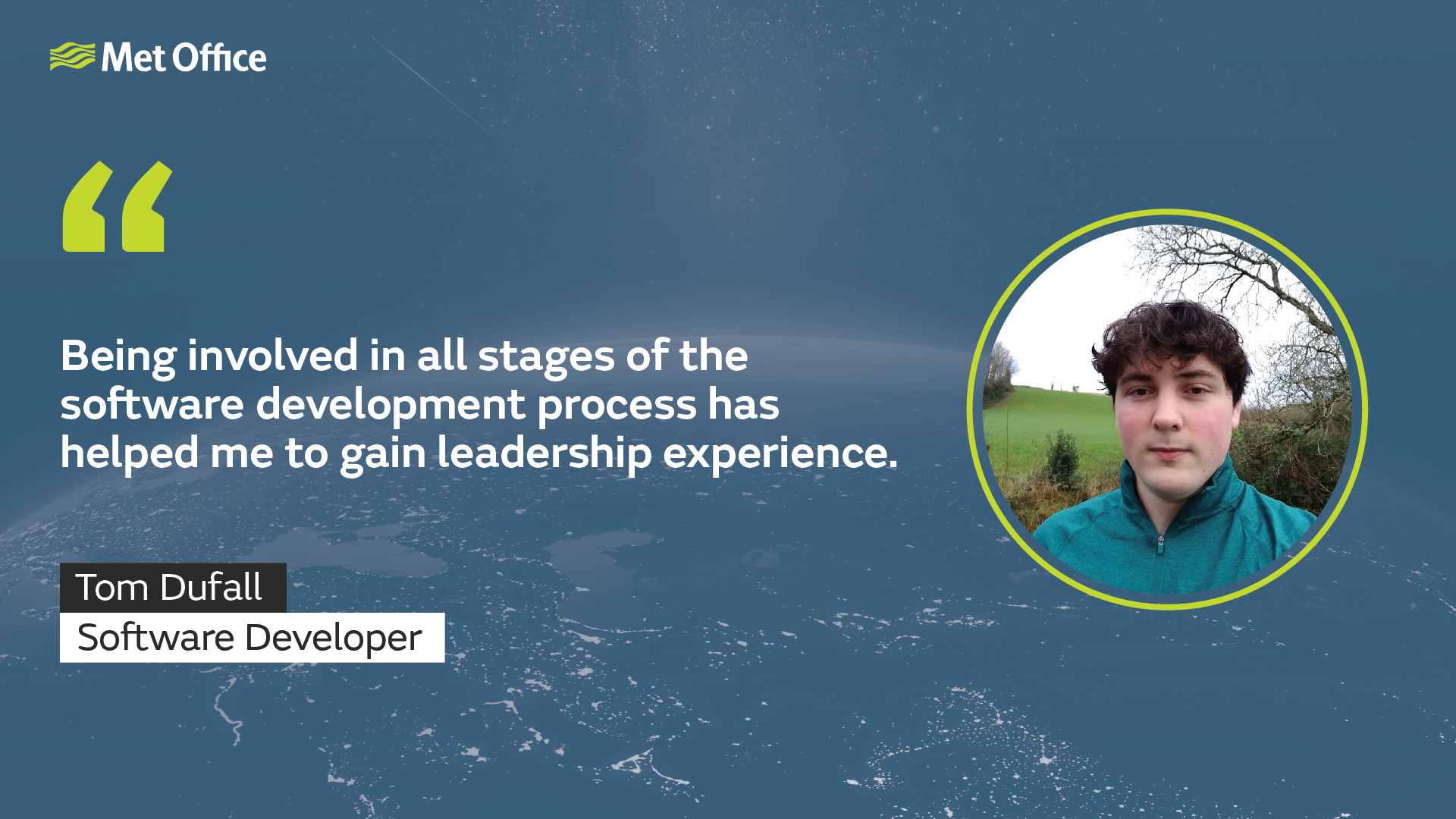 My team develop and maintain a data subsetting and map service that enables users to get the data important to them in a manageable format from the huge amount of forecast data we produce with the supercomputer. You can access this now through Met Office Weather DataHub. 
I particularly enjoy having a significant amount of autonomy in my role, along with being able to see the impacts of my work. Since Weather DataHub went live, it's been great to see how my work has made new data feeds available to customers, and it felt great seeing weather enthusiasts on Twitter excitedly sharing new graphs. 
Growing up near Exeter, I've known several people for many years at the Met Office who spoke highly of the quality and breadth of our technology. Throughout university, I also took an interest in systems design. So, when I saw an advert for software development on a (computer!) cloud-based system, it seemed ideal both for my interests and location, as I wanted to stay in the South West. 
When I'm not working, I'm often out walking or running off-road on the common, hills, and coast paths of East Devon. It's great to have the option to live rurally while being only a short commute from the office, due to its well-linked location. 
I find the breadth of the Met Office's software development and technology activity quite a draw. My team and neighbouring teams manage cloud-based data platforms. We also have teams developing hardware and software to gather observations from instruments and collaborators, developing and running the Unified Model forecasting suite, prototyping and developing new forecasting techniques, and, of course, developing our public-facing website and internal office IT. This covers all sorts of disciplines, languages, frameworks, development workflows, and specialties. That's a lot of room to find something that interests you and explore it further. Personally, I've ended up promoting Python best-practice across the office and learning about reliability engineering. 
I've found the Met Office to be a great place to start my career. I've had a lot of opportunities to do on-the-job training, and one of the best things is that I've felt like a valued member of my team from day one. Being involved in all stages of the software development process has helped me gain experience towards taking on more leadership. I've also benefitted from the flexible approach to work, which has allowed me to work remotely and at different times to accommodate other commitments.  
To see the latest job opportunities at the Met Office, click here.