What we do
Through expert meteorology, world-leading science and cutting-edge technology our weather and climate forecasts span the entire globe.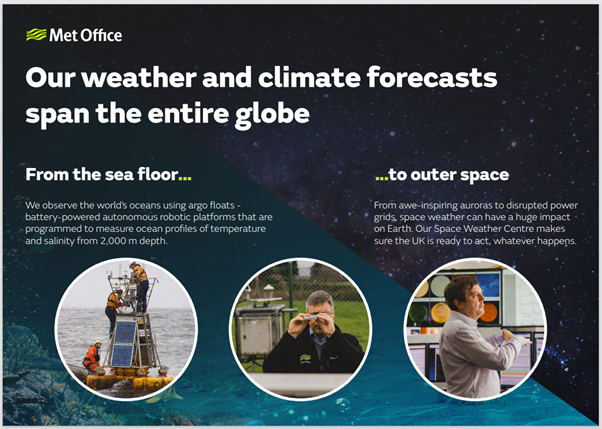 Expert meteorology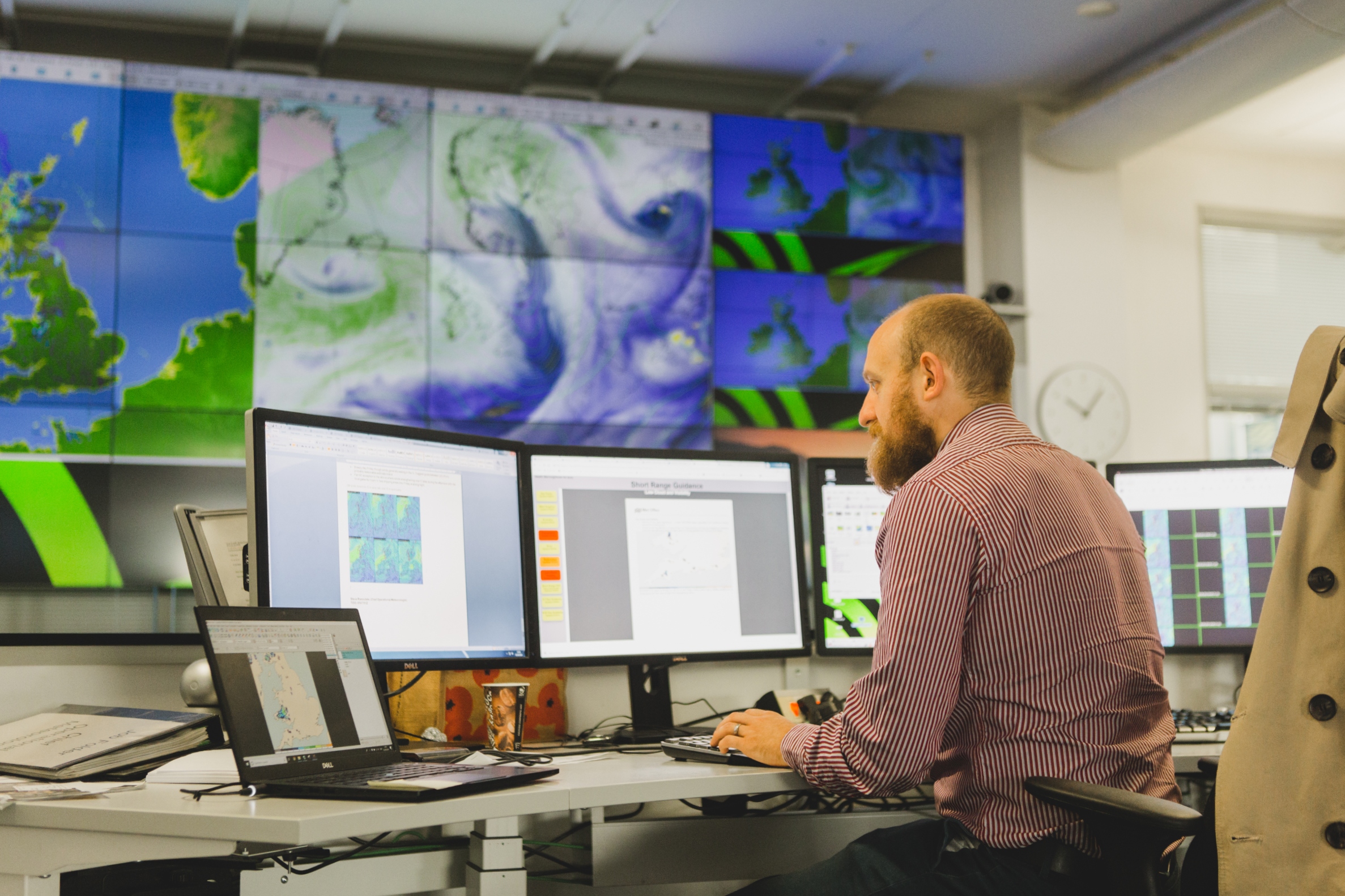 The Met Office exists to deliver world-leading, accurate weather forecasts and climate science to help people make better decisions to stay safe and thrive. We also provide predictions for the oceans, the dispersion of pollution, the source and spread of diseases and much more.
Observational data forms the basis of operational meteorology. Our observations team monitor feed gathered data into high performance numerical models used by our operational meteorologists to predict the weather. Verification is a key part of the process to ensure our forecasts are accurate by closely looking at what the weather was doing at a particular time.
No one else in the UK can offer such expansive career opportunities in operational meteorology. Our roles are varied and include operational meteorologists, customer service, observational monitoring and training people in our Met Office College. Using our Professional Skills Frameworks, we'll give you all the support and opportunities that you'd expect from a world-renowned weather and climate services organisation. You won't be limited to forecasting or observations though: we'll encourage you to move around and spend time in other departments too. That way you'll get to see for yourself how vital your work is to other areas of the business.

World-leading science
Science underpins all the services we provide. Our expert scientists and scientific software engineers are behind our world-leading numerical models and state-of-the-art software.  
We deliver dynamic and influential projects all over the world. For example, our Weather and Climate Science for Services Partnership programme focuses on the advancement of weather and climate services around the globe to increase climate resilience. From climate change to atmospheric dispersion, you have the opportunity to make an unparalleled impact on meteorological science.
Roles are varied and whether you're a foundation scientist, a scientific consultant or a senior software engineer, you'll find an incredible breadth and depth of work here.
We recognise that while some individuals will want to focus on pure research, others may want to use their knowledge to actively advise customers. Your work will help to enable them to make credible business decisions about the risks and opportunities of weather and climate change.
As you progress with us, you'll have more scope to shape the nature of your research. Our 'Expert' and 'Fellowship' routes are designed to help individuals break new scientific ground on a global scale and become world-class ambassadors for meteorological science.

Cutting-edge technology 
Technology and IT are key to every area of our work – from science and forecasting to marketing and consultancy.
Our teams design, build and support the systems that deliver relied-upon forecasts 24/7, all over the world to meet the needs of our organisation and, most importantly, our customers.
We're constantly pushing ourselves to stay ahead of the game, exploiting technology to keep people safe, enable industries to operate, aircraft to take off and land safely, and the government to make key decisions.
Working with global partners such as NASA, our IT projects reach as far as Space. We use supercomputers to run our forecast models and predict the weather. Our latest supercomputing system is one of the most powerful of its kind in the world, capable of 14,000 trillion arithmetic operations per second.