Raising awareness of ocean plastics
Kate Salmon, Met Office Scientific Consultant, aims to raise awareness of ocean plastics, and protect the UK's beaches and wildlife by taking on the Talisker Whisky Atlantic Challenge.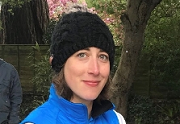 Why would you want to row over 3,000 nautical miles across the Atlantic, the world's second-largest ocean? To battle with blisters, salt rash, sharks and sleep deprivation? As part of a crew of four women, Kate Salmon, Met Office Scientific Consultant, aims to raise awareness of ocean plastics, and protect the UK's beaches and wildlife. Here she explains what motivates her to take on the Talisker Whisky Atlantic Challenge, the world's toughest row.
"I've loved rowing since I started at university. The feeling of rhythmically gliding through the water, I have never practised a sport that has made me feel so powerful and liberated.
My love of the ocean stems from my love of the natural world. I studied oceanography and this research continued into a PhD in biogeochemistry. I am still overwhelmed by how much there is still to understand about this colossal ecosystem.
After moving to Exeter, I joined Exeter Rowing Club where I met Ros and Kirsty. After a tough year of training and competing, Ros asked Kirsty and me if we wanted to row an ocean. It was more like a proposal really, and we said yes! Earlier this year, we met Laura and we had a team: Row for the Ocean.
The race starts on 12 December 2018 in La Gomera, the Canary Islands and finishes in Antigua in the Caribbean in 2019. It will take between 40-60 days to complete. It's going to be the biggest physical and mental challenge I've ever done- I'm mostly scared of the size of the waves we face but I know our boat has survived a Force 10 storm before so that gives me confidence!
We wanted to support a charity at the forefront of the ocean plastics movement so Surfers Against Sewage is a natural choice. We are using our row to highlight the issue of plastic in the ocean and have started the Plastic Free Exeter campaign which aims to make Exeter the UK's largest plastic-free city by 2020.
There are numerous plastic facts out there that I could shock you with, but for me, the most poignant one is that almost every piece of plastic ever made still exists. And we are just making more and more of it. Where is it going? It has to end up somewhere. We can all see the effect that large pieces of plastic have on our wildlife and waterways but what about microplastics that wash down our drains into the sea? These end up in the food chain and attract toxins which magnifies the problem. The effects of microplastics on human and animal health are under-researched for me so the best solution is to reduce our dependency on plastics altogether. Simple acts can reduce dependency on single-use plastic such as using a reusable bottle or mug instead of plastic cups.
The Met Office has pledged to the Plastic Free Exeter campaign to reduce single-use plastic through replacing their plastic cups with paper ones, eliminating plastic cutlery and straws. The Met Office may also provide tailored weather forecasts to help us in our crossing, as well as letting me to take time off to do it in the first place!
We are overcoming many challenges including raising £120,000 to get to the start line. We are currently running a crowdfunding campaign and would be so grateful if people could share and pledge at https://www.crowdfunder.co.uk/rowfortheocean.
Fitting this in around my day job and training six times a week has been exhausting at times but worth it."
Find out more