Fire probability forecasting - case study
Establishing a seasonal fire probability report for South America
In 2020, there were 458,953 fires across South America, the highest number since 2010. Research institutes in the UK and Brazil have come together to develop a seasonal fire probability forecasting service to guide decision making and local planning to tackle this complex issue. 
Fires can significantly impact people, ecosystems, and the climate. They affect regional air quality, destroy forests, and create hazards for the people and infrastructure surrounding them. Wildfires can occur in a range of ecosystems including tropical forests, savannahs, and grasslands. Fires depend on a range of factors including weather conditions, fuel, and ignition. Peak fire season usually occurs at the end of the dry season which is around August to October in central South America, and around December to February for northern parts of South America. 
Fires also impact the global carbon cycle as the burning of vegetation releases a range of greenhouse gases into the atmosphere. The Amazon rainforest is one of the world's largest and most important carbon stores, but this carbon is being re-released as carbon dioxide due to burning.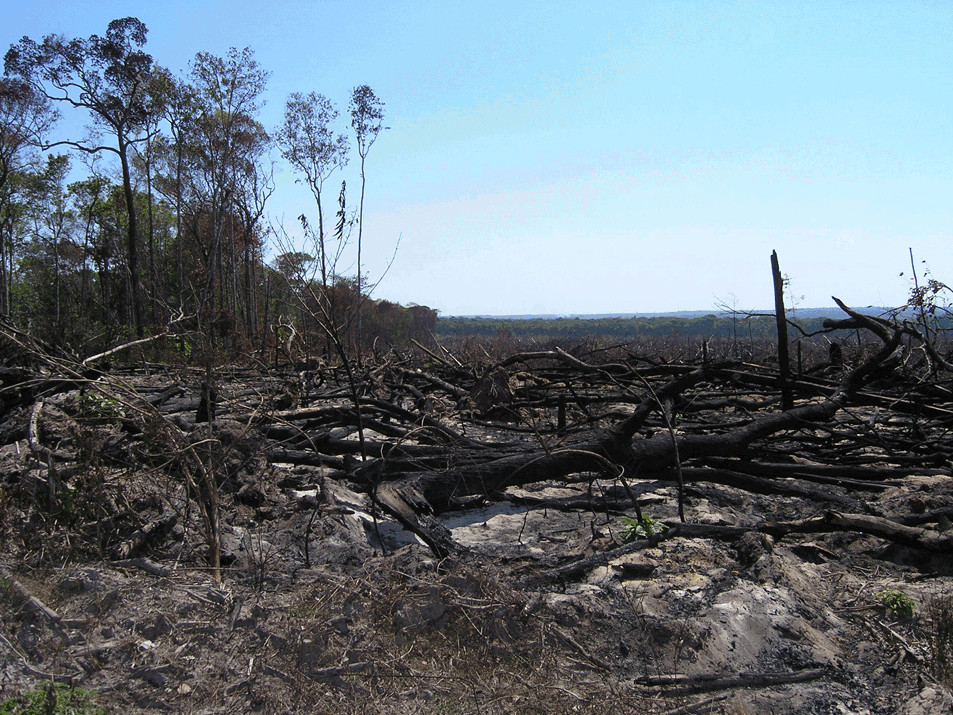 Burnt trees and vegetation after a fire in Mato Grosso, Brazil. Image: Liana Anderson
Scientific collaboration
As part of the Climate Science for Services Partnership (CSSP) Brazil project, researchers are studying how wildfire occurrence in South America may change in the future. One of the successful outcomes of the project has been the development of seasonal fire probability forecasts for South America. 
Led by Brazil's National Centre for Monitoring and Alerts of Natural Disasters (CEMADEN) in collaboration with the Met Office and the Instituto Nacional de Pesquisas Espaciais (INPE), the project used the Met Office seasonal forecast to analyse temperature and rainfall probability, together with fire trend data, and developed a method of calculating fire probability for South America several months ahead.
Turning science into a service
To support planning strategies to reduce the risk and impact of fires, the researchers used the seasonal forecast to produce reports for decision makers on fire probability for areas of interest. The reports focus on South America's protected areas which have high biological, environmental and sociocultural value, and the information presented in the reports could help guide actions on the ground.  Additionally, settlements in Brazil and rural properties in the Brazilian Amazonia were considered due to their importance in producing food nationally. 
"This project is all about using our science towards the development of services that can help improve planning and decision-making, to help people stay safe and thrive." Chantelle Burton, Senior Scientist at the Met Office. 
The report for December 2020 to February 2021 identified 56 protected areas that had an increased fire probability as well as 137 settlements in Brazil and 285 rural properties in the Brazilian Amazon. Together these areas cover almost 250,000 square kilometres. In the areas that had a higher probability of fire, the report provided a series of recommendations to support the bodies responsible for the protected areas. Recommendations included raising awareness of high fire risk regions through communication campaigns, and limiting the use of fire, such as when used for land management, in high risk areas.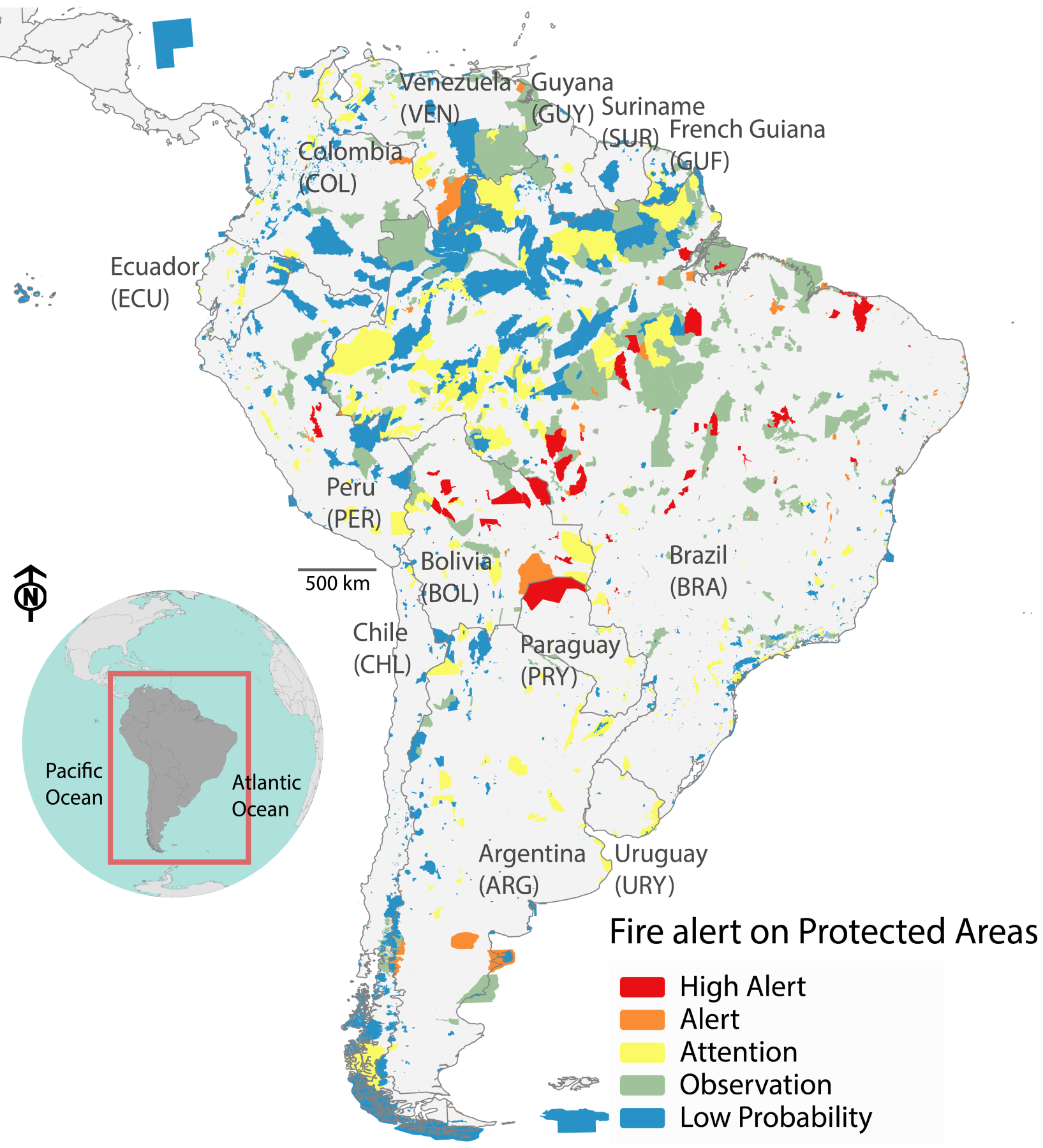 Map of the seasonal fire risk forecast for South America: August-October 2020. Image: CEMADEN
Project impact
Through identifying areas with increased fire probability and providing recommendations to mitigate that risk, the project is helping generate information to support wildfire strategic prevention and planning that will support conservation strategies across South America. The report is already being shared widely, such as with stakeholders in Brazil, Bolivia and Peru, highlighting the value of this collaborative effort.
Liana Anderson, from Cemaden, added "This year, one of our main goals is to evaluate how this type of information can be better used by decision makers and what changes must be implemented to facilitate the flow of information".
The fire probability forecast has been incorporated into the Operational Plan for preventing and combating forest fires in the Amolar network - a network of protected areas in Pantanal. This network spans national borders, facilitating strategic planning and fire management. The plan was released in 2021 and can be found online (in Portuguese). 
Supporting the Sustainable Development Goals
Outputs from CSSP Brazil support the UN's Sustainable Development Goals (SDGs). The development of a seasonal fire probability report for South America particularly supports goal 13 (climate action), goal 15 (life on land) and goal 17 (partnerships for the goals). Find out more about how the Met Office supports the SDGs.  
Latest fire probability reports
December 2020 - Fire probability in South American Protected Areas, Brazilian Settlements and Rural Properties in the Brazilian Amazon (December 2020 - February 2021) - English, Spanish, Portuguese 
August 2020 - Fire probability in South American Protected Areas (August-October 2020) - English, Spanish, Portuguese 
Publications 
Bett et al., 2020, Skillful seasonal prediction of key carbon cycle components: NPP and fire risk, Environmental Research Communications
Burton et al., 2020, El Niño Driven Changes in Global Fire 2015/16, Frontiers in Earth Science
Lasslop et al., 2020, Global ecosystems and fire: Multi‐model assessment of fire‐induced tree‐cover and carbon storage reduction, Global Change Biology 
Reddington et al., 2015. Air quality and human health improvements from reductions in deforestation-related fire in Brazil, Nature Geoscience