Flash droughts - case study
Flash droughts can have devastating impacts on crops and water supplies. A research collaboration between the UK and China is studying how flash droughts develop and how they may change in the future.
Flash droughts are droughts that develop rapidly, sometimes in as little as a few weeks. They can severely impact crops and water supplies, particularly if they occur during the growing season. In 2012 flash droughts in the United States caused billions of dollars of economic losses and flash droughts in Southern China in 2013 affected 2 million hectares of crops.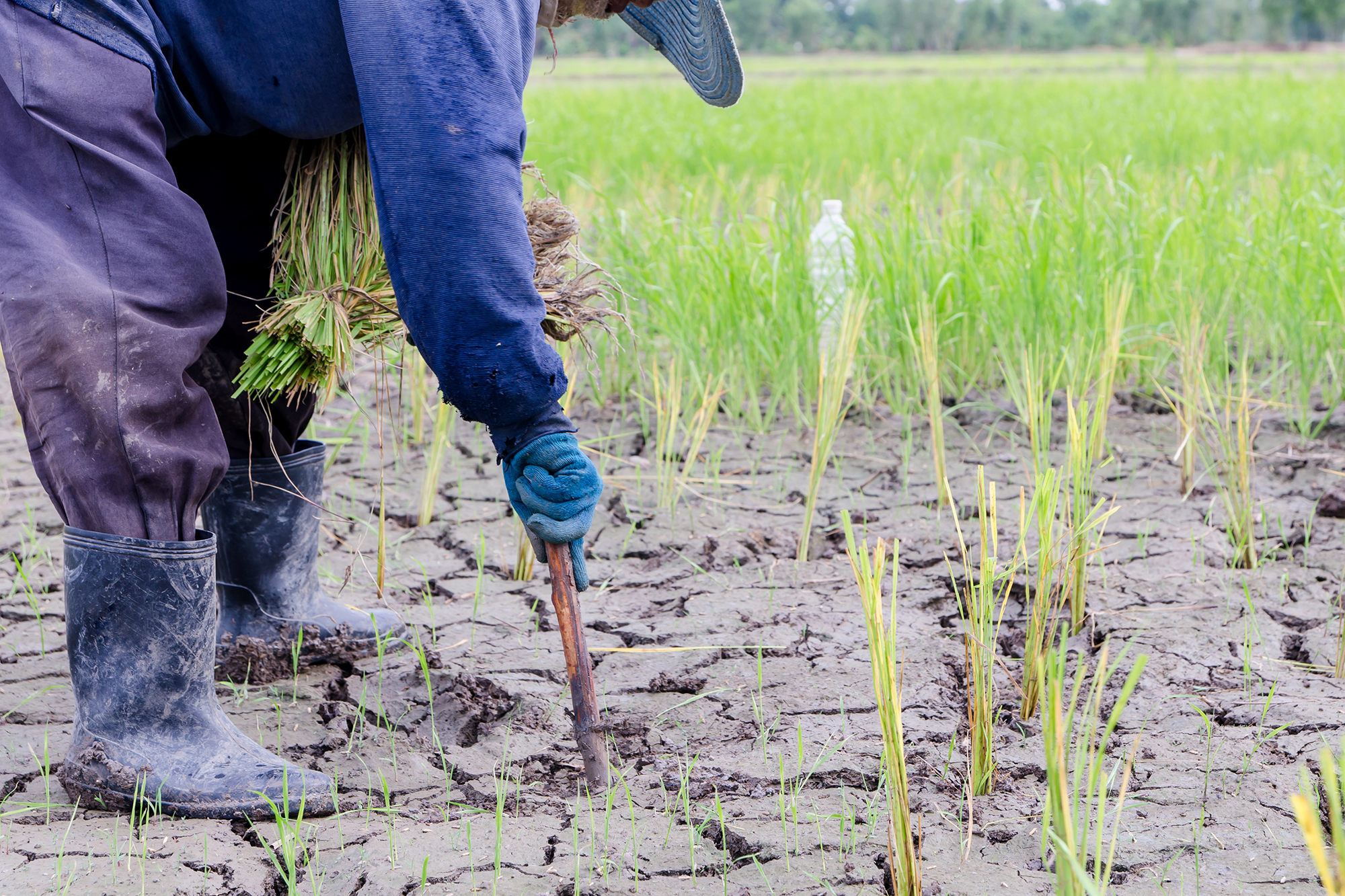 Scientific collaboration
Through the Climate Science for Service Partnership China (CSSP China) project, scientists from research institutes in China and the UK are investigating the development of flash droughts. The research project is also studying how the risk of flash droughts may change in the future in a warming climate. 
Research findings
The researchers studied thousands of observations from meteorological stations and found the number of flash drought events over China have increased since the 1960s. Human-induced climate change triggered by increased greenhouse gas concentrations accounted for around 77% of this increase. 
The project is working to understand the conditions that lead to flash droughts in different regions of China. Work so far has found that flash droughts occur most frequently in eastern and southern China and particularly along the Yangtze River valley, with events lasting longest over southern China.
"Flash droughts are a relatively new phenomenon compared to the traditional concept of drought that usually occurs in the arid or semi-arid regions. Due to increased temperature, flash droughts mostly occur in humid or semi-humid regions, where people as well as ecosystems have yet to adapt." Prof Xing Yuan at the Nanjing University of Information Science and Technology.
Natural modes of climate variability have been shown to affect the occurrence and location of flash droughts. For example, in the summer after El Niño events, the frequency of flash droughts increases by up to 20% on average over southern China. Additionally, in dry phases of the Madden-Julian Oscillation and Boreal Summer Intraseasonal Oscillation the number of flash droughts decreases in southern China whilst increasing in eastern China. 
Future risk from flash droughts
CSSP China has also demonstrated a projected increase in flash drought risk over China during the middle and end of this century, especially over southern China, where both people and ecosystems have high exposure and poor adaptability. This is mainly caused by climate change and population growth. However over northern and north-eastern China, future exposure risk of flash drought will decrease due to reductions in flash droughts and population, especially by the end of this century. 
Project impact
The research from CSSP China on flash droughts will help develop advanced predictions and warnings of flash droughts. This will reduce the impacts from flash droughts on societies and economies.
"Our work has played a leading role in flash drought research and attracted wide interest within as well as outside China. One paper received over 100 citations with follow-up studies looking at other aspects such as the social and economic risks and population exposure." Peili Wu, Expert Scientist at the Met Office.
Sustainable development goals
Outputs from CSSP China support the UN's Sustainable Development Goals (SDGs). Flash drought research particularly supports work towards goal 1 (no poverty), goal 2 (zero hunger) goal 13 (climate action) and goal 17 (partnerships for the goals). Find out more about how the Met Office supports the SDGs. 
 

Publications 
Wang et al. (2016) Scientific reports, 6, 30571
Yuan et al. (2019) Nature communications, 10, 4661
Tian et al. (2021) Journal of Climate, 1-40.