Predicting weather patterns over India
A new weather pattern forecasting tool has the ability to provide an earlier assessment of the potential impacts from extreme weather events, which could help save lives and livelihoods.
Variations in the strength of the South Asian monsoon from year to year can have significant impacts on lives and livelihoods in the region, as it provides 80% of the yearly rainfall to the region.  
The WCSSP India project has been carrying out research into new forecasting applications using a set of 30 weather patterns for India, which were developed in conjunction with the LANDSLIP project. These weather patterns represent all the main periods of the Indian climate throughout the year, such as the active or retreating monsoon period. A weather pattern stays for two or three days on average before transitioning to another.  
Each weather pattern is associated with different characteristics, such as wet or dry and particular hazards such as flooding or landslides. For example, weather patterns in the active monsoon category are associated with heavy rainfall over large areas of India. Each weather pattern can also be linked to specific impacts on different sectors such as agriculture, energy or transport. Therefore, if these patterns were predictable in advance then warning of these impacts could be given ahead of time, allowing authorities time to prepare and reducing the likelihood of those impacts occurring.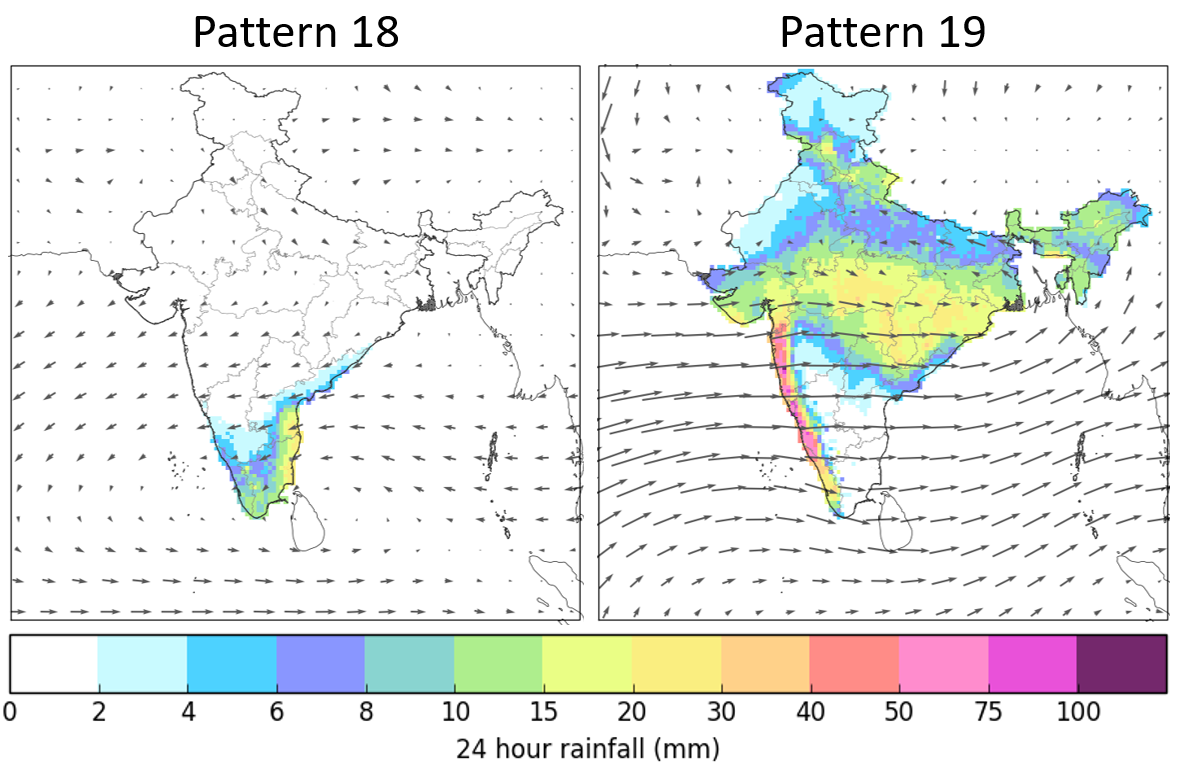 An example of two contrasting weather patterns which have different patterns and intensities of rainfall. On the left weather pattern 18 is a retreating monsoon type and on the right weather pattern 19 is an active monsoon type. 
WCSSP India has shown that all the weather patterns that occur over India can be skilfully predicted up to two weeks ahead. Robert Neal, Senior Scientist at the Met Office, explains "We looked back at the devastating floods in Kerala in August 2018 to see if this new tool could have given us a heads up of what was to happen. It showed that 10 days ahead of the event it was forecasting a weather pattern associated with high levels of rainfall in the region." 
He continues, "We also looked back at another case study - the flooding in Mumbai in September 2018. Again, this new tool showed us that a weather pattern associated with heavy rainfall in the Mumbai region was most likely 10 days ahead of the event".

Example output from the weather patterns forecasting tool, showing the % chance of different weather patterns occurring out to 10 days ahead using one of the forecasting models run at NCMRWF.
WCSSP India is a collaborative project between the Met Office, other UK institutions and the Indian Ministry of Earth Sciences (MoES) to advance scientific understanding that can be translated into services to protect lives and livelihoods around the world.
Through WCSSP India the code and data behind this forecasting tool was shared with one of the partner MoES institutes - the National Centre for Medium Range Weather Forecasting (NCMRWF). Two MoES scientists, Dr A. Jayakumar (NCMRWF) and Mr Arulalan (IMD) implemented this code on their systems using input from one of their own weather forecasting models.
Dr Ashis Mitra, Head of NCMRWF, describes some of the benefits of this forecasting tool: "These weather pattern forecasts are very useful as they can be related to the likelihood of some disastrous events coming up in the medium-range period. Using historical records of weather-related disasters, it prepares a look-up table to predict the likelihood of disastrous events in the next few days."
He continues, "High resolution ensemble forecasts use an advanced modelling framework and high-end supercomputers. However, the final output with this new tool is a simple weather pattern prediction, which can easily be transmitted to end users, who can link it to their end application with very small computer resources."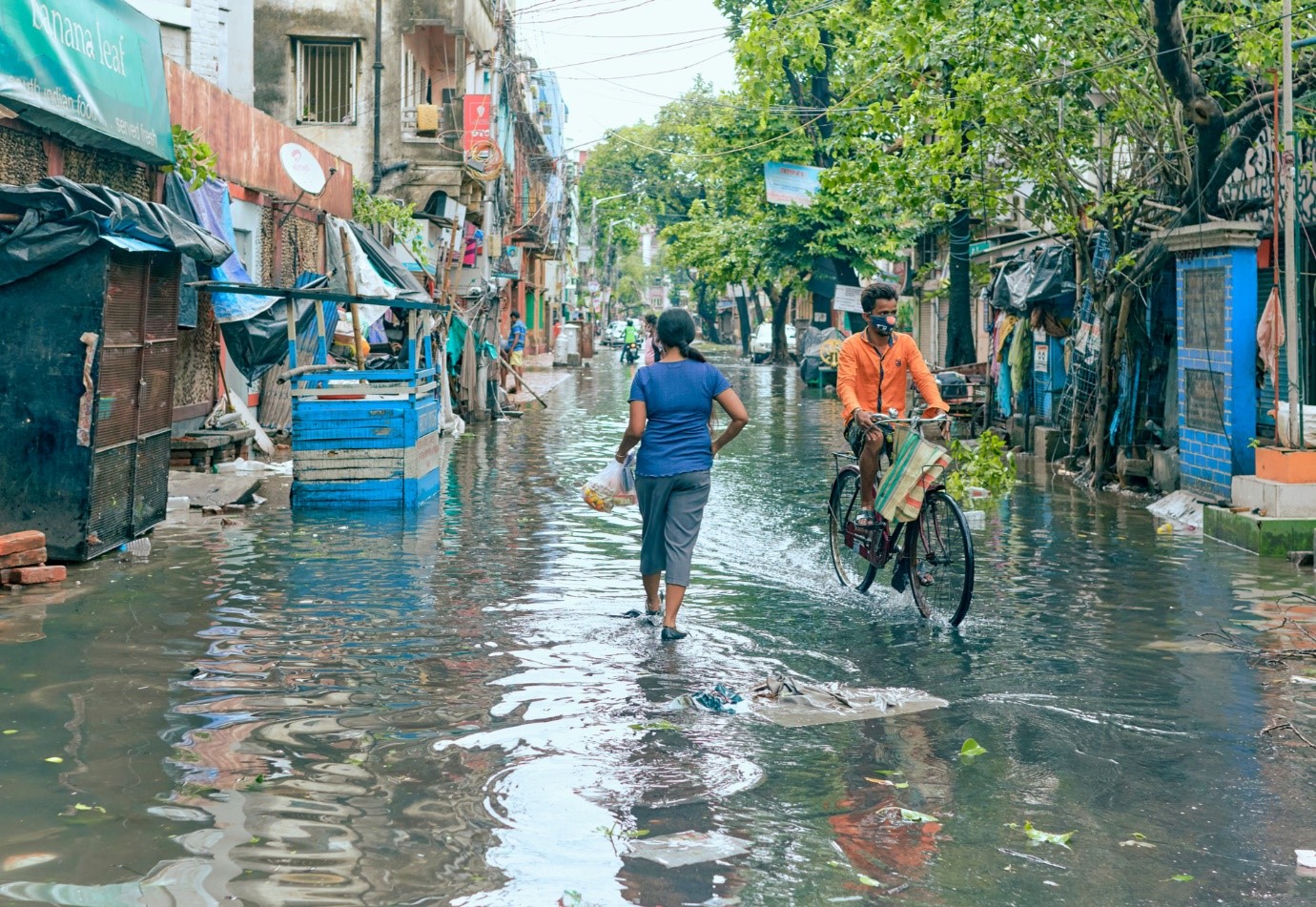 A flooded street in India. 
There are a number of potential applications for this new tool. Robert explains, "In the UK and over Europe we're also using a similar tool and it has enabled us to highlight upcoming periods susceptible to coastal flooding, fluvial flooding and landslides. We look forward to working with our Indian partners to develop similar applications to help provide earlier forecasts of hazards and impacts". These applications would allow government, decision makers and citizens more time to act and therefore reduce the likelihood of impacts from extreme weather events.
What's next?
Another important hazard is heatwaves and future work will investigate if weather patterns can provide early warnings of extreme heat up to 10 days ahead. 
The WCSSP programme is exploring the application of this tool to benefit regions around the world such as Southeast Asia, South Africa and Brazil. Under the Newton Fund through the WCSSP programme, the Met Office is working collaboratively with global partners to develop tools and techniques and apply them to benefit multiple projects and programmes, to support the delivery of global development impact.
More information on the Indian weather patterns used in this forecasting tool can be found in our research news article. 
Publications
Neal et al., 2022, The application of predefined weather patterns over India within probabilistic medium-range forecasting tools for high-impact weather. Meteorological Applications. 
Neal et al. 2020. Deriving optimal weather pattern definitions for the representation of precipitation variability over India. International Journal of Climatology.