Freeze-Thaw™ monitoring and early alerting service
Managing freeze-thaw events effectively will help you minimise their impacts on your customers and demonstrate due diligence to regulators.
The onus is on companies to manage severe weather incidents and make sure customers are protected. Customers expect water companies to prepare for and manage severe weather incidents to ensure that they experience minimal interruption to their service - Ofwat
The 2018 'freeze-thaw' caused disturbance to businesses and people's lives
Following the deep 'freeze-thaw' incident in early March 2018, tens of thousands of households and businesses were flooded and left without running water. For some, this lasted several days.
What was the cause?
The 'Beast from the East' brought freezing temperatures which, combined with the impact of strong winds from Storm Emma, caused water mains and customers' service pipes to burst. Pipes above ground froze, ruptured and subsequently thawed leading to extensive leakage. This caused an increase in water demand as high as 85% above normal levels and resulting shortages in the water supply.
Freeze-Thaw™ monitoring and early alerting service from the Met Office 
In response to the 2018 event, and to help the water industry better handle 'freeze-thaw' in the future, our scientists have developed a Freeze-Thaw™ monitoring and early alerting service.
Limited Time Offer - Get 20% off next season service if you sign up by the end of April.
To enquire about Freeze-Thaw™ please contact us today using the form on the right or by calling us on 0370 900 0100.
Have time to prepare
We've designed the service to alert you of pipe-freezing events up to 14 days in advance, and when you may expect a thaw followed by a rise in water demand. The early alert gives you valuable time to prepare for such an event and take specific measures to respond to potential impacts on your customers.
Know what to expect and when
The service is based on our Freeze-Thaw index (FT index) which takes into account three factors; air temperature, wind and time.
When the hourly, ambient air temperature is below zero and the hourly wind speed is high, this will result in a more negative FT index. The number of hours that the hourly ambient air temperature is below zero will add to the severity of the event.
The FT index has been proven effective in predicting a rise in water demand following 'freeze-thaw' incidents. It will alert you to the start, severity (Red, Amber, Green) and end of a pipe freezing event. The magnitude of the index defines the severity of the event. The more negative the FT index is, the greater the likelihood of supply pipes freezing and rupturing, and the greater the water losses will be as the thaw sets in. A rapid thaw will add to the demand spike by concentrating the water losses into a shorter period.
Our system delivers Red, Amber or Green alerts depending on the FT index and thresholds derived from analysing demand data or from analogues if data are not available.
Green - no 'freeze-thaw' anticipated
Amber - 'freeze-thaw' forecast with water demand increase being within normal variability
Red - 'freeze-thaw' anticipated with above normal levels of water demand expected
Slight freeze events, such as overnight frosts would be categorised as Green since the ambient air temperature would have dipped below zero for only a few hours. Moderate to severe 'freeze-thaw' events on the other hand, such as the 'Beast from the East', would be categorised as either Amber or Red given the longer duration and greater intensity of the freeze event and subsequent thaw.
You don't have to do all the work yourself
Updated daily, running in the background from November to March, Freeze-Thaw™ early alerting service combines reliable science with convenient continuous monitoring. Every time monitored parameters reach set thresholds it triggers an alert and you will receive an email with either Red or Amber alert.
Why should you consider adding Freeze-Thaw™ to your alerts suite?
Losing water supply can cause significant disruption to businesses and people's lives. Effectively managing future 'freeze-thaw' incidents gives you the opportunity to positively impact consumers' and stakeholders' perceptions of your company. Having the right information ahead of time will enable you to be more in control and not just reactive. It will help you:
Increase water production in advance of the incident.
Ease inconvenience caused by the event by proactively communicating with your customers and stakeholders.
Be ready with alternative supplies for those without water.
Prepare a plan to help the most vulnerable.
By informing your customers early and guiding them on the preventative actions they can take, you could prevent some pipe bursts and reduce the severity of leakage.
The Freeze-Thaw™ alerting service is a tool that helps you effectively prepare for 'freeze-thaw' events and ensure that there is minimal impact to your customers. Subscribing to this service helps to demonstrate due diligence to regulators and customers, in that you are using the best possible intelligence about impending events.
How do 'freeze-thaw' events affect the water sector?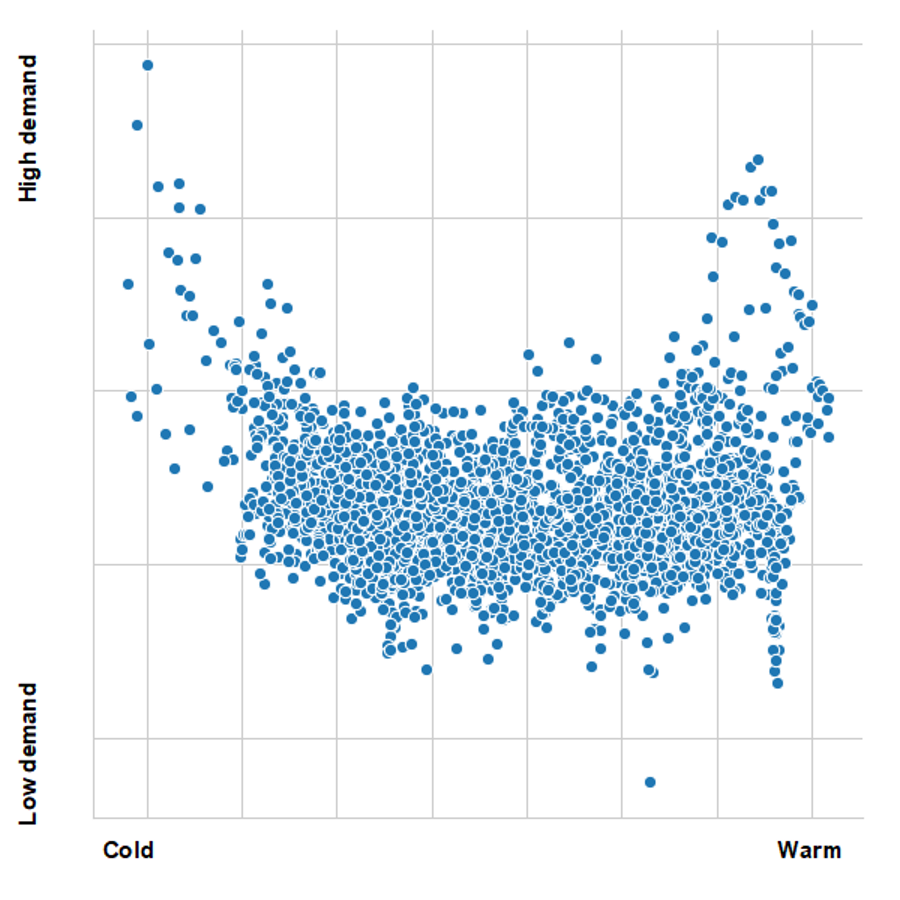 The graph illustrates the relationship between temperature (horizontal axis) and the demand for potable water (vertical axis). In cold weather, the demand increases due to burst pipes and leakage. This cold weather demand is exacerbated by several 'freeze-thaw' events (upper left corner). When such events occur, they drive a significant increase in demand and put enormous strain on the system.
The 2018 event was extremely disruptive to water companies
Following the interruption of supply, they had to pay £7 million in compensation for poor management of the event. According to CCWater report, a quarter of affected consumers have changed their opinion of their water supplier. Ofwat, the industry regulator pointed out that there is a lot of room for improvement in terms of responding to 'freeze-thaw' incidents.
...steps must be taken now to ensure that customers are better protected next winter. Severe weather events are likely to become more common as the impacts of climate change are felt. Companies must continue to go further to ensure that the networks, processes and capabilities that they have will meet this challenge and ensure that customers are truly put at the heart of their businesses.
- Ofwat