COP25 (2019 United Nations Climate Change Conference)
In December 2019, 20,000 scientists, politicians, and NGO members from around the world met in Madrid, Spain, to discuss global action against climate change.
The meeting of the Conference of the Parties (COP) is an annual event organised by the United Nations Framework Convention on Climate Change (UNFCCC) that aims to unite scientists, businesses, and governments in discussions about climate change.
The 25th event, COP25, was held in Madrid from 2nd - 13th December 2019 and was officially hosted by the Chilean government.
Delegates at COP25 were able to attend a range of talks explaining the latest climate science, discuss the progress made so far in combatting climate change, and pin down goals for reducing emissions in order to avoid dangerous levels of climate change.
This COP also aimed to formally integrate science into the private sector to allow the two to work together. In keeping with former COP events, scientists from the Met Office Hadley Centre were active members of the COP25, where they attended events, gave talks and shared the cutting-edge research that they have been undertaking alongside international partners.
Below are briefing notes on a selection of key climate science themes where Met Office scientists provided a significant contribution together with international partners.
Click below to learn more about: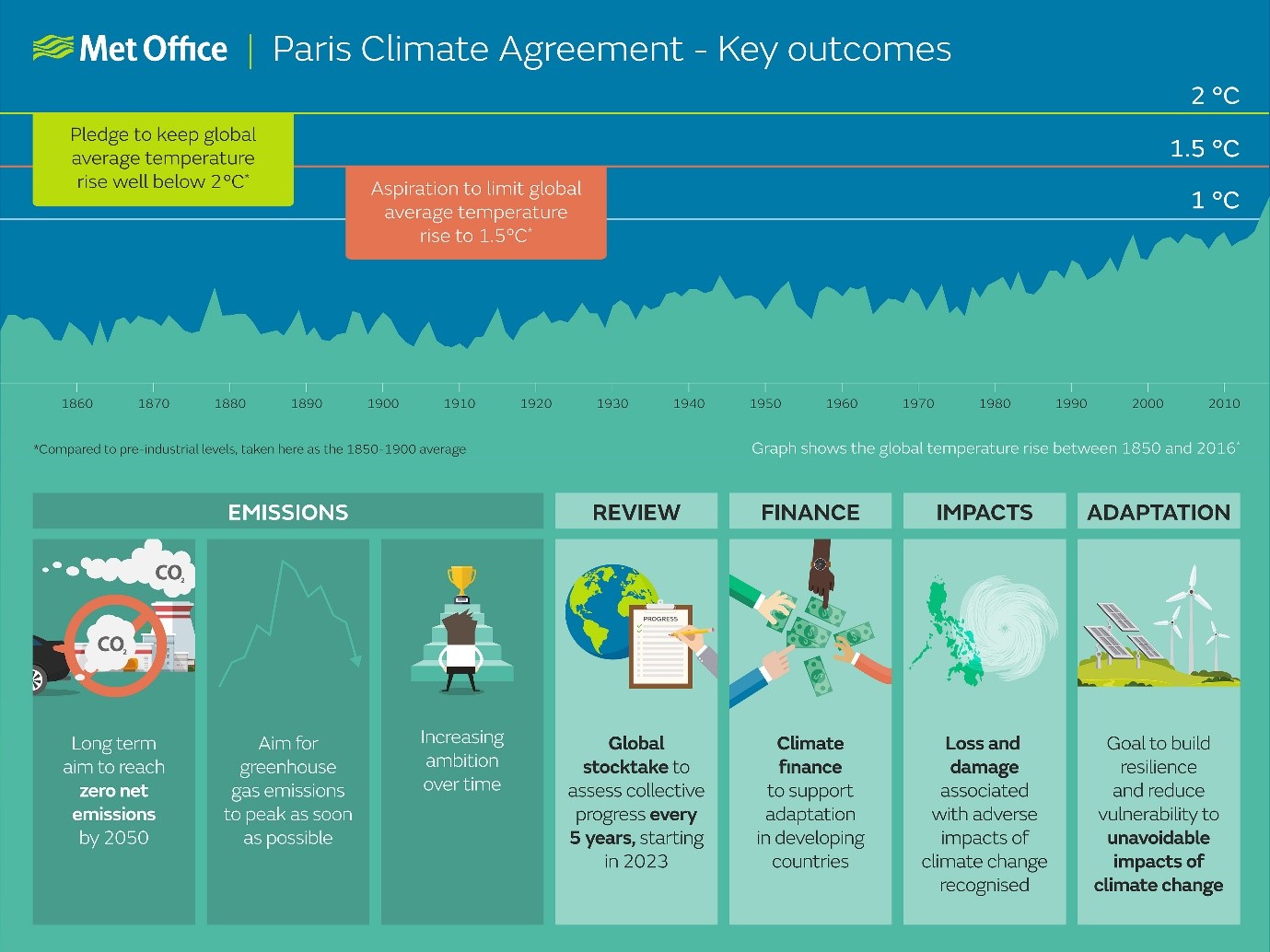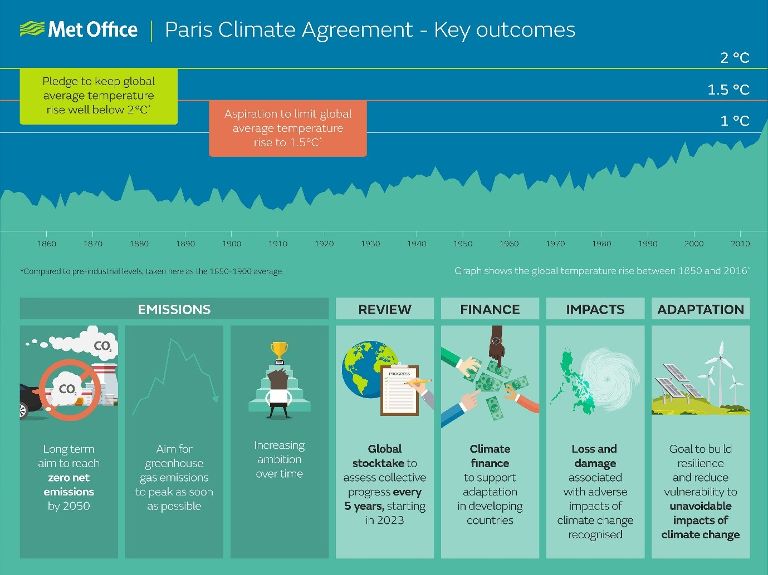 There were also a range of side events held by COP organisers, which focused on 'Accelerating Implementation of the Paris Agreement'. These side events sat under the categories of:
Enhancing ambition
Promoting implementation
Providing support to developing countries
| Side event | Background and Met Office contribution |
| --- | --- |
| Earth information day | Delivery of the Global Climate Statement by John Kennedy |
| How can the world's most detailed climate projections help us prepare for the future? | In September 2019 the UK launch the most detailed climate projections of any country yet, providing unprecedented detail on future weather for a range of scenarios. Jason Lowe will discuss how these projections can help us prepare for the future. |
| What if we miss the target? Climate change and socioeconomic risks at global warming of 1.5 - 4°C | Richard Betts will contribute to presenting latest findings on the impacts of global warming of 1.5°C, 2°C and 4°C, at global scales and in South America. |
| Earth Observation: A Critical Capability in Understanding Our Changing World | Earth Observation (EO) has revolutionised our ability to monitor both climatic and environmental systems. Nick Rayner will discuss states of the climate and natural hazards. |
| How is the UK building the evidence for a climate resilient future? | Work is underway on the country's third Climate Change Risk Assessment, using existing research and new, state-of-the-art climate projections to assess the urgency of adaptation for specific climate risks. A new Strategic Priorities Fund project will add to research on climate resilience. Richard Betts and Jason Lowe will present in this session |
| The Ocean, CO2 and Society: challenges, opportunities and science responses for seas and society | The session will showcase how action-driven transdisciplinary science can help understand and manage the challenges placed on the ocean and so improve sustainable development. Jason Lowe will talk about global ocean science. |
| People led approach to climate services | Focus on partnership working to apply UK science and knowledge to challenges and opportunities across the developing world and builds sustainable solutions to inform and protect lives and livelihoods. Helen Bye and Richard Jones will present in this session |
| What are the key climate 'tipping points' and how can we avoid them? | From the shutdown of the gulf stream to mass release of warming gases from thawing permafrost, climate 'tipping-points' pose severe risks. This event discusses latest research on these risks and what we can do to limit them. Richard Betts and Andy Wiltshire will present in this session |
| The Risk-informed Early Action Partnership (REAP) | The UK Government is leading on implementation of the Risk-informed Early Action Partnership (REAP), an update on progress since the UN Climate Summit in New York on approach, programmes and opportunities to engage. |
The UK will host the 26th COP, which is due to take place in November 2020, when up to 30,000 delegates will attend the Scottish Events Campus in Glasgow to build on the progress made in previous COP events.