My Winter - Salvation Army church leader Carl Whitewood
Church leader Carl Whitewood of the Salvation Army church in Ramsgate, Kent, shares how he prepares and runs a night shelter to help stop avoidable deaths of rough sleepers in winter.
The preparation for our winter night shelter starts in July, which was the middle of the heatwave this year. It was sweltering hot and hard to imagine the challenges of the freezing temperatures and snow to come.
Snow falling can mean life or death for people sleeping on the streets. Across the UK charities, churches, and not-for-profits are opening their doors each night to host emergency winter night shelters for rough sleepers.
Our Salvation Army night shelter houses 20 people
Here in Ramsgate, The Salvation Army helps to run the winter night shelter in partnership with around nine other churches. We house 20 people a night, and have another five emergency beds for when temperatures drop below zero and SWEP (the Severe Weather Emergency Protocol) is activated.
The winter weather makes a huge difference to the lives of people rough sleeping. The colder it gets, the worse it is for people trying to find somewhere warm and dry. It's great that we can help them at night but you do worry about them during the day, trying to find somewhere warm to spend time.
The night shelter opens at 7:30pm each day and everyone gets warm and dry shelter, a bed and bedding, a hot meal, and the opportunity for a shower and a change of clothes.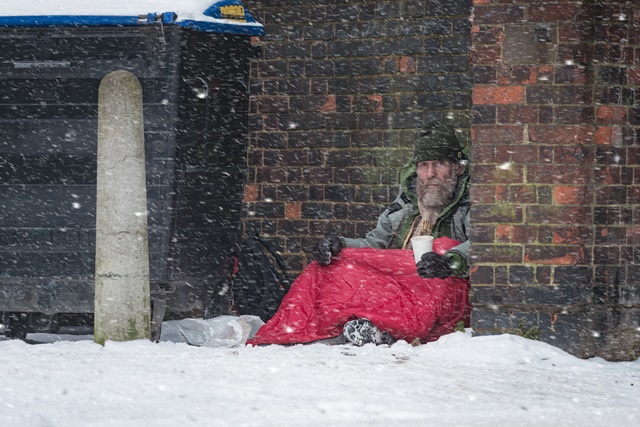 Extra help and support at the night shelter
This season we will have nurses visiting to offer free health check-ups, hairdressers offering free cuts, and we have access to other support services if and when we need them. In the morning we cook up a big breakfast for everyone, hoping that helps to sustain them through the cold day, and we close the shelter at 8am.
We employ a full-time manager who starts preparing in July, and we have a network of staff and volunteers who support each night once the shelter opens in November.
This is the third year we have run the winter night shelter. We've had the same capacity each year but this will be the first time that we are full up. We know rough sleeping has increased in the past year and that has definitely showed as we had almost hit capacity in our first week.
We have also extended the season this year, so we are open for 17 weeks from mid-November to mid-March.
Many volunteers help support our night shelter
It is a big commitment for a church to house 20 people and support staff each night as well as provide two meals each day, so to share the load we move to a different church each night.
We have a van so we can pack everything up in the morning and transport it to the next night's location. We take anyone where they need to go for the day and will pick them up that night if it's a long way to the next location.
How rough sleepers can register for one of our beds
In the lead-up to opening, a team of staff and volunteers are out on the street meeting rough sleepers and registering those who wanted one of the 20 beds over winter.
Building relationships and trust to help people to get off the streets
While stopping preventable deaths of rough sleepers is our urgent priority, the night shelter also aims to support people towards more permanent housing solutions beyond winter.
The night shelter is a good way to slowly build relationships, grow trust, and offer support to people who have often not been able to trust for a long time.
Of course we don't want people freezing on our streets, but it's so much more than that. It takes time to build trust and we just want these people to feel valued and cared for.
How you can help the Salvation Army
We (The Salvation Army, 167 High Street, Ramsgate) are accepting donations of winter clothes for people to keep them warm and dry during the day – especially hats, gloves, socks, scarves and coats.
To donate to The Salvation Army, please visit www.salvationarmy.org.uk.