Camping in the sun - Britain's best summer campsites
Where have you got a good chance of catching some rays?
Everyone loves camping in the sunshine. Whether it's simply lying in the warm, long grass, watching the sunset on a still summers night or wandering on a sunny Sunday walk, getting out and pitching your tent in the British countryside is tough to beat when the weather is on your side. And, with the bank holiday just around the corner, we've teamed up with the folks from coolcamping.com to bring together some of the country's sunniest camping locations. Here's where you've got a good chance of catching some rays this weekend…
The pretty seaside town of Shanklin on the Isle of Wight's south west coast has the highest average sunshine hours of anywhere in England. Cycle out from the seafront and, where houses merge into the woodland beyond, Ninham Farm can found, home to a family-run campsite that welcomes campers and caravanners alike. With all that sunshine, it's no surprise they provide an outdoor swimming pool for cooling off, while other facilities include an ice-cream hut, volleyball courts and an indoor games room. Walk from the farm to Shanklin Chine, an intriguing, mossy gorge that leads down to the beach, or bring bikes to explore further along the coast.
Sunshine reading: Shanklin, 1,923 annual sunshine hours.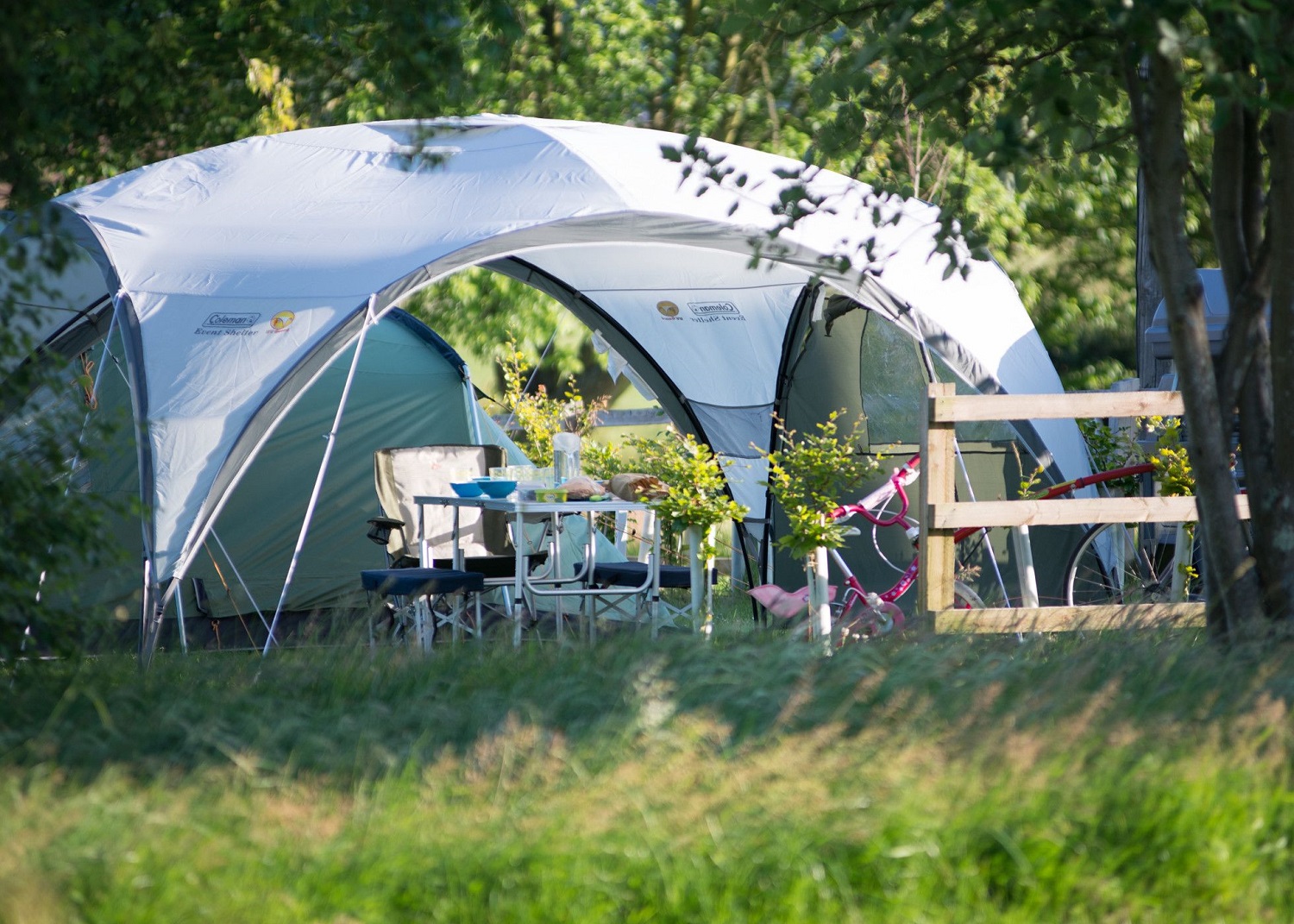 Ninham
There's no need to use your car once you arrive at clifftop Overstrand campsite. Everything here is just metres away. The beach is an easy scamper down the path, a vast sandy expanse that you can stroll along all the way to Cromer (home to an amusements-filled pier and bustling waterfront), while a beachside café serves tasty bacon baps and other seaside staples. Facilities are relatively basic – there are toilets, showers, washing-up sinks and an indoor games room – but electrical hook-ups aren't provided and campervans and caravans aren't allowed.
Sunshine reading: Cromer 1,655 annual sunshine hours.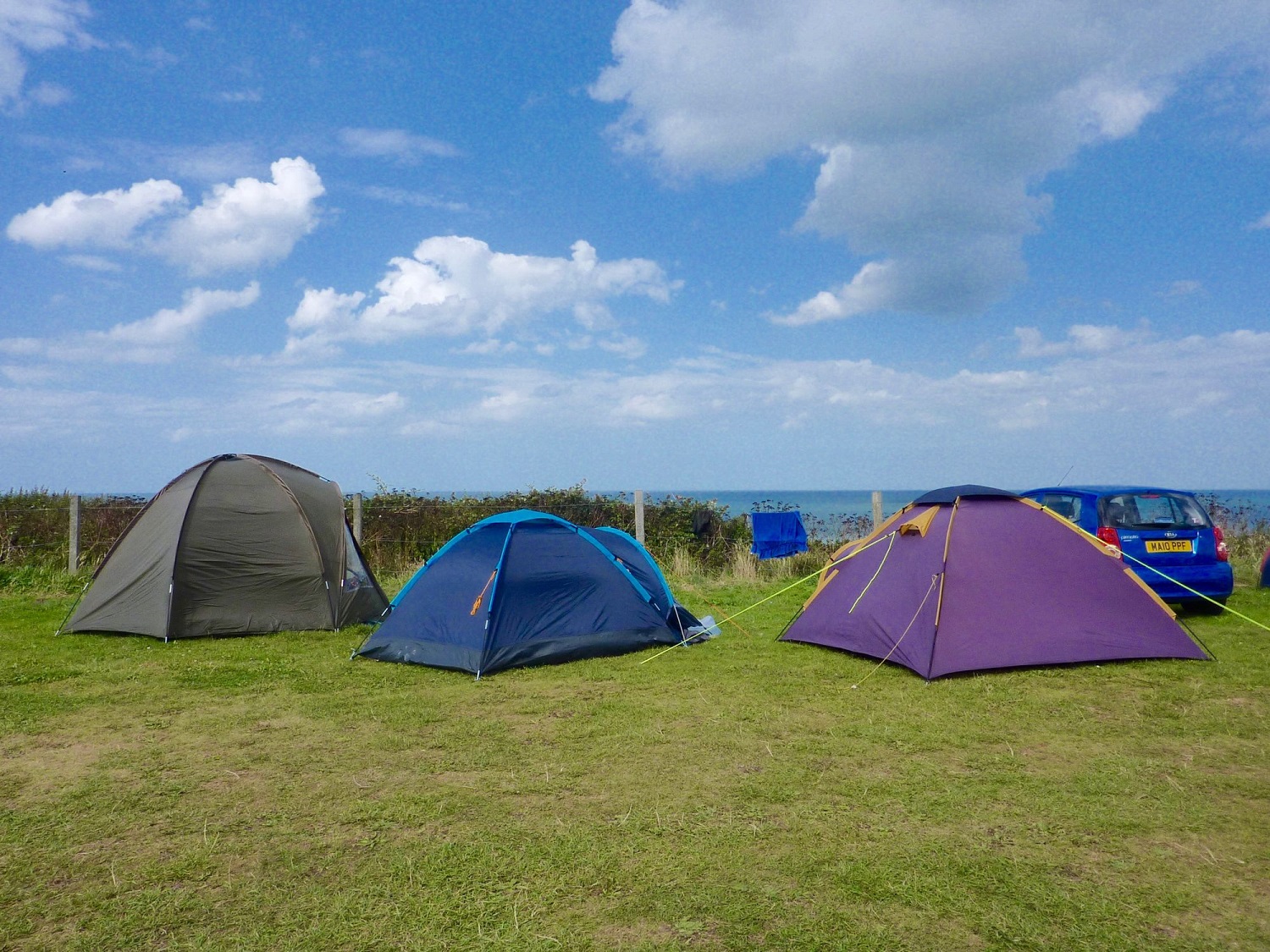 Overstrand
Despite the name, there is camping as well as glamping in this wildflower dotted meadow in eastern Scotland. All the sunlight results in lush, long grass and a wildlife-friendly forest, with magnifying glasses and bug identification kits supplied for children to make the most of it. Other facilities include an arts and crafts tent and a field kitchen inside an ingeniously converted stable, while eco-friendly toilets and solar-powered showered allow the place to thrive without the need for mains electrics. The entire site is car-free, too, making it super safe for kids.
Sunshine reading: Carnoustie 1,498 annual sunshine hours.
Set among the iconic chalky downs of the Purbeck Hills, between National Trust-owned Corfe Castle and the beaches of Swanage Bay, 13-acre Woodyhyde is a vast, family-friendly campsite. Spread across three fields – a small meadow adjacent to the Swanage Steam Railway line, a spacious medium field where you'll also find the main facilities block, and a large field with broad, countryside views – it offers unadulterated kiddy bliss. Improptu football games flourish on weekends and children gather to wave at passing steam trains, while there are beaches and pubs aplenty within easy walking distance.
Sunshine reading: Swanage 1,827 annual sunshine hours.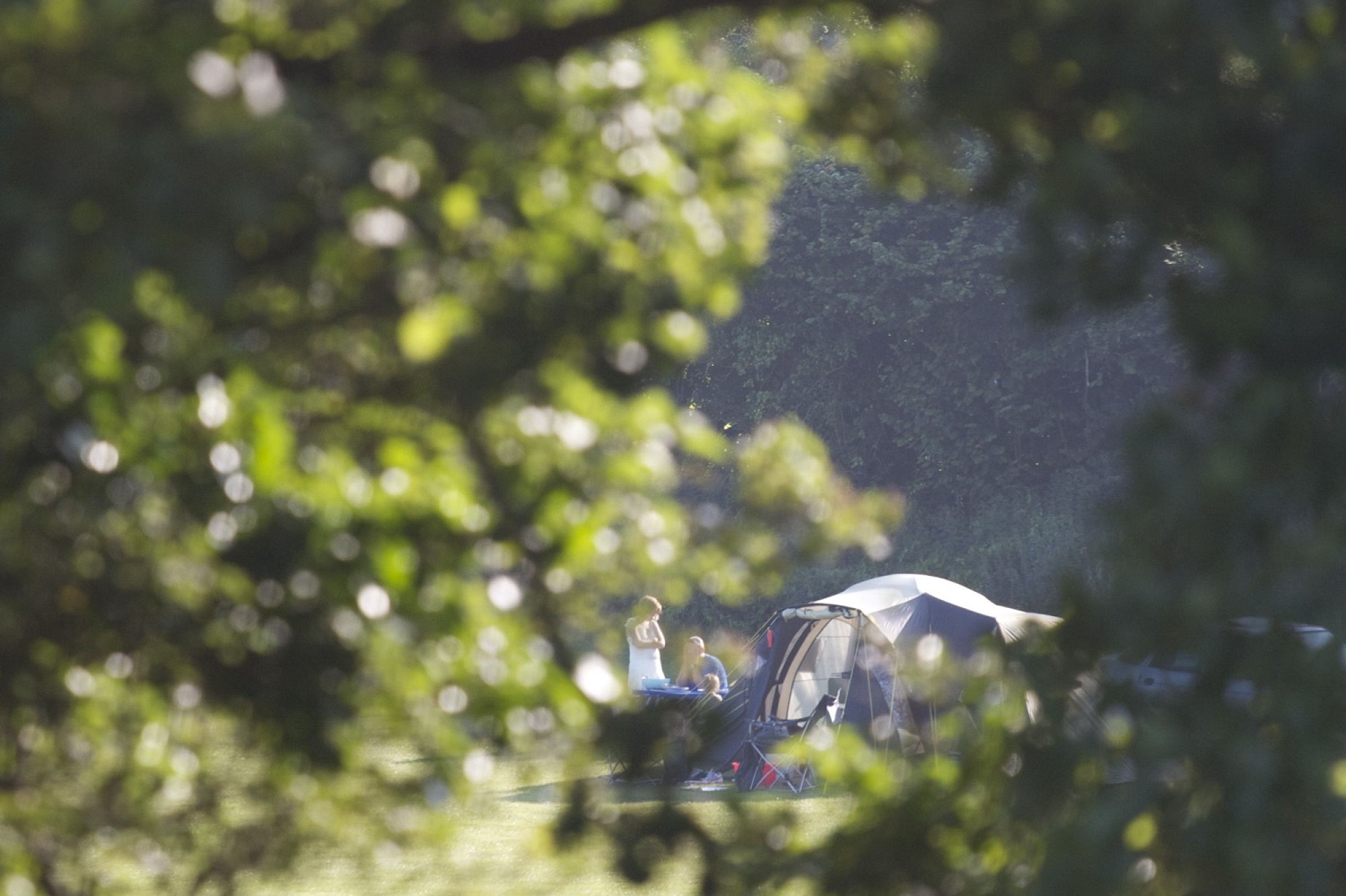 Woodyhyde
Located on the Dale Peninsula, overlooking the Milford Haven estuary, tiny Point Farm is a relatively new campsite with 21st century facilities, such as free Wi-Fi, a laundry service and a handy shed housing re-charging points. The Pembrokeshire Coastal Path runs directly alongside the campsite, taking you to numerous local beaches as well as the nearest pub, just 400m down the road. The narrow peninsula location also means each beach has a different aspect, with the easterly estuary for sunrises and westerly Dale beach for Atlantic sunsets. It's a small campsite, though, so booking early is highly recommended.
Sunshine reading: Dale Fort 1,701 annual sunshine hours.
Despite it's sought after location near surf-friendly Croyde Bay, the protected dune-scape of Braunton Borrows and the vast sandy beach of Saunton Sands, Fairlinch is not a busy campsite. In fact, for 11 months of the year, there is nothing to see here other than grazing cattle. But, from the last weekend in July to the first weekend of September, the meadow gates are opened to happy campers in their car-load, creating a simple, sunny camping meadow with room for around 50 tents, campervans and caravans. Facilities are relatively basic but the showers are good and campfires are permitted. What else could you need?
Sunshine reading: Saunton Sands 1,642 annual sunshine hours.
While the waters and mountains of the Lake District steal much of the limelight, it's the national park's lesser-known coastline that is busy soaking up the highest sunlight readings. Set on the outskirts of Ravenglass, a pretty Roman fishing village on Cumbria's west coast, this Camping and Caravanning Club site combines modern facilities with old-school camping principles. The facilities – a modern shower block and a well-stocked shop – don't come at the expense of the natural surroundings, with a glorious woodland setting and the nearest beach just 200 metres away, while, for extra adventure, campers can arrive into the estuary village via the beautiful and open-to-the-elements Ravenglass and Eskdale Steam Railway.
Sunshine reading: Eskmeals 1,504 annual sunshine hours.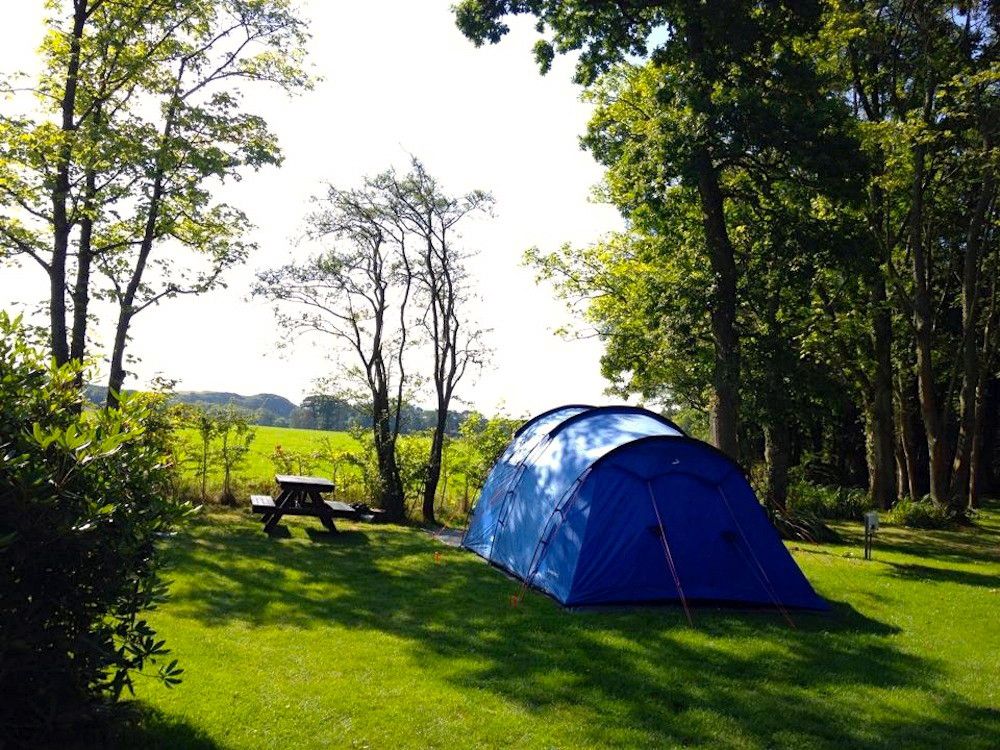 Ravenglass
Coastal Valley is far more than just a campsite. Along with tent and campervan pitches there are quirky glamping options too, plus a reception-cum-farm shop selling locally sourced meat and veg and an online calendar dotted with willow weaving courses, slate painting days, fabric printing and more. Imaginative owner Tanya bills it as a 'camp and crafts site' and the place does a roaring trade. Facilities include a decent camp kitchen, a modern shower block and a central marquee where all the crafts activities take place, while the beach and the vibrant surfer town of Newquay are within easy walking distance.
Sunshine reading: St Mawgan 1,742 annual sunshine hours.
Tiny North Rhinns Campsite, within walking distance of Scotland's south-western coast, has bags of character, with individual pitches all spread around the owners' charming home. Some peep from the trees, with views across rolling countryside peppered by rocky knolls, while others sit in wooded clearings or out in the open near the small facilities block. There are just 10 pitches, campfires are permitted and a pod provides extra insulation for visitors arriving in winter weather. Walking the rugged coastal path to Portpatrick is a must, tracked by calling sea birds for much of the way.
Sunshine reading: West Freugh 1,554 annual sunshine hours.
Sitting atop the North Yorkshire cliffs, Crows Nest is a tale of two campsites. On one side, there are rows of caravans and motorhomes with full electricity, while, on the other, a simpler tent camping meadow spreads before you. An ablutions block with the usual – toilets, showers and washing up facilities – as well as a shop, swimming pool and games room neatly divide the two areas and a fence protects you from the cliff edge. A small walkway takes you down to the beach below where, if you're lucky, you can sometimes spot members of the local seal colony.
Sunshine reading: Scarborough 1,553 annual sunshine hours.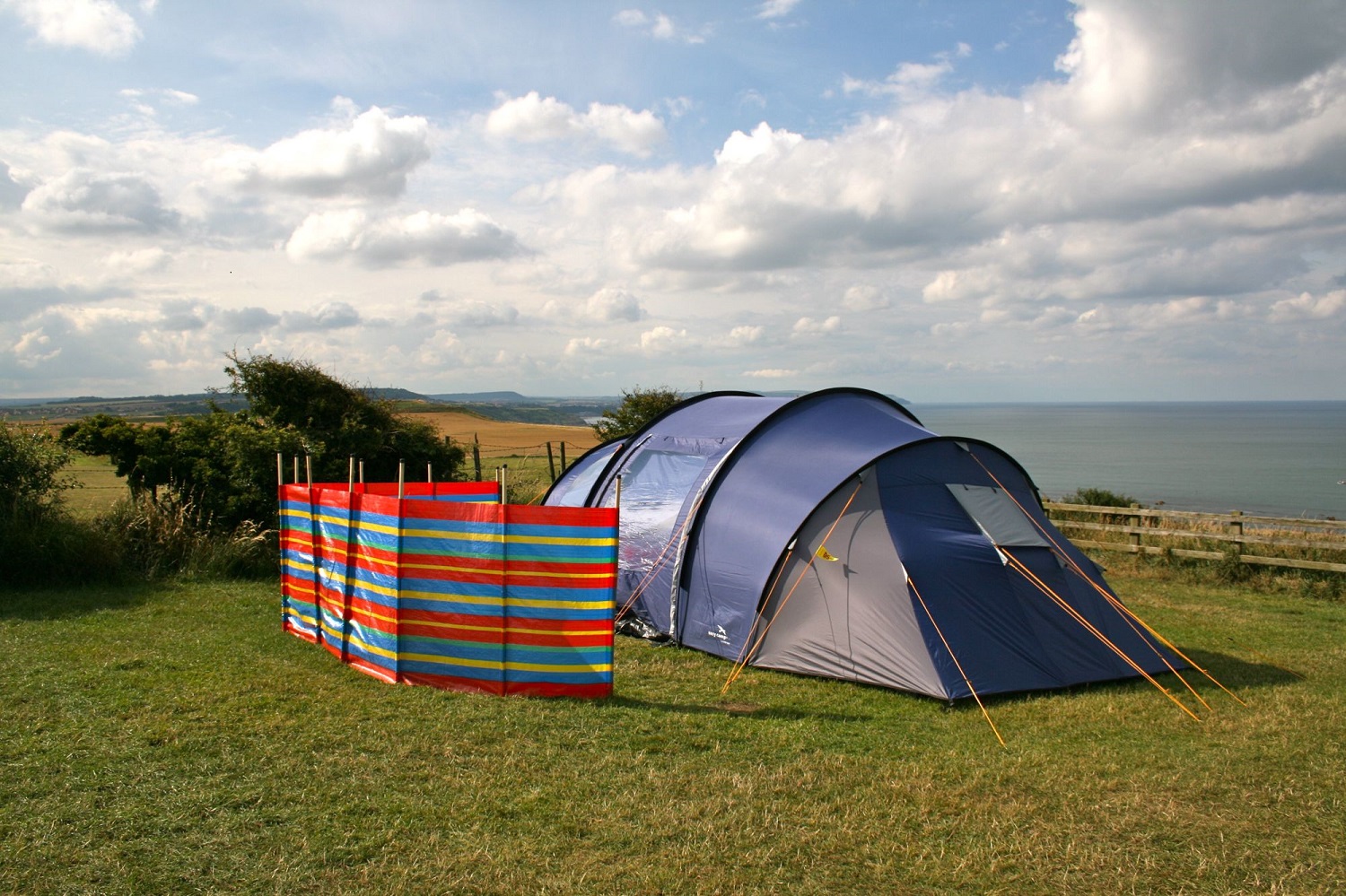 Crow's nest
 
Halfway between Cardiff and Swansea, this aptly named campsite occupies one of the best locations on the Glamorgan Heritage Coast, just meters from the waterfront footpath. Spanning 35 miles from Cardiff Bay to the seaside kitsch of Porthcawl, the recently opened national trail takes in some of Wales' most spectacular scenery, with the campsite itself acting as the perfect mid-way base. The tent-only spot has space for 30 pitches, spread across two paddocks on soft, level grass with uninterrupted views of the Glamorgan hills and the Bristol Channel. Arrive early to bag the best spots or opt for a pre-pitched bell tent for extra comfort.
Sunshine reading: St Athan 1,673 annual sunshine hours.
A quiet campsite, in the north of the Kent Downs, five miles west of Faversham, Palace Farm has room for just 25 tent pitches, with an adjoining field left free for games and general haring around. Don't confuse quietness with strictness, though. Campfires are allowed, campers can help themselves to plums from the orchard or blackberries from the old hedgerows around the farm, and, while you're hunting and gathering, there's a small honesty shop, too, where you can forage zero-food-mile courgettes, pumpkins, and other seasonal veg fresh from the farm.
Sunshine reading: Faversham 1,683 annual sunshine hours.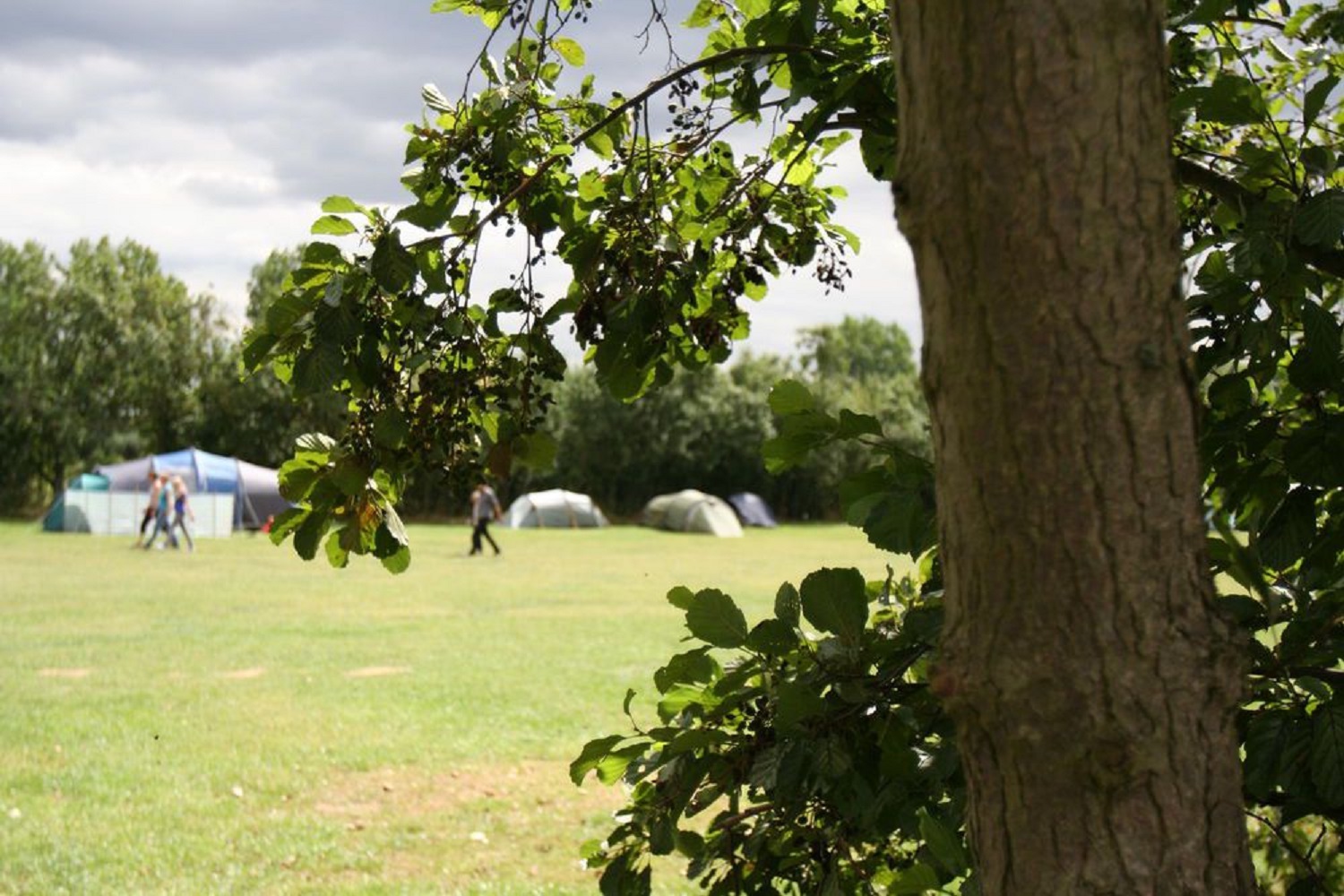 Palace farm
History buffs abound at Twitey's Tipis. Four miles from Shakespeare's Stratford-Upon-Avon and a short drive from Warwick Castle (where family activities are run throughout school holidays), this wild grass meadow is stitched together with short pathways that connect 45 mown clearings for tents and campervans. The local village of Wellesbourne is also home to an underground World War II Museum and there's an award-winning preserved blacksmiths and wheelwright's workshop at Chedhams Yard. Above all, though, it's the peaceful, backwater setting in rural Warwickshire that gives the site its charm. At night, it's also a top spot for stargazing.
Sunshine reading: Wellesbourne 1,512 annual sunshine hours.
Twitey's teepees and camping meadows
Despite boasting one of the UK's sunniest locations, Fox Wood is a place for enjoying dappled shade and evening campfires beneath the trees. There's a wonderfully wild feel to the campsite, with just 30 tent pitches centered around firepits in the heart of an oak woodland. Only half of the 34-acres is actually allocated to camping, the rest is left to nature and is a joy to explore, particularly for children. By day, make the most of the sunshine by cycling to Climping Beach and Sandy West Wittering or follow footpaths out of the woods and across the surrounding South Downs National Park.
Sunshine reading: Worthing 1,831 annual sunshine hours.
A short walk along the coast from sunny Tenby, Becks Bay Campsite offers sea views, access to an extremely secluded little beach and space for just 10 tents at any one time. Facilities, housed inside rustic wooden shacks, are surprisingly good, given the homespun appearance, and a new indoor area features huge windows for soaking up the views and a cosy wood-burning stove. A swing, campfires and space for ball games have obvious appeal, but most of the time at Becks Bay Campsite is really spent elsewhere, exploring the glorious beaches of Pembrokeshire.
Sunshine reading: Tenby 1,667 annual sunshine hours.
Sunshine hours based on a 30-year average (from readings between 1980–2010) and provided by the Met Office's National Climate Information Centre. The UK national average is 1,372 sunshine hours.