CCl OPACE 2 Task Team on National Climate Monitoring Products
Members
John Kennedy1, Ladislaus B. Chang'a2, Derek Arndt3, Prithiviraj Booneeady4, Olga Bulygina5, Mesut Demircan6, Mohammad Semawi7, Andrew Watkins8
1 UK Met Office, 2Tanzania Meteorological Agency, 3 NOAA, 4 Mauritius Meteorological Services, 5Russian Research Institute of Hydrometeorological Information- World Data Center (RIHMI-WDC) , 6 Turkish State Meteorological Service, 7 Jordan Meteorological Department, 8 National Climate Centre Bureau of Meteorology, Australia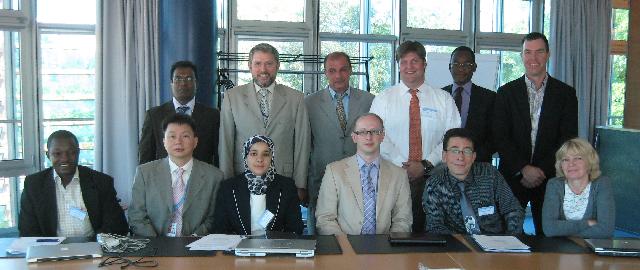 (back row from left) P. Booneeady, O. Baddour, M. Semawi, D. Arndt, H. Kontongomde, A. Watkins. (front row from left) L. Chang'a, P. Shi, F. Driouech, J. Kennedy, M. Demircan, O. Bulygina
Introduction
Currently, a wide variety of climate monitoring products are produced around the world and there are many inconsistencies between the methods used by different countries. The inconsistencies make comparisons difficult, or impossible.
Even simple differences such as the choice of the base period for calculating anomalies, or the length of available records can make it difficult to interpret differences from one country to the next. For example, the "warmest year on record" is newsworthy if the record is 200 years long, but less so if it is only 5 years long.
The main aim of the task team is to generate a short list of standard national climate monitoring products that can be produced consistently by most countries. The requirement to be inclusive, to allow more countries to participate, places certain practical constraints on what can be demanded.
The team would define how those products would be created so that comparing a national monitoring product from one country with that of another would be an apples with apples comparison.
The list would allow countries with few resources to focus their efforts on those products which would be widely used and enable them to participate in global monitoring activities such as the Bulletin of the American Meteorological Society's State of the Climate reports. The task team was convened by the WMO Commission for Climatology (CCl) in June 2010 and draws on the experience of climate monitoring experts from most of the WMO regions.
What is a national climate monitoring product?
It is perhaps best to show by example what a national climate monitoring product is. Examples might include annual and decadal mean temperature from Australia, annual precipitation from the UK or a composite extremes index from the US. These are relatively complex creations, but a national climate monitoring product might be as simple as the maximum temperature recorded in the country during the year, or month, or the onset date of the seasonal rains at a particular location. Derived products are also possible based on these products such as temperature rankings e.g. in Australia, 2005 was the warmest year on record.
Terms of Reference
Consider the existing national climate monitoring products and determine which of these products are most important from a scientific perspective as well as which products generate the most interest among the general public within those countries.
Consider the existing capabilities within developing countries to potentially produce the climate monitoring products documented in (1) above.
Develop a list of from two to six national climate monitoring products that the team recommends Members produce.
Precisely document the construction of this priority list of national climate monitoring products in a publication intended to be an addition to the WCDMP publications.
Determine if it would be helpful to develop software to calculate these products and, if so, what language would be appropriate for the software.
Should software be deemed appropriate, either create the software or recommend that such software be created.
Report to OPACE 2 co-chairs. [Develop guidelines with appropriate formats and suitable mechanisms for the Members to follow when submitting their national contributions to the WMO annual statement on the Global Climate.]
Task team lead to inform OPACE 2 co chairs that the task is finished and that the team can be dissolved.
Materials
Lists of National Climate Monitoring Products
Task Team meeting at WMO, Geneva 12-14 September 2011
The team met in Geneva to finalise a short list of National Climate Monitoring Products and to plan what remains to be done to fulfil the terms of reference.
Meeting documents
Meeting draft agenda (additional items included briefings on GSCU from Kumar Kolli and latest news from ETCCDI from Leslie Malone)
Meeting presentations
Task Team meeting at WMO, Geneva 12-14 September 2012
The team will meet in Geneva to plan what remains to be done to fulfil the terms of reference.
Meeting documents
Team activities
Raj Booneeady attended the CM-SAF user workshop in Rostock Germany from the 6-8 September 2010. Meeting report
Mesut Demircan and Mohammad Semawi attended the WMO Region VI meeting on climate monitoring in October
John Kennedy attended the Surface Temperatures Workshop in Exeter 7-9 September 2010
Glossary