Increasing resilience in Mozambique
Author: Press Office
10:28 (UTC) on Tue 20 Mar 2018
Mozambique is vulnerable to the impacts of climate change and extreme weather events such as drought, floods and cyclones.
Accurate weather forecasts and warnings of severe weather, distributed using appropriate channels, are critical in helping Mozambique - a largely agricultural country - plan for the potentially devastating impacts of weather and climate change to its citizens and economy.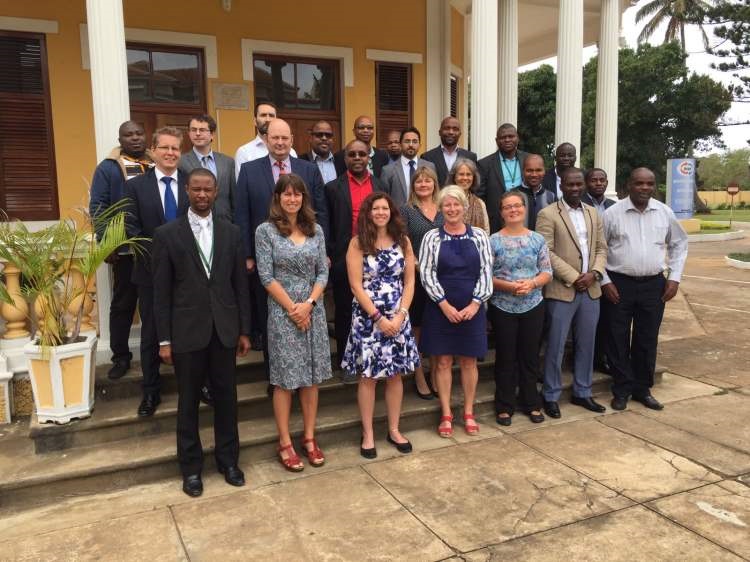 A climate of partnership: Members of the multi-national project gathered in Mozambique.
The Mozambique National Institute of Meteorology (INAM) will begin a new multi-nationally supported project to modernise and improve meteorological services. This project will enable INAM to increase its skill and expertise to develop a national weather forecasting service and pilot an early-warning severe weather scheme.
The project will support INAM to review and develop its long-term strategic plan, including evaluating impact-based forecast and risk-based warning services, and assessing the capacity of weather observation networks. This project, which will run until 2020, will include strong cooperation with other in-country agencies and national projects, to ensure a sustainable approach.
This programme is supported by the Nordic Development Fund (NDF) and aligned to the Transforming Hydro-Meteorological Services Project, which is financed by the World Bank Pilot Program for Climate Resilience (PPCR). Aage Jorgensen, Program Manager at NDF, says: "The Nordic Development Fund is happy to see a world-class technical assistance team in place to work long-term with INAM. This will strengthen its institution and organisation to become more efficient and effective in providing reliable meteorological data and cooperating with other institutions in Mozambique to produce early warning and climate data collection. This is well in line with other NDF support to initiatives across Africa to help the generation and use of climate information for climate-resilient development."
The strong multi-national partnership brings together the broad expertise, methods and tools to support INAM to produce a resilient and adaptive plan for their own development and modernisation. The project partners include: the Met Office, the UK's national weather service; MET Norway, the Norwegian Meteorological Institute; Deltares (Netherlands); and CONSULTEC (Mozambique independent agency).
Met Office Head of International Development, Dave Britton, explains: "For nations like Mozambique, which are heavily reliant on agriculture, improving weather forecasting and increasing the understanding of climate change impacts are vital".
Dave Britton added: "We will draw on our collective global experience in partnering with National Meteorological & Hydrological Services (NMHSs), government institutions and development agencies, and look forward to working closely with INAM."
The Director General of INAM, Dr. Aderito Aramuge, is supportive of the project and the modernisation of the organisation, which will contribute to an effective and efficient early warning system in Mozambique. "This Met Office assistance will enhance the capacity of INAM to provide meteorological information needed to ensure the sustainable development of the national economy and to mitigate negative climate-related impacts", explains Aderito.
"The project will contribute to INAM becoming a service and research institute capable of providing state-of-the-art services of weather and climate to the public and different economic sectors, to assist their decision-making for security and socio-economic well-being".
This project will strengthen the ongoing global commitment of the UK to work together with other countries, including Mozambique, to improve climate adaptation and resilience. The Commonwealth Summit on 19-20 April in London will be an important forum for discussions about responding to the impacts of climate change. In order to build a sustainable future, countries need to mitigate climate change, reduce vulnerability and increase resilience.