Pride of Britain award for Meteorologist
Author: Press Office
12:11 (UTC) on Mon 29 Oct 2018
This summer, Met Office meteorologist Josh Bratchley was part of a team of specialist divers involved in the rescue of 13 young people trapped in a cave in Thailand.
The team of six British divers have been recognised at this year's Daily Mirror Pride of Britain Awards, presented with the award for Outstanding Bravery.
27 year-old Josh, who joined the Met Office in 2015 said: "I'm very proud to be recognised for what my fellow divers and I did that week in June. To be nominated for a Pride of Britain award, let alone win it, is something we are all very proud of."
"I have been training with the UK's Cave Diving Group for years, which is the oldest amateur diving club in the world. It is great to have a hobby and passion for something that ultimately can save lives."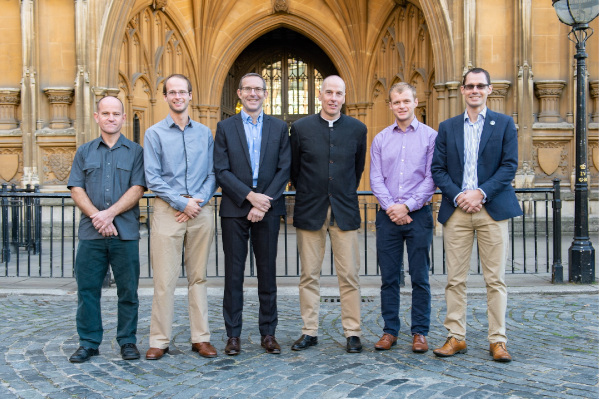 Image: British Dive Team outside Westminster Hall.  Divers (L-R): Jason Mallinson, Josh Bratchley (Met Office), John Volanthen, Rick Stanton, Connor Roe, Chris Jewell.
Photo: Jason Brown - https://bardocreative.zenfolio.com/. 
In an effort to rescue the 12 Thai boys and their football coach, the Thai government requested assistance from specialist divers around the world, including the British Cave Rescue Council who were able to co-ordinate and call out the UK team.
As part of their nomination, Josh and his fellow rescuers met with Prime Minister Theresa May in July and attended a Parliamentary Reception earlier this month. 
Josh currently works as an Operational Meteorologist at RAF Valley in Anglesey, where he is one of a team of six Met Office forecasters who provide meteorological guidance to trainee fast-jet pilots.  Josh has worked at numerous other Met Office locations including Aldergrove, Aberporth, Aberdeen and Cyprus. 
The Daily Mirror Pride of Britain Awards, in partnership with TSB, will be broadcast on ITV on 6th November at 8pm.
You can read more about Josh's heroic rescue efforts on the Met Office blog.