State of the UK Climate 2017
Author: Press Office
08:25 (UTC+1) on Tue 31 Jul 2018
The Met Office's 4th annual State of the UK Climate report, released today, confirms 2017 was the 5th warmest year in a record dating back to 1910.
The UK climate is warming. Average temperature over the last decade (2008-2017) was 0.8 °C warmer than the 1961-1990 average, whilst we've also seen 8% more rainfall and 6% more sunshine. In contrast to summer 2018, UK summers have been notably wetter over the most recent decade, with a 20% increase in rainfall compared to 1961-1990.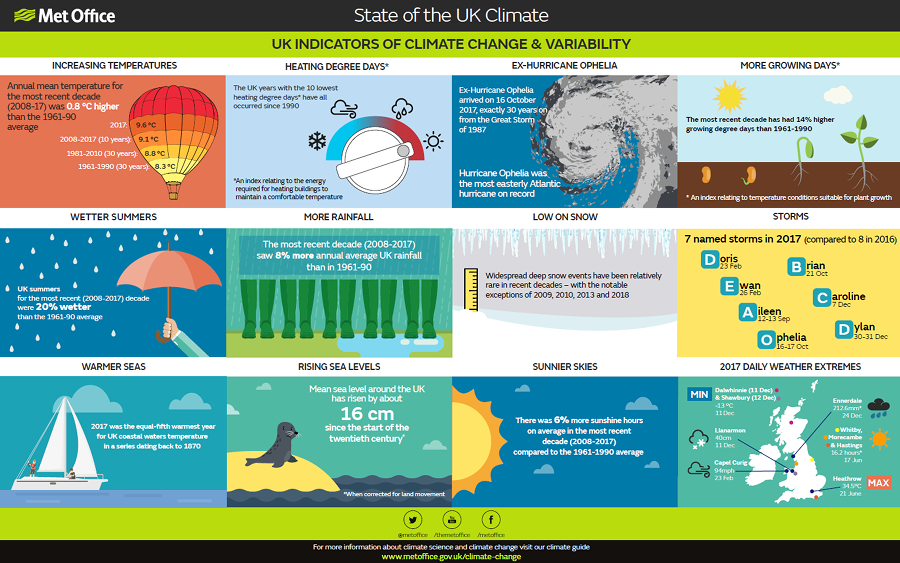 Dr Mark McCarthy, Manager of the Met Office National Climate Information Centre, said: "Our climate is changing, globally and here in the UK. People may not recall 2017 as having been a particularly warm year, with a relatively wet summer and snow in December. Despite this, when looking at the longer-term perspective 2017 was still more than 1 oC warmer than our 1961-1990 baseline and ranks fifth warmest year overall for the UK."
UK temperature records - dating back to 1910 - show that 2017 was the 5th warmest year on record for the UK land. Consequently, 2017 was the 5th lowest heating degree day (a metric associated with energy use (note)) and joint 5th highest growing degree day (a temperature metric associated with conditions suitable for plant growth (note)). UK coastal water temperatures were also warm: hitting joint 5th warmest in a series since 1870.
Warmer than average temperatures from February to June, and also in October, helped position 2017's high temperature ranking, whilst the second half of the year saw temperatures nearer to average.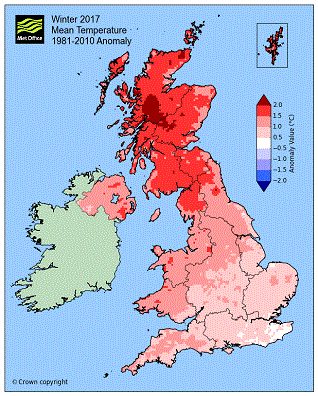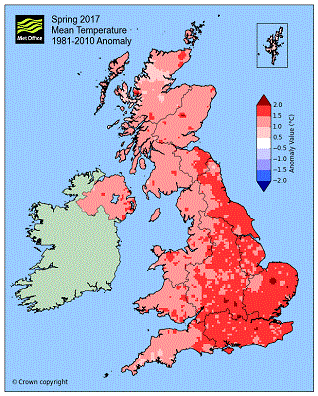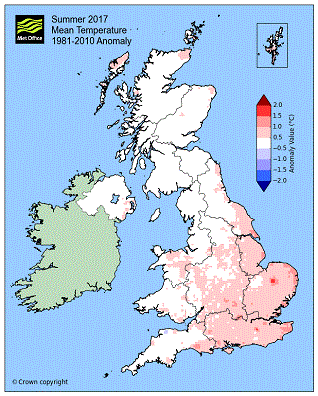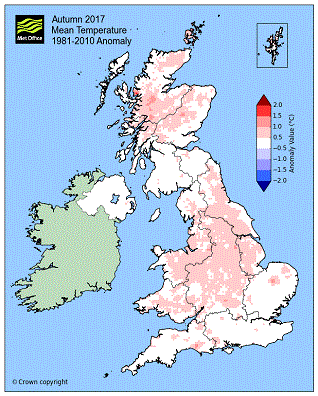 Nine of the ten warmest years for the UK have occurred since 2002, and the top ten have all occurred since 1990. The Central England Temperature series, which extends back to 1659, shows that the 21st century (since 2001) has so far been warmer than the previous three centuries.
For the UK as a whole, rainfall in 2017 was close to average, but with large regional differences. Much of Highland Scotland and lowland England were considerably dry, whilst west Wales, north-west England, and parts of south-west and north-east Scotland saw wetter conditions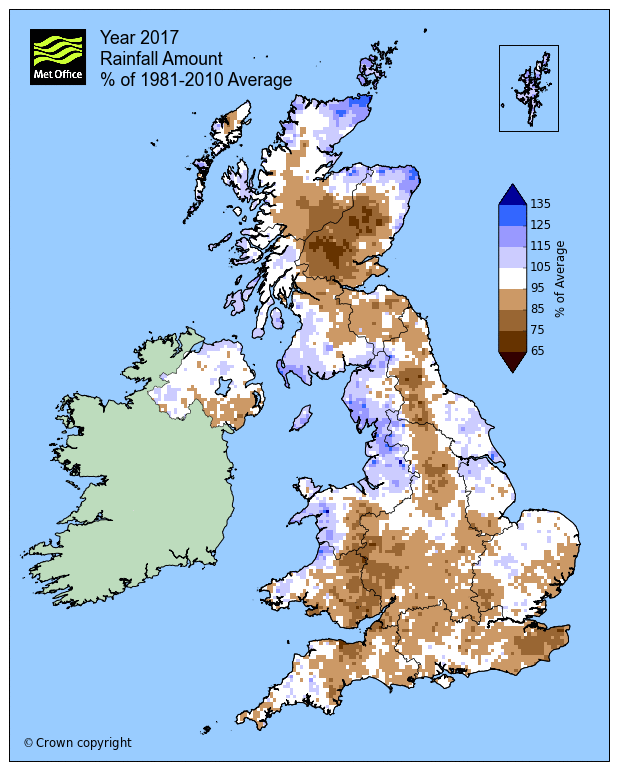 Mean sea level around the UK has risen at a rate of approximately 1.4 mm per year since the start of the 20th Century, equivalent to a rise of about 16 cm.
Table 1; Extremes for 2017
Extremes 09 -09 GMT
Date
Observation
Station

Highest daily max temp

21 Jun

34.5 °C

Heathrow, Greater London

Lowest daily min temp

11 Dec

12 Dec

-13.0

°C

Dalwinnie, Inverness-shire

Shawbury, Shropshire

Highest daily rain

24 Dec

2

12.6mm

Ennerdale, Cumbria

Greatest snow depth

11 Dec

40cm

Llanarmon Dyffryn Ceiriog, Wrexham

Highest daily sunshine

17 Jun

18 Jun

19 Jun

16.2 hr

Whitby, North Yorkshire

Hastings, East Sussex

Morecambe, Lancashire

Highest gust speed

23 Feb
94 mph
Capel Curig, Conwy

Highest gust speed mountain

23 Dec
137 mph

Cairngorm Summit, Inverness-shire
This report provides a summary of the UK weather and climate through the calendar year 2017 and is the 4th annual 'State of the UK climate' produced by the Met Office. It provides an accessible, authoritative and up-to-date assessment of UK climate trends, variations and extremes based on the latest available climate quality observational datasets.
For the first time this report is being published as a special issue of the International Journal of Climatology, which is the Royal Meteorological Society journal of climate science.
Professor Liz Bentley, Chief Executive of the Royal Meteorological Society, said: "The State of the UK climate reports provide an important record of the weather and climate in the UK each year. The Royal Meteorological Society is delighted that these reports are now being published in the International Journal of Climatology providing quality assurance and accessibility to a wider audience."