New March sunshine records
Author: Press Office
13:38 (UTC+1) on Fri 1 Apr 2022
Scotland and Northern Ireland each recorded their sunniest March on record (records back to 1919), according to provisional Met Office statistics.
The UK had its sunniest March since 1929 and its second sunniest overall (records dating back to 1919), as high pressure and clear skies reigned over the UK for much of the month, bringing an average of 166.1 hours of sunshine.
Northern Ireland had a massive 90% more sunshine than its long-term average for the month, with a total of 192.5 hours of sunshine in the month. Scotland was similarly sunny, with 64% more sunshine hours than average, with a total of 160.1 hours.
That sunny and clear picture was replicated across much of the UK. England had its second sunniest March with 168.1 hours and Wales its fifth sunniest with 157.9 hours.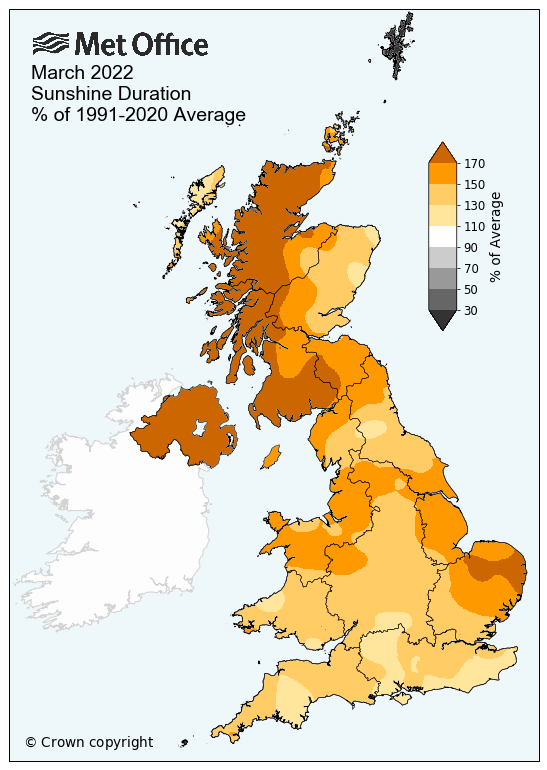 Mild March
Early and late cold snaps bookended a mild mid-March, as high pressure dominated for much of the month, bringing the average maximum temperature to 11.1C for the UK, some 1.9C above the long-term average. This puts the month as the sixth mildest March for maximum temperature since the series began in 1884.
Scotland also had its sixth mildest March by maximum temperature, with 9.8C, Wales its fifth with 11.4C, Northern Ireland its seventh with 11.2C and England its ninth with 11.9C. From 23rd to 27th, much of the UK experienced some notably high spring temperatures, particularly northern and western areas, with 19°C reached around Carlisle, Glasgow and Inverness, and locally 20°C in parts of England and Wales.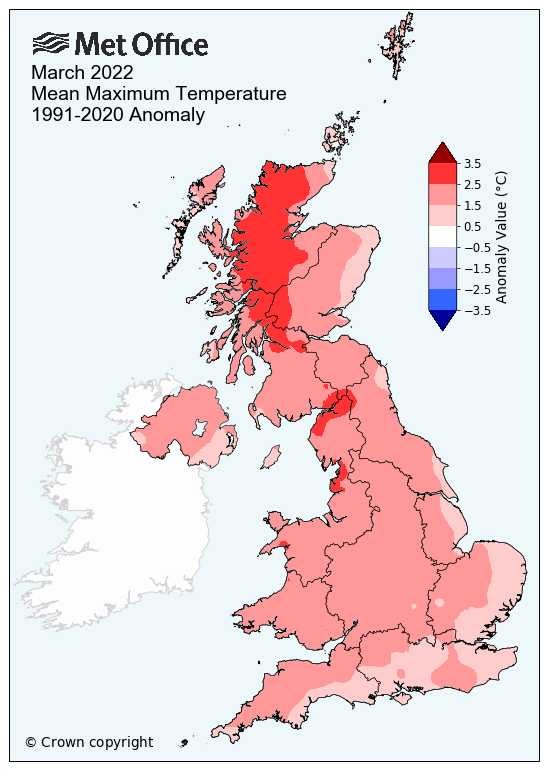 However, near-average minimum temperatures as a result of often clear skies have led the average mean temperature to be 1C above average for the UK, sitting at 6.7C.
End of March statistics
Maximum temp
Minimum temp
Mean temp
Area
Actual temp C
Anomaly c
Actual temp C
Anomaly C
Actual temp C
Anomaly C
UK
11.1
1.9
2.3
0.1
6.7
1.0
England
11.9
1.7
3.2
0.5
7.5
1.1
Wales
11.4
2.0
2.7
0.1
7.0
1.1
Scotland
9.8
2.2
0.7
-0.5
5.2
0.9

N. Ireland

11.2
1.7
2.1
-0.3
6.7
0.7
A dry month for most
As expected with high pressure blocking rain-bearing Atlantic frontal systems, rainfall has been in relatively short supply, although unsettled spells of weather early and late in the month have prevented it getting near any records for low rainfall in March.
It was particularly dry in the north of the UK, as Scotland saw just 50% of its average rainfall, with 61.9mm. While the UK as a whole had 58% of its average rainfall, with 46.9mm of rain. Places that got nearest to average figures were generally in southern and central England, although the clear trend was for below-average rainfall.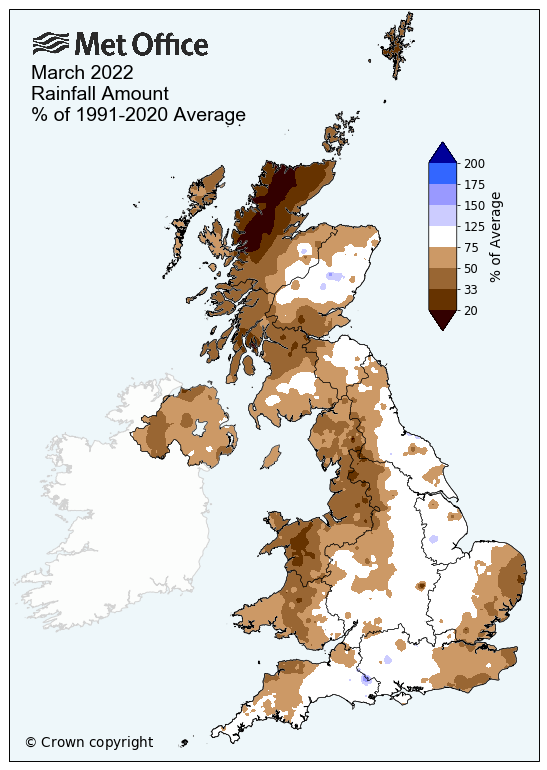 End of March statistics
Rainfall
Sunshine
Area
Actual mm
Anomaly %
Actual hours
Anomaly %
UK
49.6
58
166.1
152
England
41.9
72
168.1
144
Wales
51.7
50
157.9
144
Scotland
61.9
50
160.1
164
N. Ireland
49.2
57
192.5
190
March sunshine data for Shetland is not available due to a technical issue with the equipment at Lerwick. Our engineers are working to resolve the problem.
A calm month
Dr Mark McCarthy of the National Climate Information Centre said: "March has again illustrated the typical variability of the UK's climate, with some cold conditions at the start and end of the month separated by a long spell of mild and settled weather.
"The record-breaking sunshine figures were largely brought on by a very large area of high pressure that sat over the UK for much of the month, at times also covering much of Europe. This brought clear skies, mild days, but also some cool nights and some frosts.
"We've seen the warmest weather of the year so far with 20.8C recorded in London on 23 March, but we also saw a low of –9.1C at Aboyne at the start of the month, highlighting the variability of March in the UK."
In contrast to February, which saw three storms named in a week, March has been relatively calm for winds, thanks largely to the spell of high pressure.
Mark said: "The high-pressure system in the middle of the month was large enough to prevent deep low-pressure systems even from impacting northern areas of the UK as is normally the case. Instead, Scotland and Northern Ireland got clear skies and winds were generally light in nature."
You can find information on past weather events on our website, as well as weather and climate data for your region. You can always get the most accurate and up to date forecast for your area using our forecast pages and by following us on Twitter and Facebook, as well as using our mobile app which is available for iPhone from the App store and for Android from the Google Play store.