Over half of public making low-carbon decisions
Author: Press Office
09:00 (UTC) on Wed 22 Mar 2023
Polling by the Met Office shows that over half the British public are consciously making low-carbon choices, with nearly two thirds wanting to do more.
In a YouGov survey, a representative sample of the British public was asked about the action they are taking to reduce their carbon footprint and their perceptions on if people in the UK are doing enough to reduce their carbon footprint.
The data shows 59% of those surveyed are making conscious decisions to live a low-carbon lifestyle, including 17% who make these decisions even when it is inconvenient for them.
When asked if people in the UK are doing enough to lower their carbon footprints, nearly two thirds (65%) of respondents said we should be doing more.
Taking action now
Although the world is already committed to a level of global warming due to human-induced greenhouse gas emissions, action taken now to reduce our carbon footprint will help prevent the most dangerous impacts from climate change in the future.
Head of Climate Services at the Met Office, Professor Jason Lowe OBE, said: "Everyone can see that we're experiencing frequent extreme weather, and an increasing number of these damaging events can be shown to have been influenced by human-induced climate change. What is interesting in these survey results is that the UK public are already engaged in reducing their carbon footprints and many people indicate they want to do more.
"The only way we are going to avoid the very worst impacts from climate change is by lowering our emissions of greenhouse gases, and quickly. But we also need to adapt our lifestyles and the world around us to cope with the impacts from the climate change we're already committed to."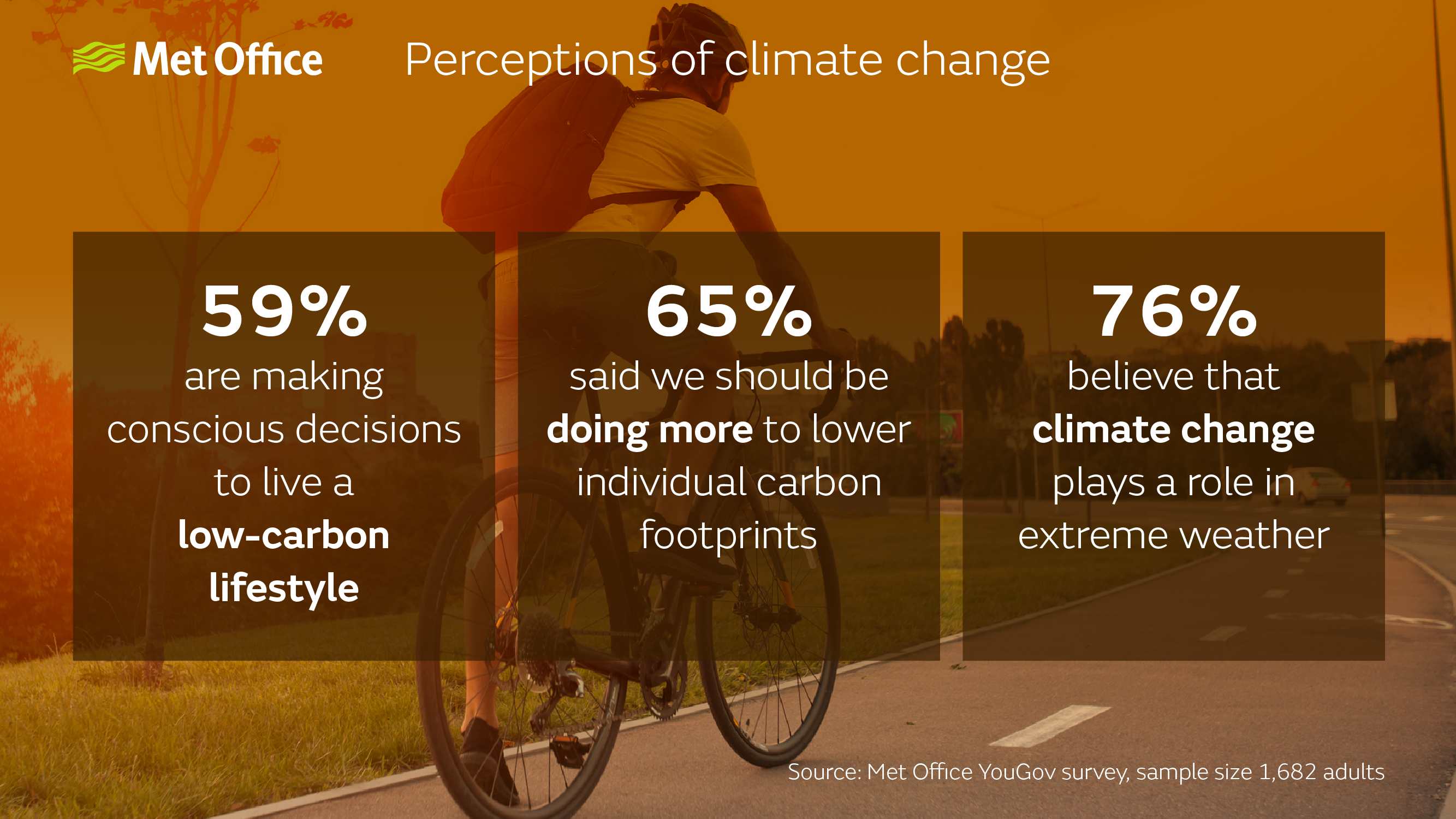 Extreme weather and climate change
The survey also found that three-quarters (76%) of the public say that they believe that climate change plays a role in extreme weather. An example of a recent extreme in the UK attributed to climate change is the unprecedented heat in July 2022 when 40.3°C was recorded for the first time. Of those surveyed one third (34%) believe climate change is fully responsible for extreme weather events happening while 42% believe climate change is partly responsible for extreme weather events happening, but there are other important factors.
Dr Camilla Mathison, lead on Climate Mitigation Science at the Met Office, said: "Actions to reduce greenhouse gas emissions also have additional benefits for society, with even small changes to daily life making a big difference when it comes to your carbon footprint. A simple example is personal travel, by walking or cycling short journeys you are not only saving CO2 emissions but also improving air quality and improving your personal health."  
Get Climate Ready
The Met Office is working with partner organisations to help provide advice on how people can tackle the many challenges of climate change. The #GetClimateReady campaign aims to help people understand how making changes in our lives, we can all play a part in protecting our planet from the worst impacts of climate change and adapting our lives to protect ourselves from the impacts we will see.
In our latest blog you can read about the actions people can consider taking in their lives that will have the greatest impact in reducing greenhouse gas emissions.