Weather for the Coronation
Author: Press Office
11:42 (UTC+1) on Wed 3 May 2023
The weather forecast for the Coronation of Their Majesties King Charles III and Queen Camilla.
The weather across the UK looks unsettled, with showers or longer spells of rain for many. Some heavy, thundery downpours are expected on Friday and Sunday.
Through Wednesday there will be hazy sunshine across much of the UK, though outbreaks of rain will affect the west of Scotland for a time before brightening up later on. Highs of 19°C are possible in Wales though it may not feel as warm for all, as a strengthening wind begins to develop through the day. Gusts of 40-50mph are possible across parts of southwest England and south Wales by evening.
Thursday will be a more unsettled day, with an area of low pressure bringing some wet and windy weather which will move north eastwards across the UK. Most areas will be cloudy through the day, and it is most likely to stay dry through the day in the north and east. Temperatures will be capped at 16°C for many under the cloud, though in any sunny spells in the south it could reach 20°C.
Friday will be a day of sunshine and showers, which could be heavy and slow moving at times with some thunder, lightning and hail. The showers will affect most parts of the UK, including London, with some more persistent rain affecting parts of eastern Scotland. Highs of 19°C are once again possible in the south of England.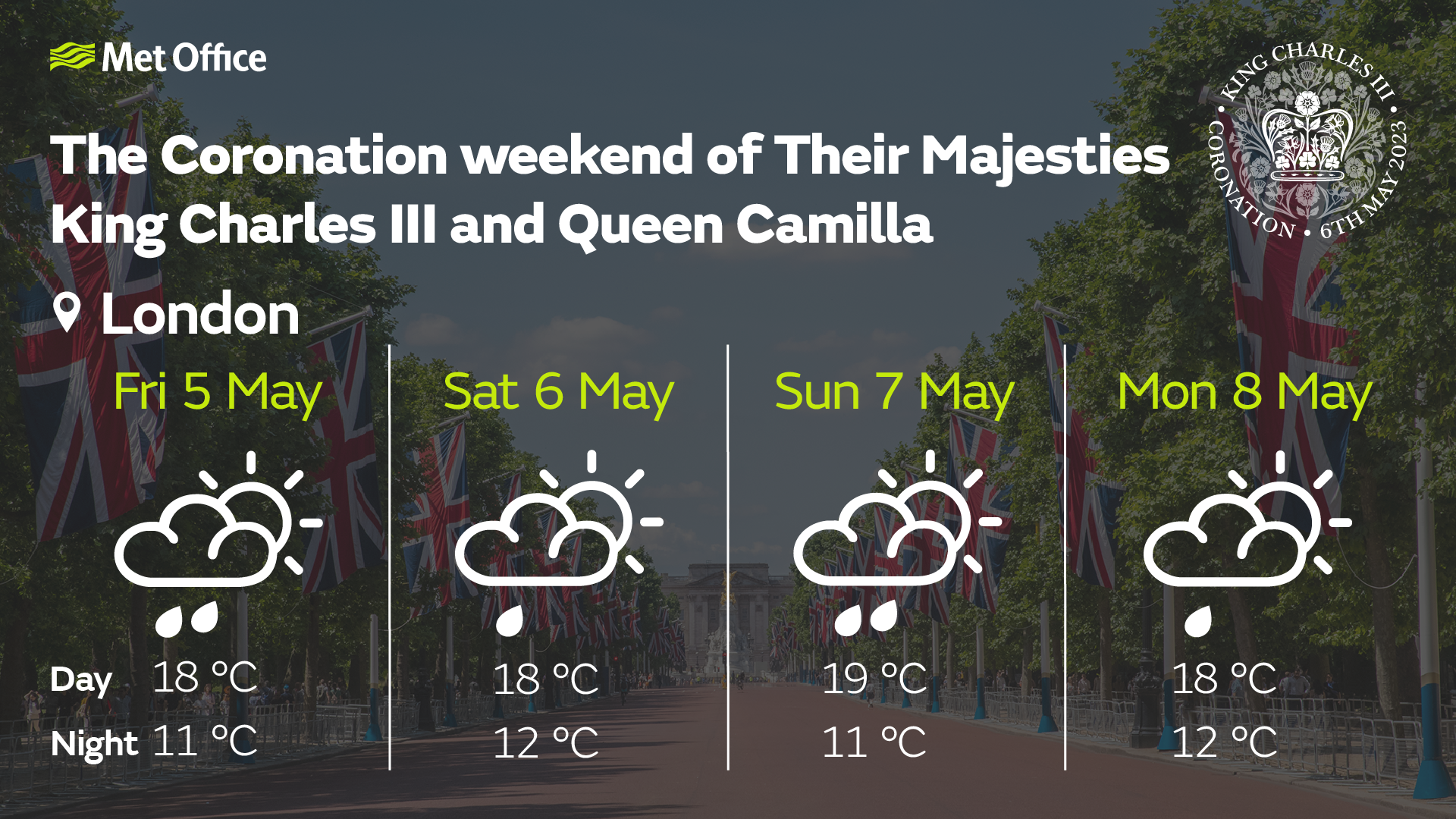 Weather by the weekend
Currently Saturday is forecast to be another wet day, though with generally less intense rainfall compared to Friday.
Met Office Deputy Chief Forecaster, Steven Keates, said: "On Saturday we will see some heavy rain moving into the southwest in the early hours which will move north eastwards through the morning. This is likely to bring some rain to London by around lunchtime as it spreads east and north across roughly the southern third of the UK. Further north in Scotland, northern England and Northern Ireland it will be a day of sunshine and showers before the more persistent rain moves northwards overnight. It will feel humid, especially in the south, with highs of 18°C possible in London."
Further ahead
With celebrations continuing through the Bank Holiday, Sunday will see areas of rain breaking up into heavy, possibly thundery showers for many parts of central, eastern and southern England, with parts of northeast England and eastern Scotland looking fairly grey and wet. The driest and brightest weather looks set for western parts of the UK in Northern Ireland, Wales, western Scotland and southwest England.  
Monday will see another band of rain move east across the UK, followed by sunshine and showers, although there are currently some uncertainties in the timing of this. Further ahead there are signals for higher pressure to become more dominant by later next week bringing a more settled spell.
If you want more in depth information about the forecast over the coronation weekend, watch our latest '10 Day Trend' presented forecast.
Weather over past Coronations
Data from the Met Office archive shows that past coronations back to Edward VII have been mixed when it comes to the weather. The Coronation of HM Queen Elizabeth II saw temperature highs of just 11.8°C on 2 June 1953 with some light rain through the day. The Coronation of HM King George V was the mildest of the last four monarch's Coronation, with daytime highs of 17°C on 22 June 1911.
Coronation
Date
Daily max temp (

°C)

Daily min temp (

°C)

Daily rain (mm)
Daily sunshine (hours)
Edward VII
09/08/1902
16
9.1
0.5
-
George V
22/06/1911
17
12.8
0.3
0
George VI
12/05/1937
14.2
6.2
8.2
0
Elizabeth II
02/06/1953
11.8
6.8
2.6
1.2
We will continue to update the forecast here on our website and on our mobile app, which is available for iPhone from the App store and for Android from the Google Play store. Keep up with the latest on our social media accounts on Twitter and Facebook. Any weather warnings will be posted on the weather warning page.