This section of the new site isn't ready yet. We've brought you back to the current site.
England and Wales Fire Severity Index
Detailed Fire Severity Index (FSI) maps are provided for the whole of England and Wales. Historical daily FSI maps are available plus the latest and forecast daily FSI maps out to 5 days ahead. Location can be selected using placename or postcode search; entering OS National Grid Reference or Eastings and Northings; Latitude / Longitude; or by selecting a National Park.
The Met Office's Fire Severity Index (FSI)
The Met Office's Fire Severity Index (FSI), is an assessment of how severe a fire could become if one were to start. It is not an assessment of the risk of wildfires occurring. The FSI shows the current day's fire severity and a forecast of likely fire severity over the coming five days. The index values are from 1 to 5, which represents an increasing degree of fire severity as follows:
FSI level 1 = low fire severity
FSI level 2 = moderate fire severity
FSI level 3 = high fire severity
FSI level 4 = very high fire severity
FSI level 5 = exceptional fire severity
Please note that the quality of the forecast FSI for 5 days ahead will not be as accurate as the FSI for the current day. This is because there are always uncertainties in weather forecasting several days ahead.
What is the FSI used for?
The FSI provides a trigger for fire prevention restrictions on access land mapped under the Countryside and Rights of Way Act (2000). Fire prevention restrictions aim to minimise accidental fires on access land vulnerable to wildfires by suspending open access rights when conditions become exceptional (FSI level 5). Find out more about open access and if there are any restrictions on access land for England, or restrictions on access land for Wales.
How is the FSI calculated?
The FSI uses information such as wind speed, temperature, time of year and rainfall to produce a fire severity assessment. To produce forecasts of fire severity, weather information from the Met Office operational forecast model is used.
How was it developed?
The FSI was chosen after comparing the performance of a number of methods used worldwide for identifying fire risk. It is based on a similar approach to the Canadian Fire Danger Rating System, which is also used in other parts of the world. It was also the best model at identifying periods of high fire severity, such as those present in 1976 and in the spring of 2003, without producing a significant number of false alerts.
The index was tested by comparing it against observations of fire severity taken throughout England and Wales during 2003. It was selected as it was the most accurate index tested and can be used to produce forecasts over the coming days.
More information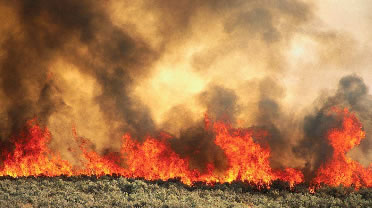 The met office have produced factsheets and further information on how weather, soils and land cover contribute to how the FSI data is collated.