Legal and insurance claims
Our Storm Analysis weather reports are designed to help you support or disprove criminal, civil or insurance claims when weather is invoked.
Our Storm Analysis weather reports at a glance...
To help confirm if rain was foreseeable or not
The report helps you determine if rain on a given day was out-of-the-ordinary or not, and, by inference, if it could have been reasonably foreseen. It helps to put any individual short-period rainfall event into an historical context.
The 'return period' indicates the probability of rainfall of that severity, over time. For example, if a return period is 31 years, it means that it is a rare occurrence – every 31 years.
Storm Analysis compares data from the nearest observation stations and our radar network. It analyses the most intense 15-, 30- and 60-minute periods of rainfall.
It also includes an expert summary from our meteorologist analysing the rainy conditions on that day across the region and the UK to put the rainfall event into context.
Click the report to view details (opens a new tab).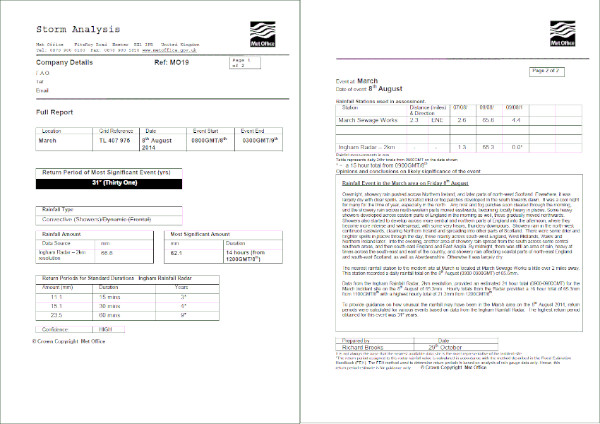 You'll need to provide:
Postcode of interest
Date of the event (and time if possible)
Disclaimer – The Met Office is not responsible for and does not make any witness statement or expert opinion relating to the data provided as part of the Deliverables or the admissibility of such data, in whatever form, relating to any proceedings whether or not before any court or other authority of competent jurisdiction.