Met Office Weather DataHub
New service: Met Office Weather DataHub
We are continuing along our data-transformation journey, making our operational data directly available, more useable and useful to users.
Our new Met Office Weather DataHub service is now operational live and offers access to detailed and customisable weather data.  This API data channel will ultimately become the single point of access for all Met Office Public Task weather data, replacing both Met Office DataPoint and our Wholesale Data Services.
Available data
Met Office Weather DataHub continues to evolve with new data and map overlays regularly being added. At present available data includes: 
Atmospheric Model data via API using GRIB2:
Global 10km
UK 2km  
Met Office Global Ensemble Prediction System (MOGREPS-G) 
Our site-specific forecast product provides access to Met Office Global Spot Data:
Global daily spot data
Global 3 hourly spot data
Global hourly spot data
We have a number of pricing plans avaialble, including a free plan (where users can download up to 1GB of free data per month), which you can find out more about on our pricing page.  
If you have questions on the Met Office Weather DataHub service please consult our FAQ's page. You can also  contact us directly if your query is not covered.  
Current plans for data services development
We have developed a roadmap reflecting a high-level summary of current plans to release data onto Met Office Weather DataHub until March 2023.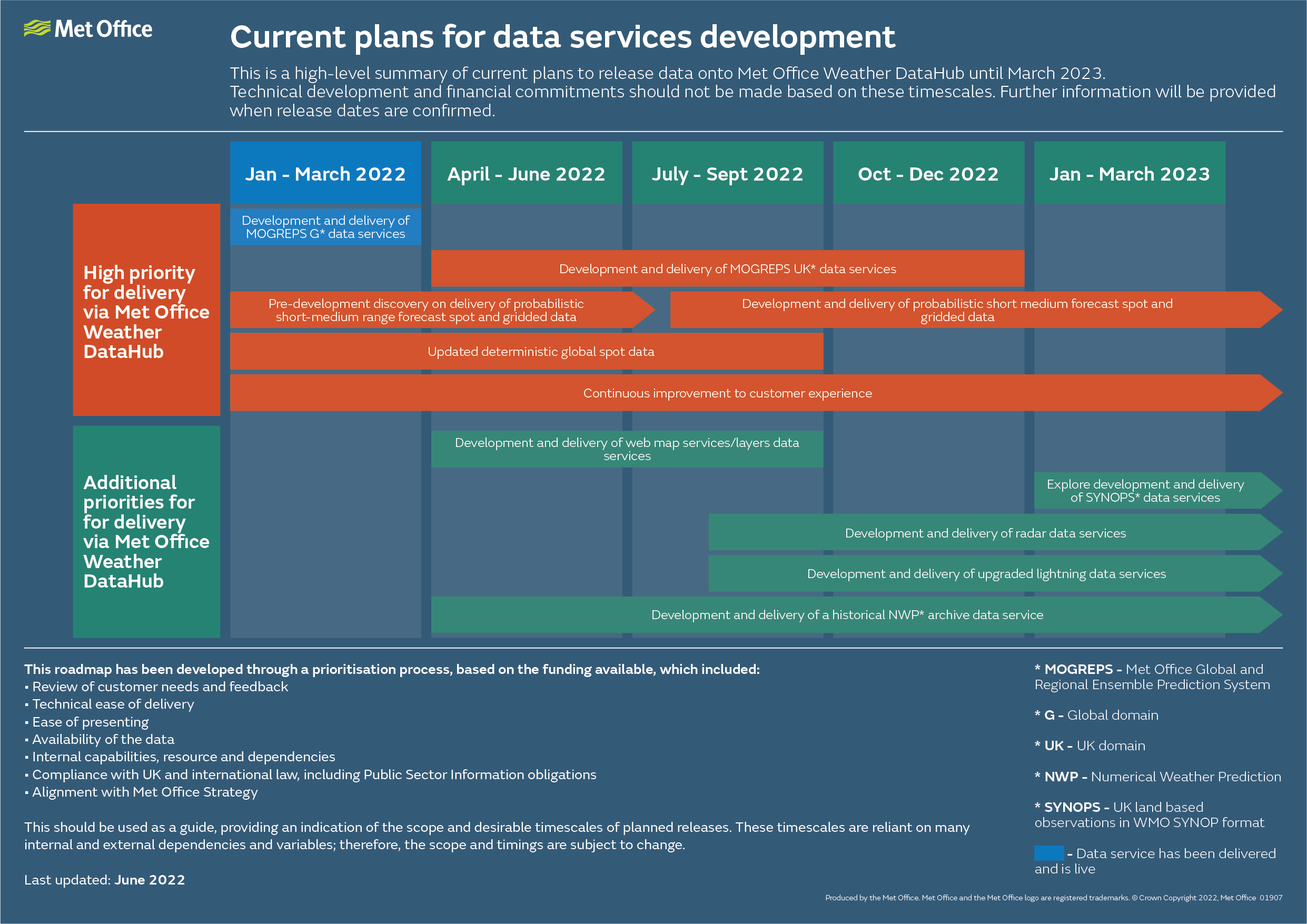 View roadmap as a PDF here.
This should be used as a guide, providing an indication of the scope and desirable timescales of planned releases. These timescales are reliant on many 
internal and external dependencies and variables; therefore, the scope and timings are subject to change. Technical development and financial commitments should not be made based on these timescales and further information will be provided when release dates are confirmed.
Met Office Weather DataHub updates newsletter
We have a newsletter to inform all registered users of the service of key updates.
Past issues of this can be viewed below:
If you are not a Met Office Weahter DataHub user yet, but would like to be added to the distribution list to receive the updates newsletter, please contact us and let us know.
Met Office DataPoint closure
This marks the first step in replacing the existing Met Office DataPoint service.  A formal switch off date is yet to be agreed. Users will be notified well in advance.