Early warnings fit for today and the future
The WMO's Early Warnings for All initiative will ensure that every person on earth will be protected by early warning systems by early 2027.
The WMO's Early Warnings for All initiative will ensure that every person on earth will be protected by early warning systems by early 2027. The Asia Regional Resilience to a Changing Climate (ARRCC) programme, supported by UK aid, aimed to help advance implementation of impact-based forecasting (IBF) in the South Asia region.This was achieved both through support to regional initiatives such as the World Meteorological Organization (WMO) Severe Weather Forecasting Programme (SWFP), and through establishing pilot services in three focus countries; Nepal, Pakistan and Bangladesh. For further background, see here. 
From the outset these focal countries were involved in moving towards the implementation of a new form of early warning, moving from traditional threshold-based warnings, towards an impact-based approach. This requires a fundamental shift in thinking from what the weather will be, to what the weather will do. To be effective, National Meteorological and Hydrological Services (NMHSs) cannot implement an IBF approach on their own, and need to co-develop the service with key stakeholders. Stakeholders need to understand the concepts of forecast uncertainty, and general limitations of forecasting, while forecasters from the NMHSs need to understand vulnerabilities which exist for stakeholders as well as their appetite to risk.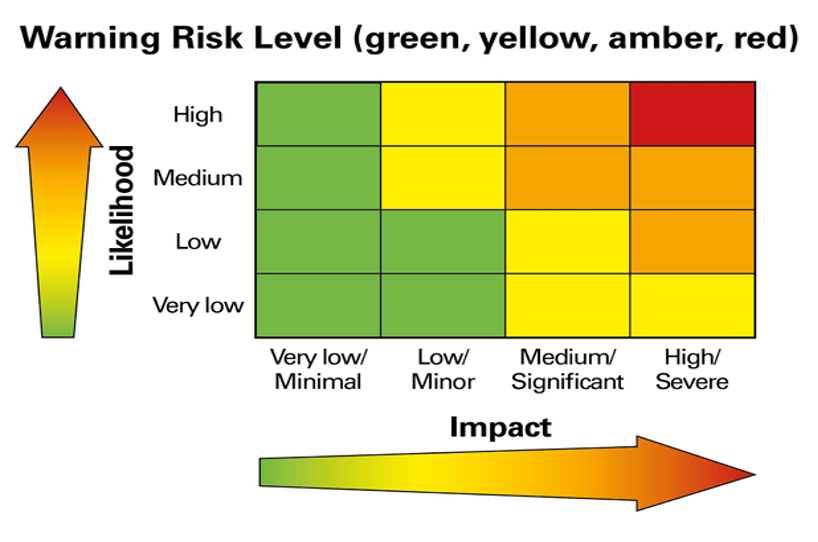 The Impact Matrix is central to IBF and enables a rapid assessment and communication of risk level for a particular hazard. This, combined with underpinning understanding and anticipatory action measures, makes a powerful tool in impact mitigation. 
In each country, ARRCC facilitated extensive stakeholder engagement alongside the NMHSs to understand the needs of an early warning system and decide on suitable pilot services to address these needs. Several workshops were held with a number of key aims including; mapping the current landscape of early warnings, mapping and engaging stakeholders with a role to play in disaster preparedness and mitigation, capacity development and training for both forecasters and stakeholders, identifying and cataloguing key weather hazards and impacts and documenting vulnerabilities and sensitivities across relevant sectors. Ultimately these efforts enabled ARRCC to help each NHMS and their key stakeholders to identify a suitable pilot service and location. A one size fits all approach doesn't work with IBF, and so it is no surprise that the three pilot services all evolved quite differently, reaching differing points of maturity by the end of the programme. The key aims, highlights and lessons learnt from each are discussed below.  
Nepal 
During the 2020 monsoon, many impacts, including notable landslides, were experienced across Nepal, resulting in over 300 people losing their lives. With clearly identified needs from stakeholders, it was agreed that the pilot IBF service would focus on monsoon rainfall, with landslides as a primary impact. There have been two phases of the pilot IBF, during the annual monsoon seasons (June-October) in 2021 and 2022, and these were established and operated in by the Department for Hydrology and Meteorology (DHM) in close collaboration with the National Disaster Risk Reduction and Management Authority (NDRRMA). The pilot(s) had the potential to reduce the impact of rainfall to 700,000 citizens across the 4 districts.  
Phase 1 of the pilot included four districts. On receipt of the warnings via email, NDRRMA (the main recipient) aimed to be able to take preventative and/or mitigating actions, cascading the message as needed.

In Phase 2, recipients were expanded to include representatives from the security forces, health, transport, media, non-governmental organisations (NGOs), emergency services and local leaders. Other methods of communication were also rolled out to include a group messaging app, Viber (similar to WhatsApp) and a webpage, with limited stakeholders invited to test the user interface, for future upscaling.

The Viber group had the added advantage of doubling as a feedback mechanism for the stakeholders to provide impact information to enable verification, and information about mitigations implemented, in more or less real time. There have been some great examples of mitigations/preventative action taken on receipt of the warnings, including the

evacuation of 16 houses in

Uttergaya Municipality

 

(Rusuwa District)

, and the evacuation of 10-12 houses to a lower risk area in Sindhupalchowk District.
Phase 2 has just recently concluded with the announcement of the monsoon withdrawal from Nepal on 16th October. Throughout the pilot many lessons have been learnt especially in relation to the differentiation possible in Sindhupalchowk with the targeting of warnings at municipal level. During the first week of October, many Nepalis celebrate Dashain, and DHM were concerned about the impacts that might occur because of the continuous rainfall forecast through the week, especially after impacts to these festivals in the post monsoon season in 2021. Sindhupalchowk was forecast to receive heavy rainfall and so it was decided to issue IBF warnings due to increased vulnerabilities including; increased numbers of people travelling to rural areas on roads which are poor, and which are susceptible to damage or blockage by landslides and floods. Based then on information from local people in Sindhupalchowk in the early time frame of this warning being issued, it was clear more impacts were being observed in Melchemi and Bhotekoshi than other areas. This gave the forecasters confidence to issue a higher level of warning of these areas, differentiating from neighbouring areas, and allowing the prioritisation of resources if required.
Following the withdrawal of the 2022 monsoon plans are in place for a review between DHM, NDRRMA and key stakeholders to gather any lessons learnt. These will inform future developments to the IBF service, which both NDRRMA and DHM are keen to expand to eventually cover all of Nepal.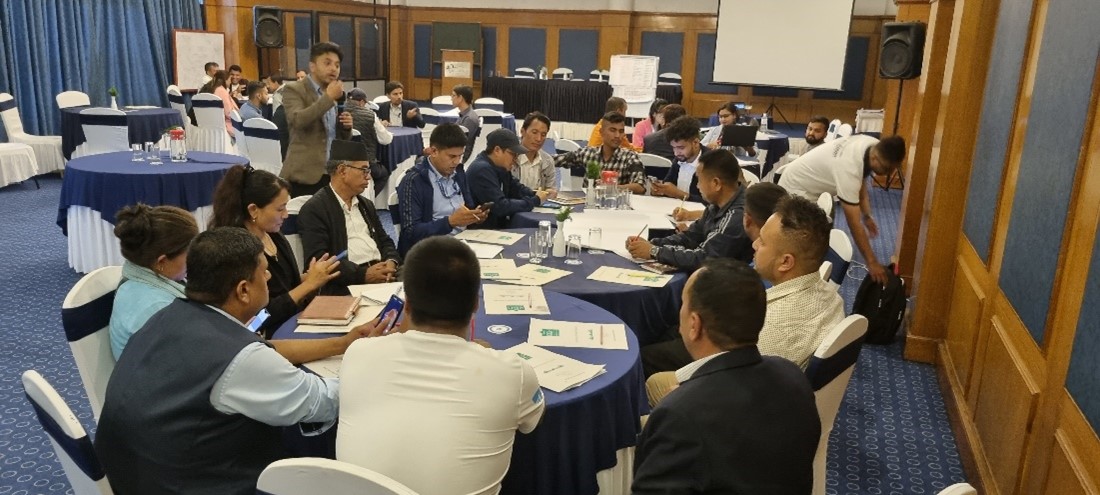 Delegates discuss improvements for the second phase of IBF piloting in Nepal during a workshop in June 2022.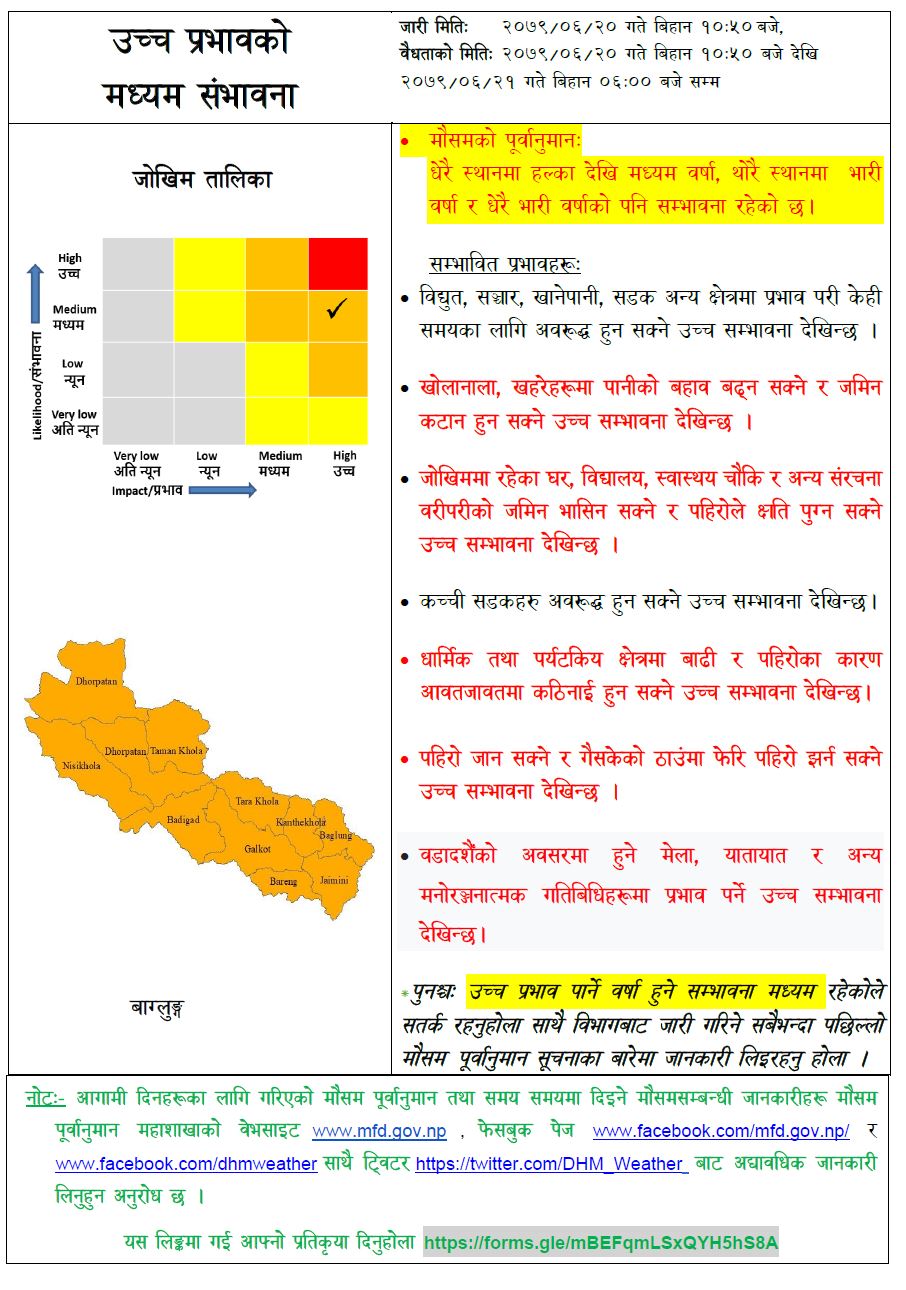 A sample IBF forecast. 
Pakistan 
Through early stakeholder engagement, it became evident that whilst Pakistan Meteorological Department (PMD) were producing a range of forecasts for the agriculture sector, the uptake was low and there was a real need for relevant and actionable advice for subsistence farmers. The ARRCC programme worked with PMD and their stakeholders to develop an IBF service to support the planning and overall management of crops. 
Two districts of the Potohar Plateau (Attock and Chakwal), in the province of Punjab, were selected for the ARRCC pilots as agriculture employs 60% of the work force across rural areas (ILO, 2013). Improving how farmers manage crops, especially in terms of mitigation against weather, will make a huge difference to many people's livelihoods. Agriculture in the region is largely rain-fed (i.e., there is very limited manual irrigation equipment) and therefore suffers from heightened sensitivity to rainfall or the lack thereof.  

The primary recipients of the warning service are Agricultural Extension Workers (individuals identified as being trusted sources of knowledge within the farming community), local agricultural research institutes and media outlets. The Agricultural Extension Workers act as a focal person, communicating with, and providing additional guidance to, farmers when they received a warning from PMD. 3 day forecasts are also broadcast on local radio which connects to vulnerable communities without access to smartphones or the internet.  

The ARRCC programme worked with PMD and their stakeholders to facilitate co-production of impact tables which are specific to the crop and stage of growth cycle (sample pictured below). This ensured that appropriate and actionable advice was communicated through the warning system.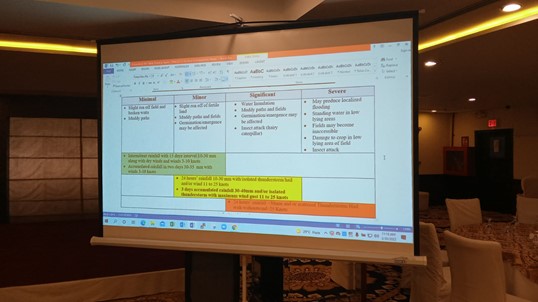 Co-development of Impact Tables between PMD and stakeholders during a workshop, supported remotely by UKMO team. 
PMD developed a dedicated website to host the public facing elements of the forecast and enable wider communication of the service. Included within this were links for users to provide feedback through Google Forms. This was supplemented by a WhatsApp group where photos and videos of current conditions were shared and fed back to the PMD forecasting team to use in their latest forecasts.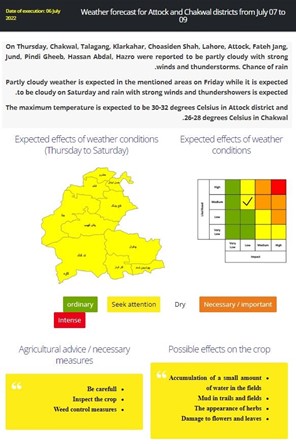 Example IBF warning hosted on the PMD website, communicating impact and probability information. 
The IBF pilot ran during the Kharif growing season (May to October 2022). Following the success of the pilot, PMD are now planning to expand the service to cover an additional 2 districts in the Potohar region and include an additional crop for the forthcoming Rabi growing season (November 2022 to April 2023).  
Bangladesh 
Bangladesh is especially vulnerable to tropical cyclones, and associated storm surges, with 724km of low-lying coastline along the Bay of Bengal lying in one of the most active regions for tropical storms in the world. Bangladesh is also one of the world's most densely populated countries, with extreme poverty a major problem, especially in some coastal communities including Cox's Bazar, which currently hosts over 900,000 Rohingya refugees.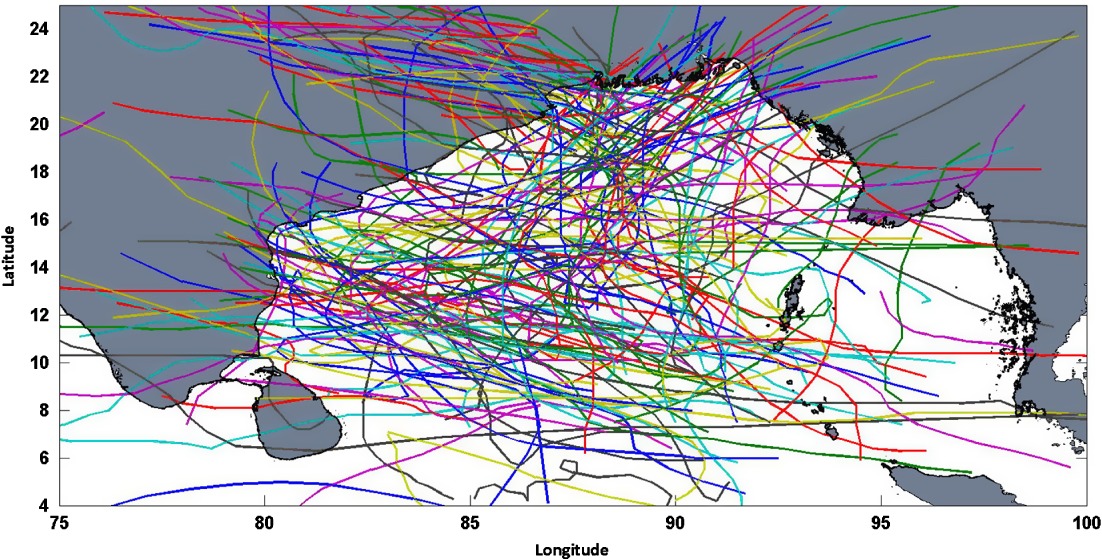 Composite of cyclone tracks across the Bay of Bengal between 1975-2015 showing a significant number affecting Bangladesh (Sahoo, 2015). 
Improving responses to tropical cyclones is a key focus for the Bangladesh Government. Additionally, there is a Forecast based Financing (FbF) system linked to tropical cyclones which is managed by the Red Cross/Red Crescent Climate Centre (RCCC) and the Bangladesh Red Crescent Society (BDRCS). Previously, advance warnings tended to be within 24 hours of the initial weather impacts and were threshold based. There was a strong desire from RCCC, BDRCS and the Cyclone Preparedness Programme (CPP) for forecasts of longer lead times and a focus on impacts to enable wider anticipatory action, even if confidence is naturally lower.  
The ARRCC programme tropical cyclone IBF pilot aimed to develop impact-based forecasting to support the triggering of FbF ahead of severe tropical storms.   The IBF product and service was co-developed between the Met Office, the Bangladesh Meteorological Department (BMD) and BDRCS and focused on 13 coastal facing districts of Bangladesh.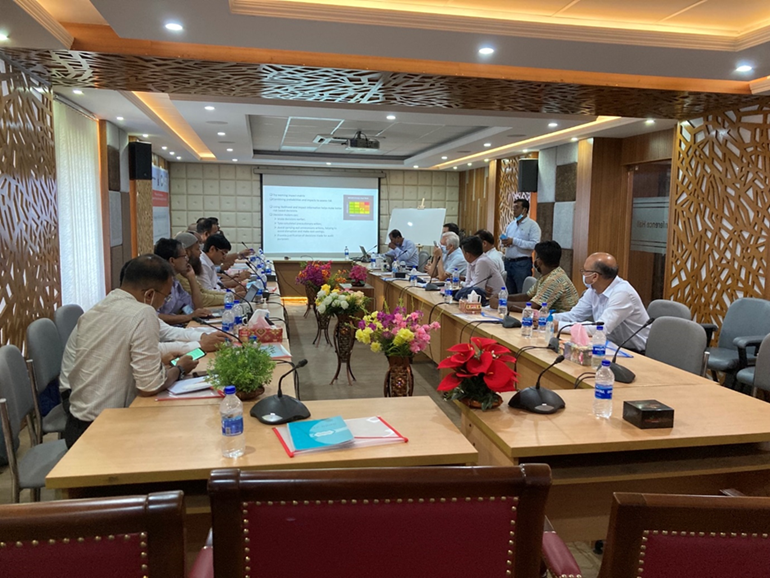 Co-production in action between the UK Met Office, BMD, BDRCS and CPP representatives in Dhaka, July 2022. 
The service, now ready to be launched operationally, is focussed on the three main elements of a tropical cyclone: heavy rainfall, strong winds and storm surges. The IBF product and service was co-developed between the Met Office, the Bangladesh Meteorological Department (BMD) and BDRCS.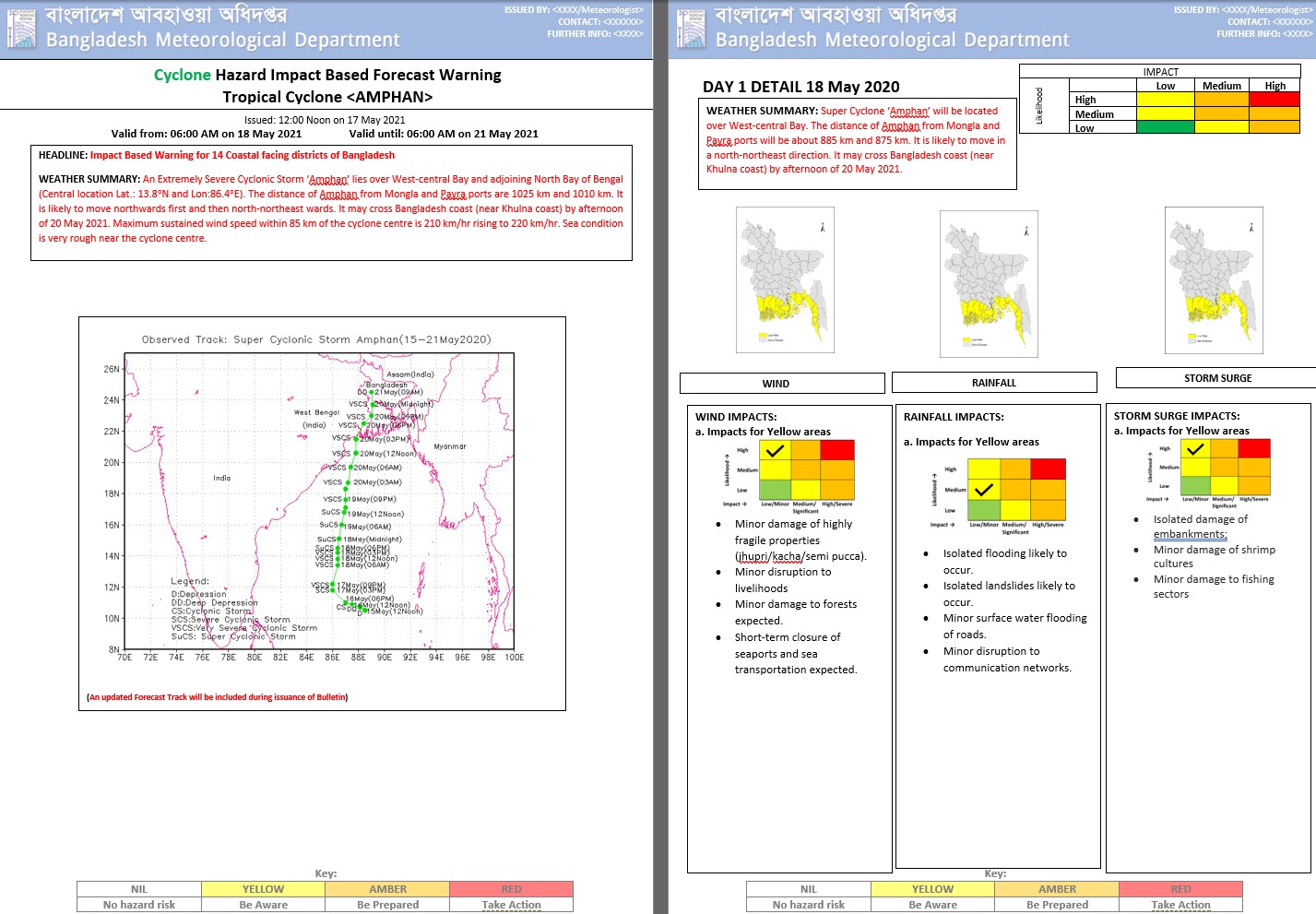 Sample IBF forecast (days 2 and 3 excluded) communicating impacts and probabilities for three weather elements associated with tropical cyclones; wind, rainfall and storm surge. 
Climate change 
As is now widely accepted, climate change is happening, and we must be prepared for both the expected and unexpected impacts. Early warning systems must play a key role in our adaptation strategy, and we have learnt that these services are far more effective when they are co-produced and truly tailored to meet the needs of the users who are often the most vulnerable. 
In Nepal, increased frequency of heavy rainfall and heatwave events are the most notable impacts from climate change, but others include a likely increase in annual precipitation and consecutive dry days as well as a reliance on glacial meltwater. Shifting monsoon patterns is also an increasingly common occurrence across the world which is an added area for adaptation and mitigation. Nepal is now benefitting from an operational IBF system which gives people vital early warning and impact information on upcoming severe weather which, given the likely changes to Nepal's climate, will only become more important.  
2022 has been an exceptional year of weather extremes across Pakistan, from the record-breaking pre-monsoon heatwaves of March, April and May to the devastating floods of August and September. Attribution studies have shown that climate change has made the chances of heatwaves in north-west India and Pakistan around 30 times more likely. Rainfall and associated flooding exhibits greater variability than temperature trends, so can be harder to attribute to climate change. The Potohar region of Pakistan, in the north of the country, was not affected by the flooding but was impacted by heatwaves through water shortages and crop stress. Equipping the people and institutions of Pakistan with the toolkit to develop and implement early warning systems is the first step in promoting mitigation to ongoing and future climate change and PMD are already discussing ways to expand the ARRCC pilot to other regions and crops. 
The exposure and vulnerability of Bangladesh makes it particularly susceptible to the sea level rise component of climate change. Sea level changes are not uniform around the world and many regional estimates are based on extrapolation of global values. The ARRCC programme worked with partners in Pakistan and Bangladesh to develop local sea level rise projections which would better inform planning and mitigation strategies. This work revealed that Bangladesh is highly likely to experience sea level rise under any emission scenario which, added to a likely increase in the frequency and intensity of tropical cyclones, will have significant implications for the incidences of storm surge and high seas across the region's coastlines. The development of an IBF service for tropical cyclones is the first step in building awareness and resilience for the challenges of the future.