Assessing your climate risk training course
Assessing your climate risk – an introduction to climate data and reporting course will introduce you to the key concepts of climate risk assessments and aid your understanding of climate projections.
About this course 
The course will help you gain the skills you need to identify, access, interpret and communicate climate data to meet your organisational needs.
Course Aims
At the end, participants will understand: 
An established framework for assessing climate risk, that can be utilised in voluntary or regulatory reporting. 

Identifying climate hazards and the associated organisational impacts, risks and opportunities. 
Where to find easily accessible climate data, with a focus on UKCP18, and appropriate methodologies to analyse climate hazards for the purpose of climate risk reporting. 

Key factors to effectively communicate climate data and uncertainty. 

The limitations of freely available climate data and when further analysis may be required or desirable.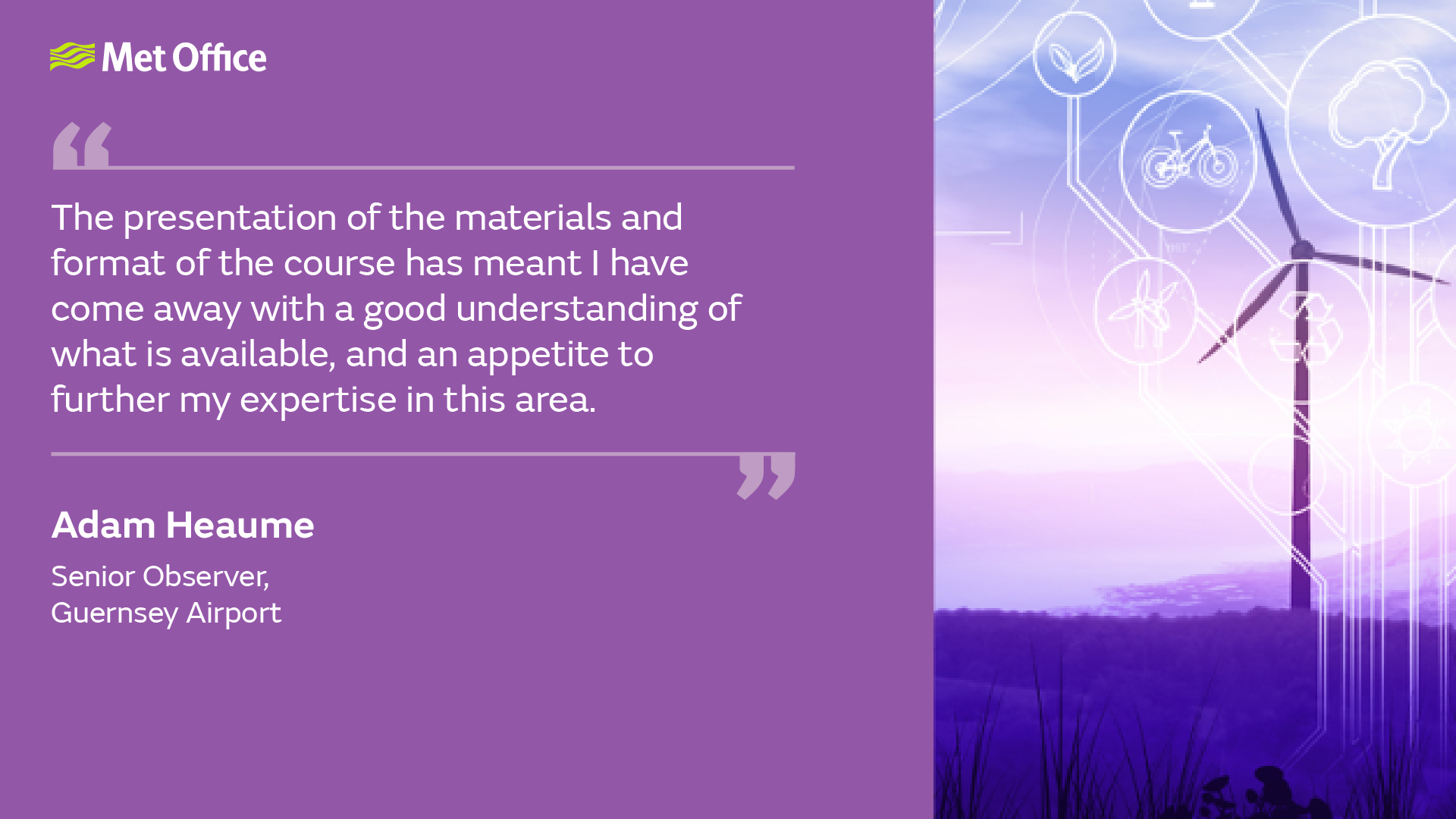 Who is this course for? 
This course is designed for consultants, analysts, or those in similar roles, who wish to be able to confidently use climate data, particularly UKCP18, to carry out climate change risk assessments either in-house or on behalf of other customers.  
There are no formal prerequisites for this course, but basic understanding of climate science, numerate or science degree (or equivalent experience) and experience or knowledge of basic statistics will be advantageous. No coding skills are required. 
About this course
Each course is online and consists of a 1-hour introduction, followed by 3 x 3-hour online 'face-to-face' workshop style sessions with e-learning modules to be completed independently in between.  There will be plenty of opportunity to ask questions and gain feedback. 
The workshops will be run by Met Office Scientists who have a breadth of knowledge and experience in using climate change data.  
Please note this course utilises data and resources with a UK focus, in particular utilising UK Climate Projections 2018 (UKCP18). Additionally, this is an introductory level course that does not include instruction or practical sessions on coding, or the use of coding languages, for access and/or analysis of data. At present, we are not offering training in these areas, but please do continue to check back on our training provisions as we respond to industry demand. Please do get in touch if you are unsure of your suitability for this course.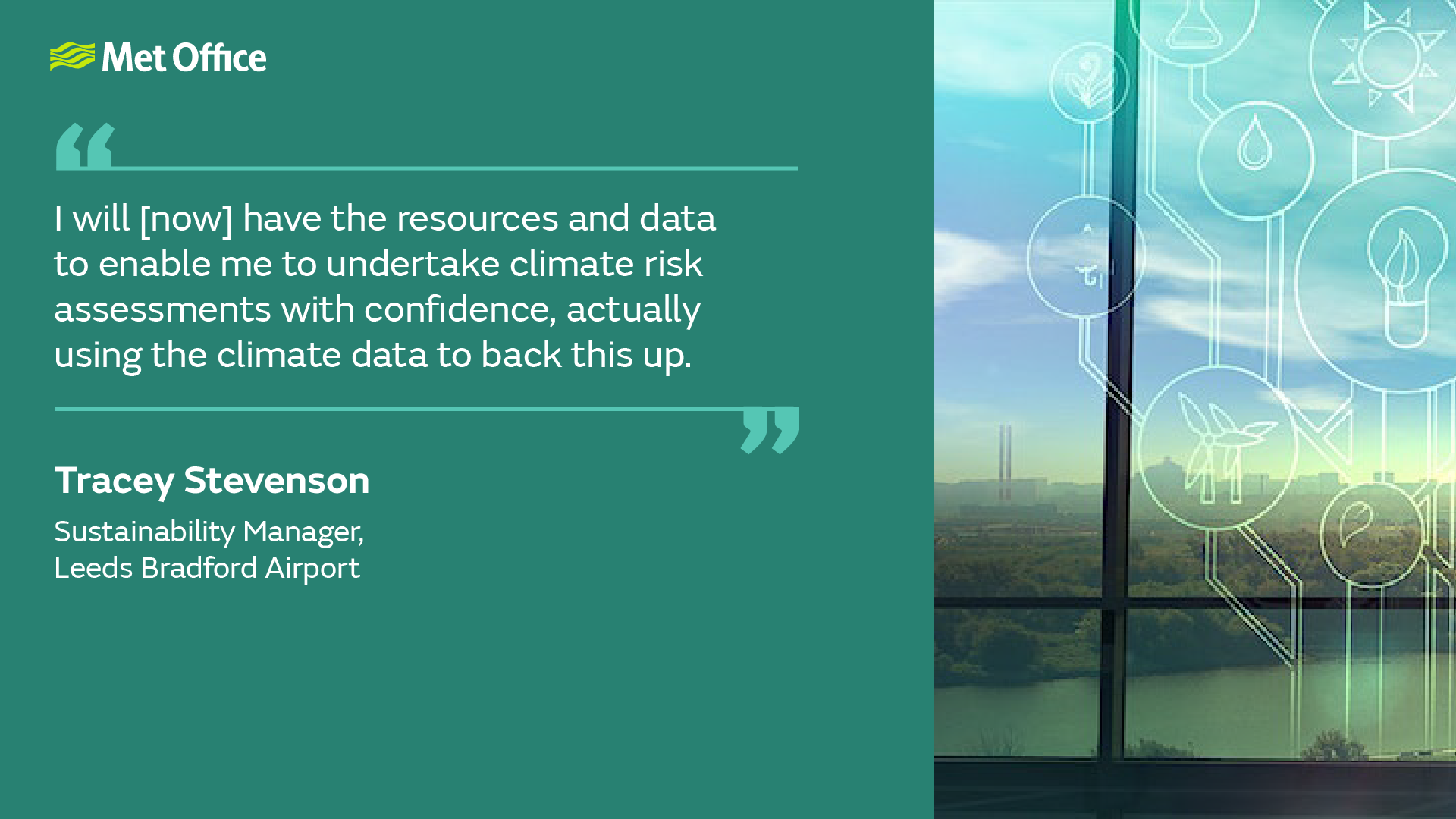 Course price
£899 per registration. Discounts available so please get in touch with us for more details. 
Course dates
Courses are taking place throughout 2023 and 2024.  
 

Introduction Session  

1 x 1- hour 

Workshop Sessions  

3 x 3-hours 

January

Monday 15th January

11:30am - 12:30am

Workshop 1: Monday 22nd January 1:30pm - 4:30pm

Workshop 2: Tuesday 23rd January 10:00am - 1:00pm 

Workshop 3: Thursday 25th January 1:30pm - 5:00pm
Participants will need to reserve approximately ten to fifteen hours during the course period to complete the self-led e-learning, in addition to the ten hours of face-to-face sessions.   
Total time: Approximately 20-25 hours. 
How to book
To reserve your place on the next course running in January, please sign up HERE
To find out more details or register your interest in future courses, please email [email protected].