Record-breaking April sunshine
Author: Press Office
14:19 (UTC+1) on Fri 1 May 2020
April 2020 has been a warm, dry and sunny month
It was the sunniest April on record for the UK, according to a provisional analysis of the month's climate statistics by the Met Office.
All UK countries made it in the top five sunniest since records in a series from 1929. England, Scotland and Northern Ireland had their sunniest April, beating the previous record set in 2015 for England and Northern Ireland, and 1942 for Scotland. Wales recorded its third sunniest April behind 2007 and 2015.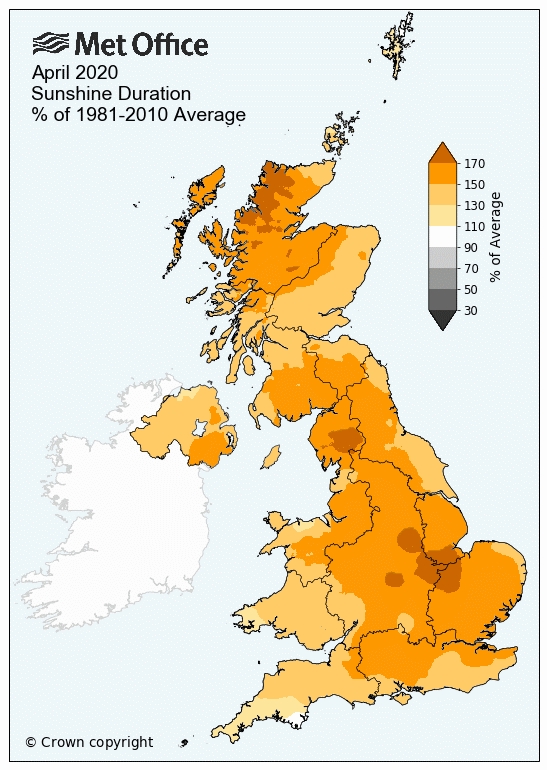 Rutland in eastern England was the sunniest county, when compared with a typical April. It received 172% of April sunshine, when compared with the long-term average (1981-2010).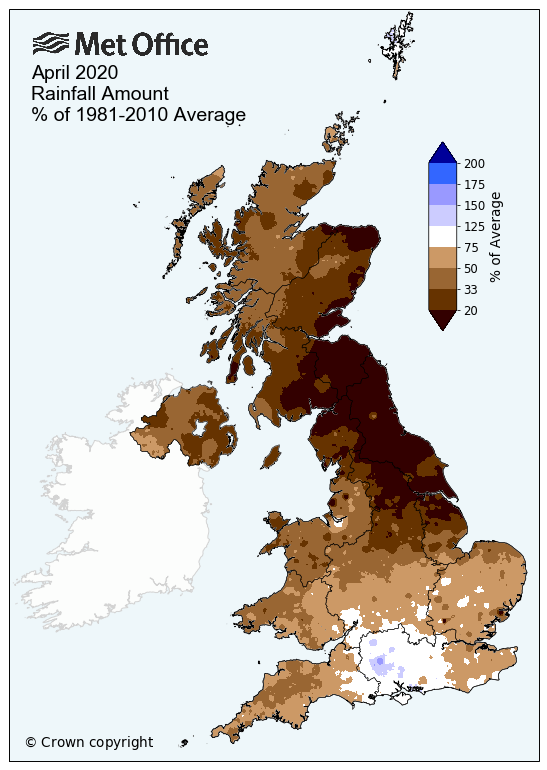 Rain in the last week of the month increased the rainfall totals in many places, but the UK overall still only received 40% of average April rainfall. It was the third driest April on record for Scotland. With just 13.2mm of rainfall, Northern England also recorded its third driest. It was particularly dry along the north east coast, with just 2.4 mm of rain recorded for Tyne and Wear, just 5% of normal, and a number of counties in north east England and eastern Scotland recording their driest April on record. The weather station at Morpeth in Northumberland had its driest April in 126 years of recording.
Provisional April 2020 statistics
Sunshine
Area
Actual hours

% Anomaly 1981/2010

UK
224.5
151
England
239.0
154
Wales
217.1
140
Scotland
204.6
151
Northern Ireland
211.5
144
'Anomaly' – refers to the anomaly relative to a 1981-2010 baseline climatology given as a percentage
It was significantly warmer than average for most of the country and the fifth warmest April on record. Daytime maximum temperatures were particularly higher than normal thanks to some long clear sunny days during the month. Oxfordshire and Berkshire daily maximum temperatures were 3.9 °C above the long-term average with many areas in southern England and Wales seeing temperature more than 3.0 °C above average.
Dr Mark McCarthy is the head of the Met Office's National Climate Information Centre. He said: "Although April 2020 will be remembered for being the sunniest April on record in England and the UK,  along with the sunshine, the month was largely dry with mean temperatures well above average for most parts of the UK. The UK climate is warming, and it is notable that in a Met Office series from 1884 the Aprils of 2003, 2007, 2009, 2011, 2014 and 2020 are all in the top ten warmest."
Provisional April 2020 statistics

Max Temp
Mean Temp
Rainfall
Area
Actual

°C

Anomaly
Actual 

°C

Anomaly
Actual mm
% Anomaly
UK
14.2
2.7
9.1
1.7
29.1
40.0
England
15.6
3.1
10.2
2.0
28.0
48.0
Wales
15.1
3.5
9.9
2.3
40.7
46.0
Scotland
11.7
1.8
7.0
0.9
28.3
31.0
Northern Ireland
13.9
2.3
9.0
1.4
26.2
35.0
'Anomaly' – refers to the anomaly relative to a 1981-2010 baseline climatology given as a difference (temperature) or as a percentage (rainfall and sunshine)
You can check the latest weather warnings on our severe weather warnings pages and you can get the most accurate and up to date forecast for your area using our forecast pages and by following us on Twitter and Facebook, as well as using our mobile app which is available for iPhone from the App store and for Android from the Google Play store.