April's lowest average minimum temperatures since 1922
Author: Press Office
15:24 (UTC+1) on Fri 30 Apr 2021
April 2021 had the lowest average minimum temperatures for April in the UK since 1922, as air frost and clear conditions combined for a frost-laden, chilly month, despite long hours of sunshine.
UPDATE: This release has now been updated to reflect the full provisional figures for the month of April. 
Provisional figures from the Met Office's National Climate Information Centre indicate that April had the third lowest average UK minimum temperature for the month since records began in 1884, while Wales, Scotland and England all reported their figures in their top five lowest ever recorded. Average daily maximum temperatures were also below normal, but not by as much as the minimum temperatures. 
Provisional April 2021 statistics
Min temp
Area
Actual

°C

Anomaly
UK
0.6
-2.8
England
0.9
-3.0
Wales
1.1
-2.6
Scotland
-0.4
-2.8
Northern Ireland
1.8
-1.8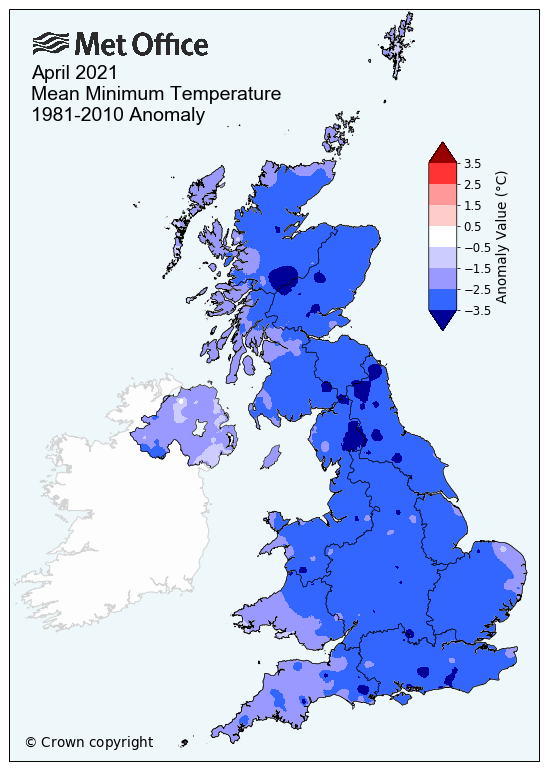 It had already been reported that April had seen its highest level of air frost in 60 years, with an average of 14 days of air frost topping the previous record figure of 11 days in 1970 (records for air frost go back to 1960). This number of air frosts is more typical for December, January or February, whereas the average number of air frosts in April is five days. For gardeners and growers there were also a record high number of ground frosts with 22 days this month compared to an average of 12 days.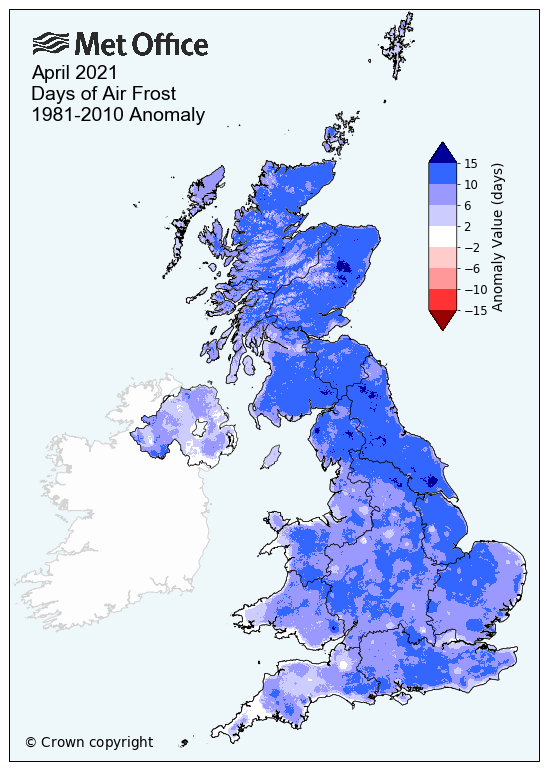 Despite the low minimum temperatures and frosts, much of the UK has been basked in sunshine through April, with all UK countries except England reporting sunshine hours for the month as their highest ever recorded since 1919. This has provisionally seen Scotland, Wales and Northern Ireland break their existing records for sunshine hours in the month, with the UK as a whole seeing 52% more sunshine hours than the long term average. For Scotland, this represents the second year running that April's sunshine hours have broken the existing record, with 2021's figure of 216.6 topping 2020's 204.6 to top the standings.  
The UK experienced its sunniest April on record, with 225.1 hours topping the record set last year with 224.5 hours. England, meanwhile, had its second sunniest April on record, with this year's 229.8 hours not managing to beat the 239 hours seen in 2020.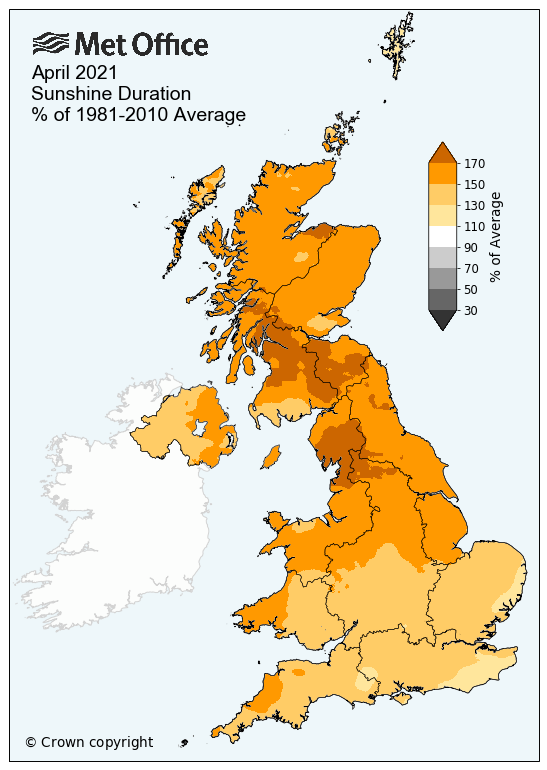 Senior Scientist at the Met Office's National Climate Information Centre Mike Kendon said: "April has been an incredibly notable month in terms of the statistics. Despite temperatures remaining stubbornly low in many areas, long days of sunshine was the norm and well ahead of averages, especially in northern England, Wales and Scotland." 
"A long, prolonged spell of dry and settled conditions was only interrupted by a wet few days in western Scotland in the first half of the month, and cold nights have been the norm across the UK, especially in northern England and Scotland, with the lowest reading coming in at –9.4°C at Tulloch Bridge on 12 April.  
"Areas of high pressure have become established over or around the UK, feeding-in cold conditions and creating clear nights allowing any heat to escape. The high pressure has tended to prevent April shower activity that we might more typically expect to see at this time of year. The clear skies by day have allowed temperatures to rise in strong spring sunshine, only to be lost again over night. Early in the month we saw a cold plunge of Arctic maritime air bringing wintry showers with lying snow in some locations, particularly northern Scotland." 
April 2021 will be remembered as being a dry month for many places, as a small showery spell in the last week of the month did little to offset the long dry spells for many, and it will be one of the driest Aprils on record. All of the UK nations reported rainfall in their lowest ten ever recored, with the 20.1mm across the UK putting it at the fourth driest on record.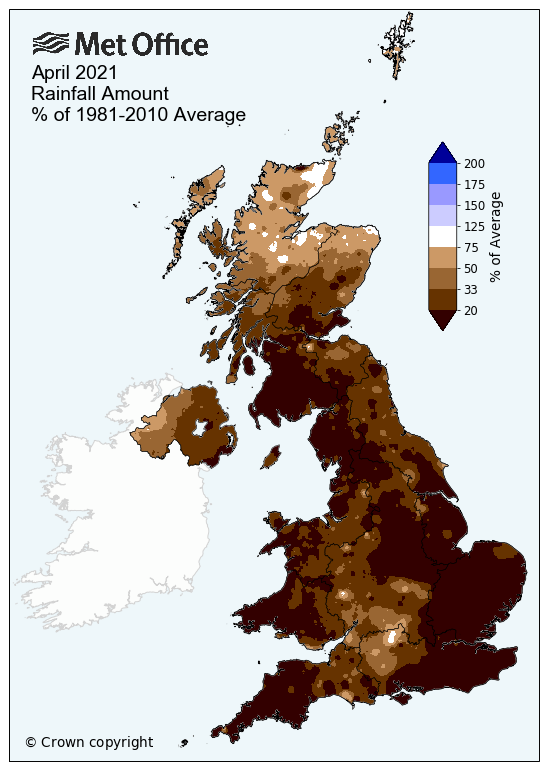 The dry and frosty conditions have provided challenges for the country's gardeners, according to Chief Horticulturist at the Royal Horticultural Society, Guy Barter. He said: "Considerable damage has been experienced in many gardens with flowers such as camellia and magnolias being scorched. Watering before sowing and after planting are now necessary, but after such a wet autumn and winter there is plenty of water lower down in the soil that established plants can access." 
Growers are being advised to keep tender plants inside for now, or to cover with cloches or horticultural fleece if they do need to go out, as there remains a risk of frost ahead for many.  
Provisional April 2021 statistics
Mean temp
Rainfall
Sunshine
Area
Actual

°C

Anomaly
Actual mm
% Anomaly
Actual Hours

%

Anomaly

UK
5.7
-1.7
20.1
28
225.1
152
England
6.2
-1.9
11.0
19
229.8
148
Wales
6.2
-1.5
16.8
19
231.8
150
Scotland
4.6
-1.5
35.4
39
216.6
160
Northern Ireland
6.5
-1.1
24.8
33
217.0
147
Updated at 10:10 (UTC+1) on Tue 4 May 2021