A milestone in UK climate history
Author: Press Office
15:24 (UTC+1) on Fri 22 Jul 2022
A new event summary from the Met Office shows that the UK's recent extreme heat was far more intense and widespread than previous comparable heatwaves. This was the first time 40°C has been recorded in the UK.
A new record daily maximum temperature was provisionally reached on 19 July, with 40.3°C recorded at Coningsby, Lincolnshire, exceeding the previous record by 1.6°C. A total of 46 stations across the UK exceeded the previous UK record of 38.7°C. Many long-running stations with 100+ year records recorded their highest ever temperature, some by extraordinary margins of 3 to 4°C. Records were set overnight too, when Kenley Airfield, Greater London, recorded a new highest minimum temperature of 25.8°C.
New provisional national temperature records were also set for Wales and Scotland. On 18 July, 37.1°C was recorded at Hawarden Airport, Flintshire, while 35.1°C was reached at Floors Castle, Borders on 19 July.
The post-event report from the Met Office shows that the record-breaking temperatures seen as part of the heatwave demonstrate much more widespread and significant heat than previous noteworthy extreme heat events.
Historically significant heat
Temperatures on both 18 and 19 July exceeded 38°C, with only two previous dates exceeding this threshold in Met Office data; 10 August 2003 and 25 July 2019. These four dates: 18 and 19 July 2022, 25 July 2019 and 10 August 2003 are the only occasions when 38°C has been recorded in the UK in observations extending back to the mid-19th century.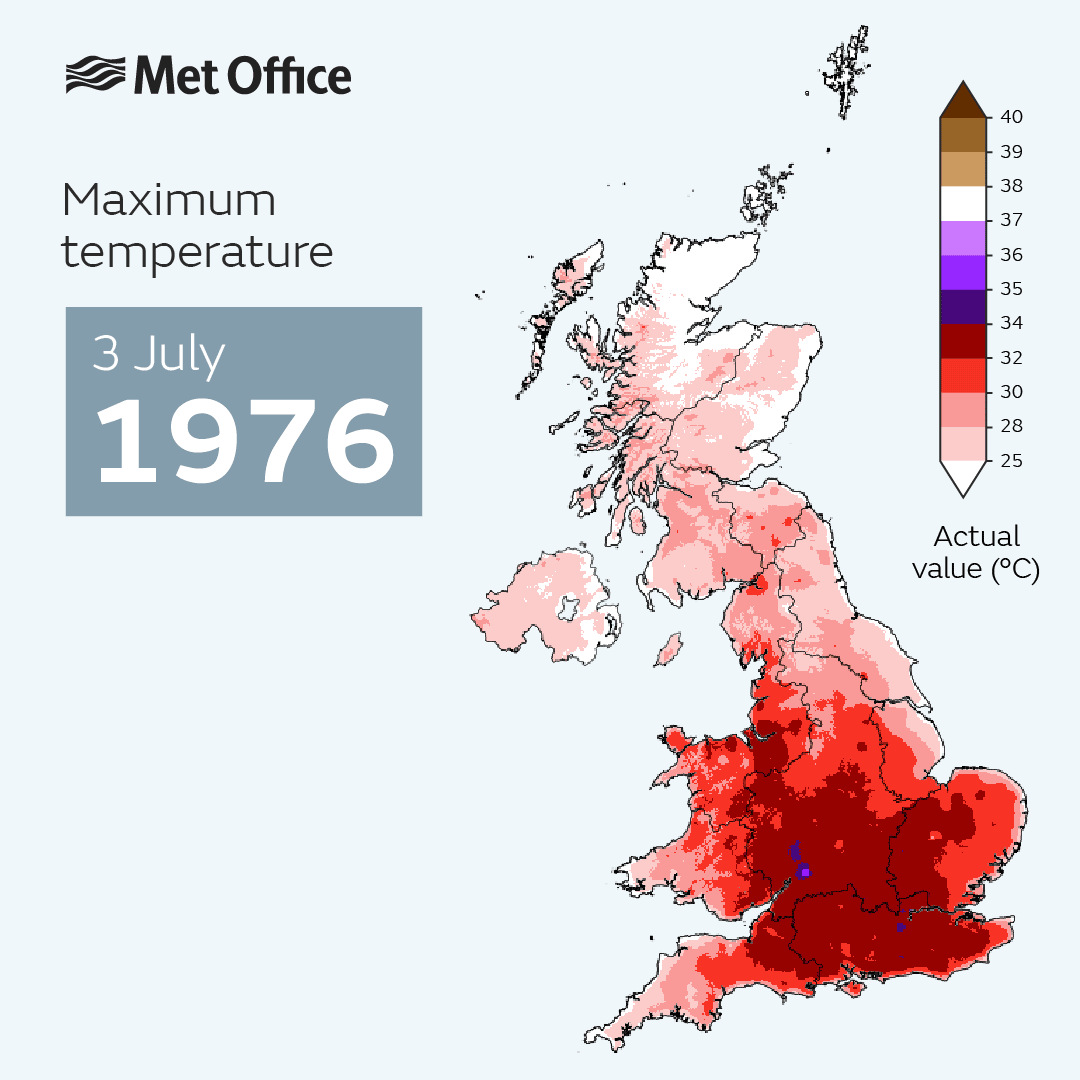 The Met Office's Mike Kendon, who produced the review, said: "Temperatures on 18 July were exceptional but they moved 2 to 4°C higher on 19 July, making this date unprecedented in the context of long term climate records.
"What's particularly notable is how much more widespread the heat was from this event than the previous two occurrences of temperatures in excess of 38°C in the UK. Temperature records tend to get broken by modest amounts and by just a few stations, but the recent heat broke the national record by 1.6°C and across an extensive area of the country from Kent to North Yorkshire and from Suffolk to Warwickshire.
"Even when you factor in the temperatures seen in summer 1976, they didn't reach anywhere near the levels seen this week, although that was a much more prolonged spell of hot and dry weather."
The heat resulted in the Met Office issuing its longest-range Amber warning ever, with a lead time of six days and a subsequent Red warning for extreme heat; the first such one to be issued.
UK-wide heat
The widespread nature of the heat meant that the average maximum temperature across the whole of the UK exceeded 30°C for the first time and the UK had its two hottest days on record by this measurement in a series that goes back to 1960. The new highest average maximum temperature set on 19 July 2022 was 2°C higher than the previous value of 29.5°C set on 25 July 2019.
In rank order, the graph below shows the record highest UK-wide average maximum daily temperatures since 1960.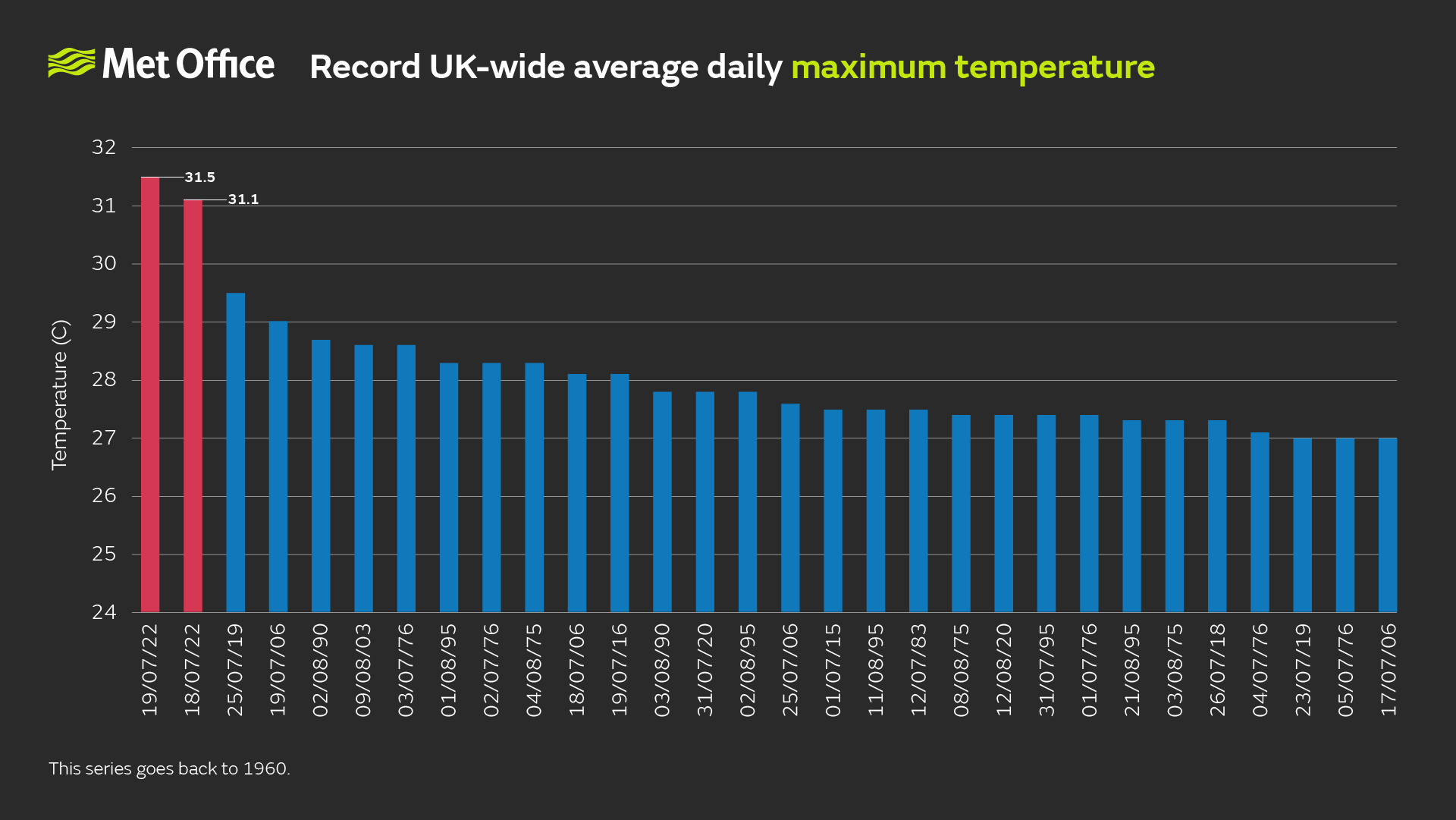 Mike added: "The high temperature values were obviously exceptional but the widespread nature is also very significant and makes this recent heatwave stand above the crowd when it comes to recent heat events that have impacted the UK.
"It's notable that of the 30 hottest days by UK area averages, 14 of these have occurred this century. While five dates in the list are from the infamous summer of 1976, it should be noted that the heat seen then was much less intense than that of 2022, although much more prolonged."
How often are records broken?
A UK national record highest daily maximum temperature of 36.7°C at Raunds, Northamptonshire, stood for almost 80 years before it was broken on 3 August 1990. This has then been broken a further three times since the turn of the century due in part to the background warming as a result of human-induced climate change. It has been shown that climate change is making UK heatwaves more frequent, intense and long-lasting.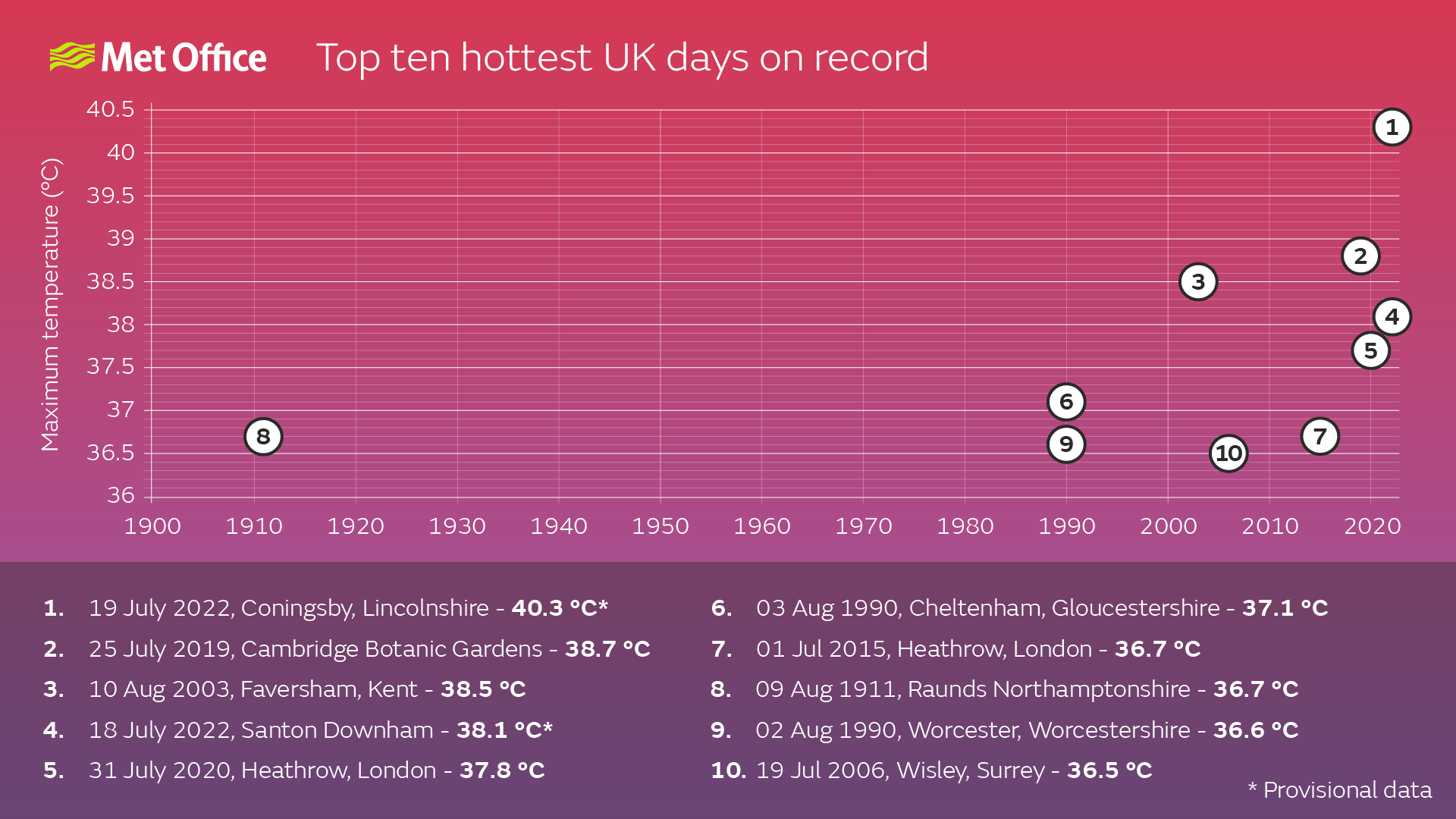 Met Office Chief Scientist Professor Stephen Belcher said: "In a climate unaffected by human influence, climate modelling shows that it is virtually impossible for temperatures in the UK to reach 40°C.
"Under a very high emissions scenario we could see temperatures exceeding 40 degrees as frequently as every three years by the end of the century in the UK. Reducing carbon emissions will help to reduce the frequency, but we will still continue to see some occurrences of temperatures exceeding 40°C and the UK will need to adapt to these extreme events."
Further heat to come?
Looking ahead to early August, temperatures are likely to remain above average across southern areas of the UK, which at this time of the year can lead to warm and at times periods of hot or even very hot weather. Further north, temperatures will likely be much closer to average, and there will be a greater risk of rain here too. Heat related impacts can be triggered by prolonged spells of warm summer weather, not just from the extreme temperatures we have seen recently.
It's common at this time of the year for mainland Europe to be hot, sometimes this hot air can be drawn up across southern parts of the UK.  Our meteorologists are always monitoring this potential during the summer months and will highlight anything that becomes unusual if necessary.