#WeatherHacks to try as clocks go back
Author: Press Office
10:59 (UTC+1) on Thu 26 Oct 2023
As people around the UK prepare to turn the clocks back an hour on Sunday, it's the time that many people start to prepare for winter weather.
This year, the Met Office is sharing a series of handy or often-forgotten #WeatherHacks to help prepare for the winter chill. 
Simple, cheap #WeatherHacks can help people prepare for winter weather

Expert partners RAC, BVA, UKHSA, NRW, Holland and Barrett and Cycling UK share their #WeatherHacks

Advice comes as part of Met Office's WeatherReady winter preparedness campaign
As last week's Storm Babet demonstrated, autumn and winter weather can include some of the most disruptive conditions for people trying to get out and about in their daily lives. With over 200mm of rain falling over a few days in some locations, Storm Babet provided a reminder of the dangers and disruption of severe weather in the UK.
While it's too early to give a definitive forecast for the winter ahead, there are simple steps everyone can take to avoid mishaps and make the most of winter weather.
Met Office Head of Warnings Chris Walsh said: "When the clocks go back it's time to prepare for winter weather. Whether it's strong winds, cold spells or even ice and snow, there are simple and cost-effective things everyone can do now to prepare for winter weather. There are plenty of useful and creative weather hacks out there that can help people to avoid disruption, but also make the most of winter weather."
As part of its wider WeatherReady campaign, the Met Office is sharing #WeatherHacks on social media and encouraging everyone to share their own ways of preparing for winter weather.
Win

ter #WeatherHacks
Motoring organisation the RAC has got the ball rolling with a low cost and low effort suggestion to stay efficient on the roads in cold weather.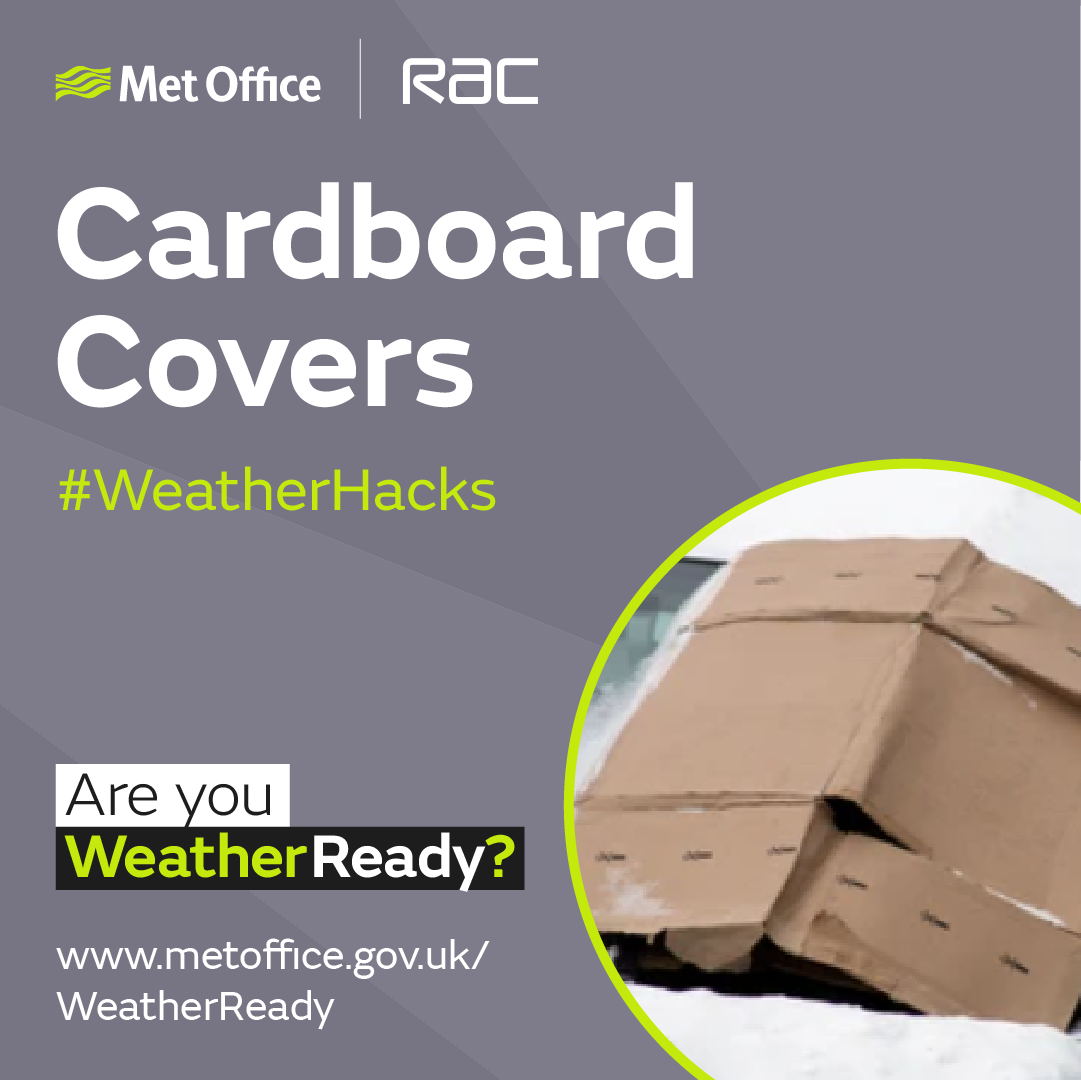 RAC: When parked up for the night, put old socks or cardboard under your windscreen wipers to prevent them getting stuck to the glass.
If windscreen wipers can't move, the circuit can overheat causing a fuse to blow. Further RAC advice on preparing your vehicle for long journeys  is available as part of WeatherReady.
Being prepared for winter weather also means doing more of what you love. Cycling UK have shared their tips for going out on two wheels in the winter.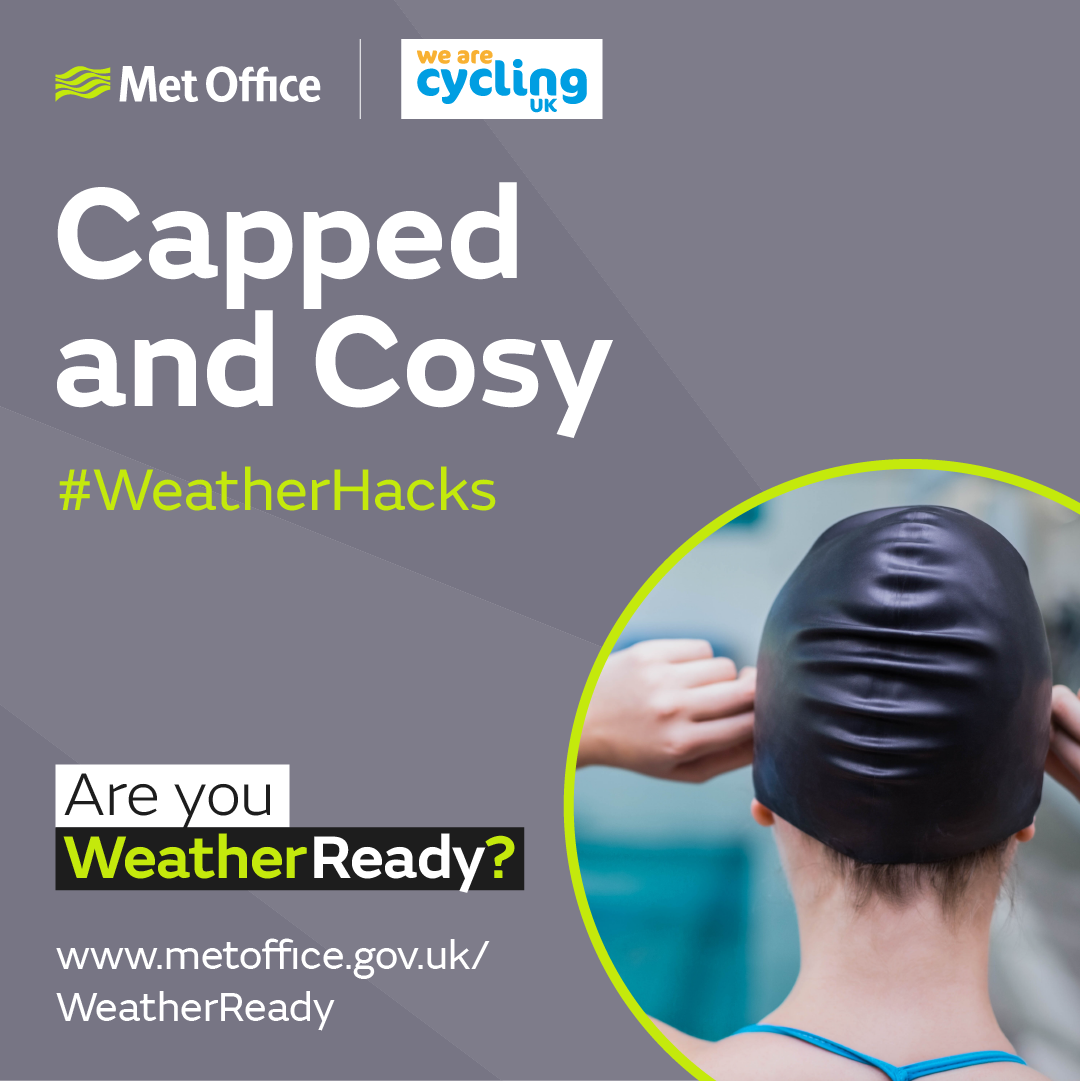 Cycling UK: Add a swimming cap under your helmet to help keep your head warm.
Around 40-45% of body heat is lost through the head, so a swimming cap could make all the difference as an additional layer to keep warm. Find out more about how winter weather affects cycling.
Another useful hack to keep warm when going out on your bicycle is to warm up your shoes. Place about 700g of ceramic baking beans in a suitable jug, microwave them on high heat for four minutes and then pour them into cotton ankle socks. Pop the filled socks in your shoes to warm them up before putting on.
Managing pet health and wellbeing can also be a concern for some in the winter months. The British Veterinary Association (BVA) suggests an addition to your dog kit bag when surfaces are being gritted in the winter.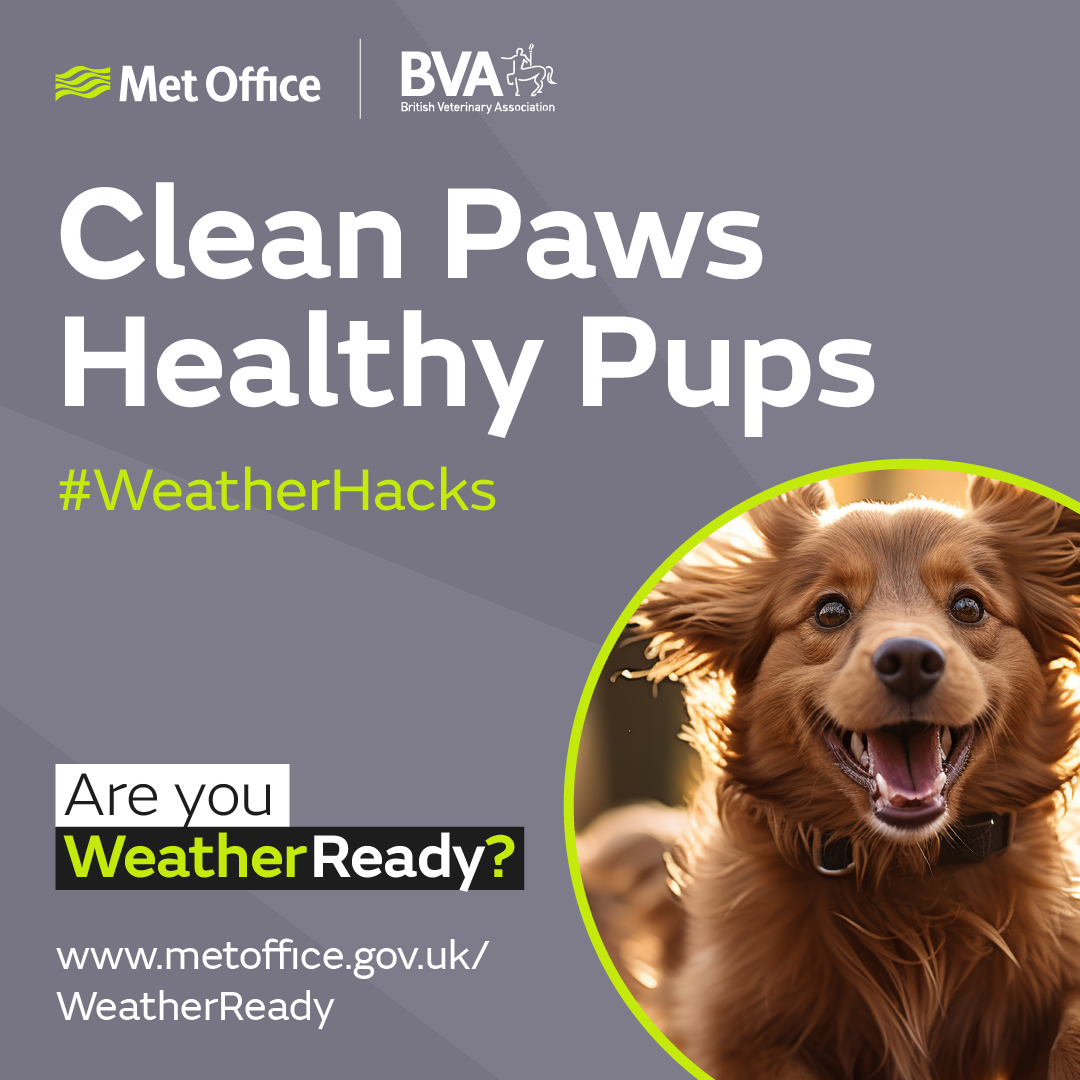 BVA: Pack a towel to remove toxic grit or rock salt from your dog's paws when you're out and about. 
Grit or rock salt can be extremely toxic to dogs and cats if ingested. The BVA also suggests regular checks of rabbit and guinea pig water bottles to make sure they are not frozen over. More expert advice from BVA is available on looking after your pet in the winter.
Preparing for severe weather can also mean making sure you have what you need if you are impacted by heavy rain or even flooding. Natural Resources Wales has shared their handy hack.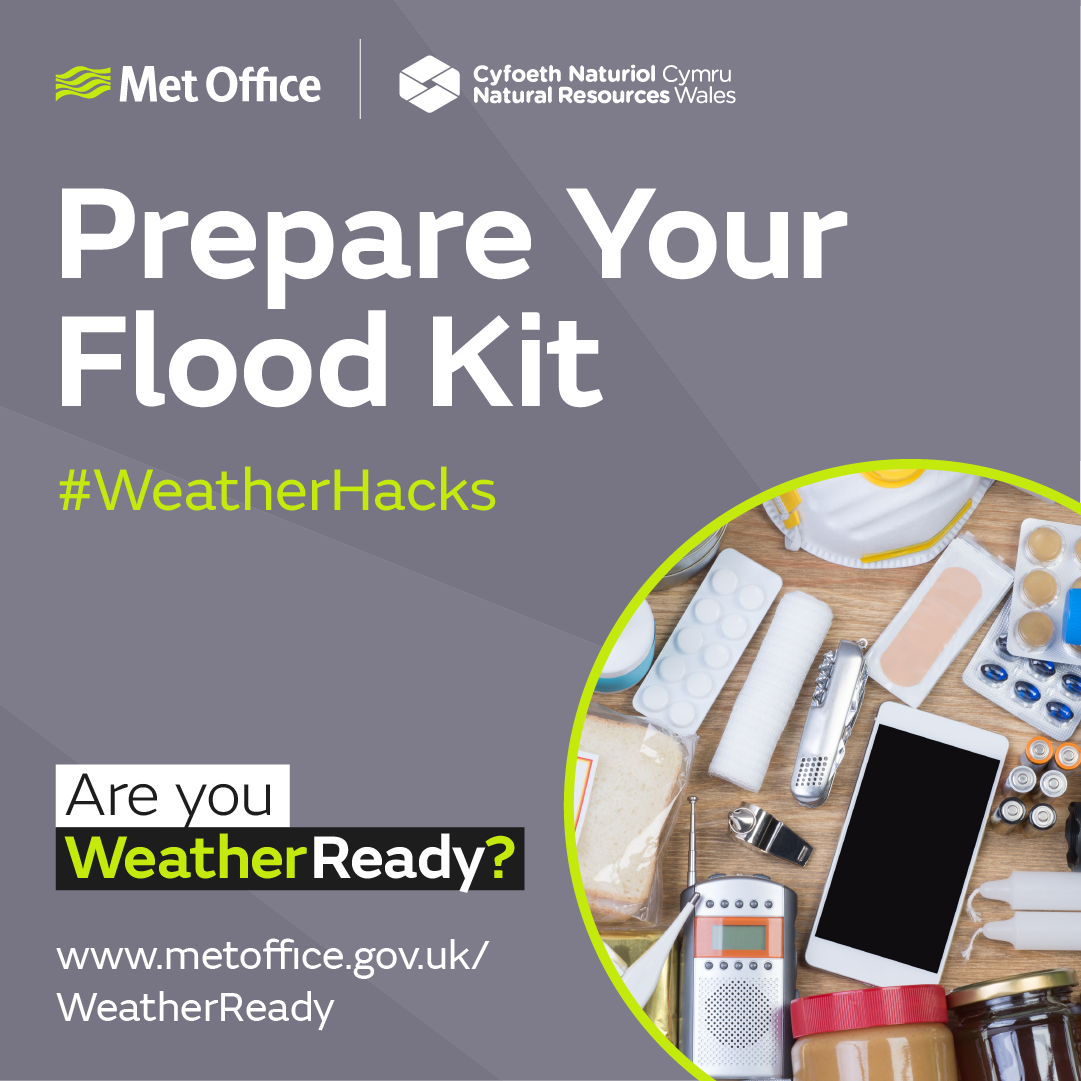 Natural Resources Wales: Prepare a flood kit in advance of flooding to make sure you have your family's essential items to hand. And make sure you keep it somewhere accessible.
The kit could help look after you and your family, especially if you're unable to return for a while. From phone chargers to torches and medicines, the Natural Resources Wales website has a list of items that you may find useful to add to your flood kit.
The UK Health Security Agency, which issues Cold Weather Alerts for the health and social care sector during the cool months, has a #WeatherHack of its own for the winter.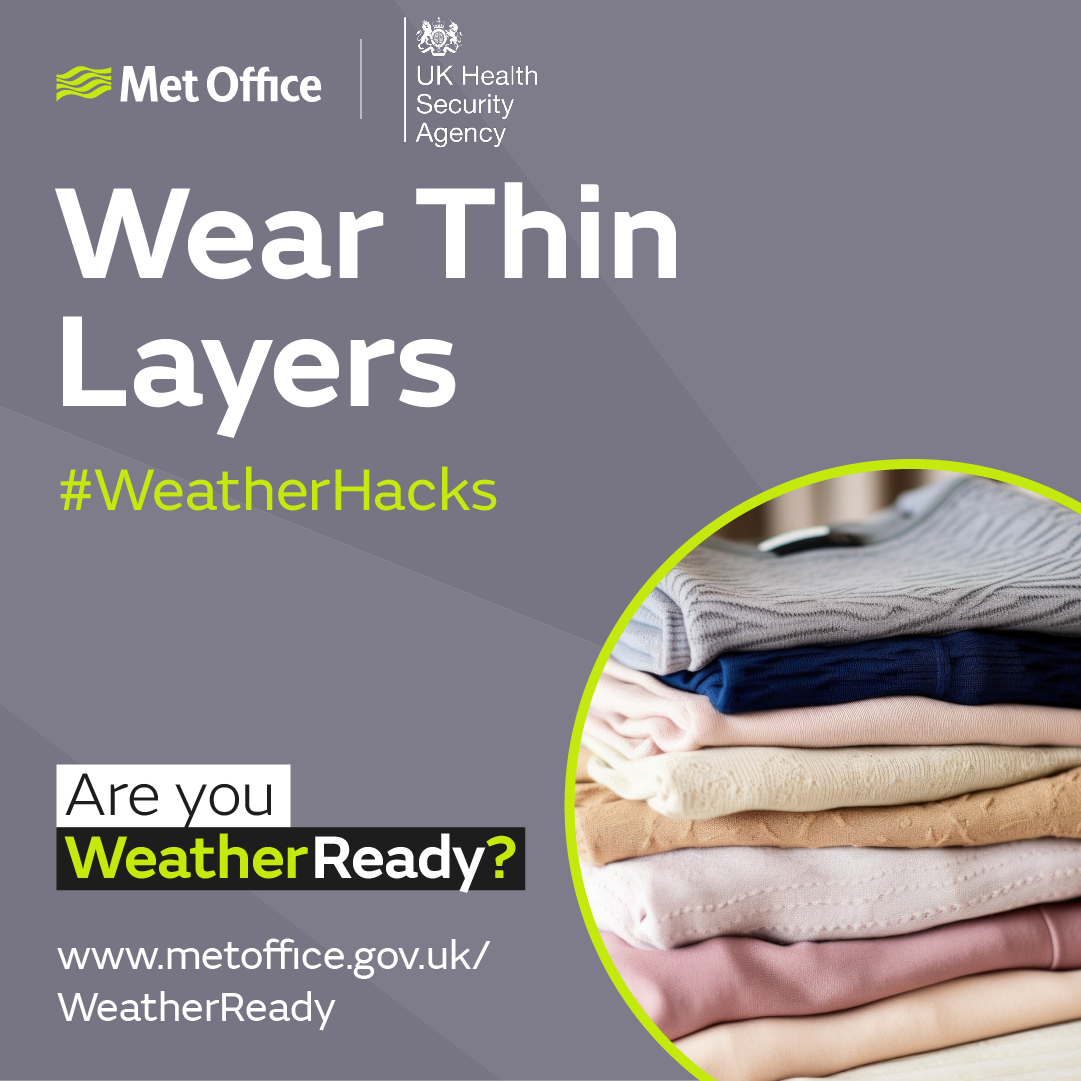 UKHSA: Wear several layers of thinner clothing; this could keep you warmer than one thicker layer.
Find more advice on keeping your home warm this winter.
Share your #WeatherHacks on social media to help people prepare for winter weather.
Get more advice and information from expert partners as a part of WeatherReady with the Met Office. Weather Ready is supported by Cabinet Office and provides tips and guidance on simple actions people can take to reduce the impact of severe weather on their lives.
Supporting winter preparedness
RAC Breakdown spokesperson Rod Dennis said: "Winter weather often presents the biggest challenge to motorists. However, as the temperature dips there are some simple tricks that can save drivers time and money this winter which will ensure they get going more quickly when it gets frosty." 
Dr Elizabeth Mullineaux, BVA Junior Vice President said: "As we head into the winter months, it's important to take extra precautions to keep our furry friends warm and safe when the temperatures plunge. Even simple things like leaving your dog outside a shop in extremely cold weather can be stressful for them. Cats too, should not be left outside all night. Domestic rabbits and guinea pigs are vulnerable to the cold despite their warm coats, which is why owners need to be vigilant and take steps to ensure their hutches are protected from the snow, cold draughts and winter rain. If owners have any concerns, they should speak to their local vet."
Katie Legg, Commercial Director at Cycling UK, said: "Nothing is better for our wellbeing and beating the winter blues than getting outside and reconnecting with nature. The rustle of leaves and the crisp clear air as you cycle on a winter's day make all the wrapping up and prepping of your bike worth it. If you're uncertain about how to make sure you're winter ready, then check out Cycling UK's website for advice and tips."
Kelly McLauchlan, Lead Specialist Advisor, Community Engagement & Resilience at Natural Resources Wales said: "As we have seen with Storm Babet recently, heavy rainfall and flooding can happen very quickly, so knowing what you can do to prepare is really important. Thinking ahead and preparing a flood kit with those essential items you and your family need, and then keeping that kit somewhere easily accessible could reduce the worry if you have to leave your home - especially if you're unable to return for a while."
Holland and Barrett's Retail Health Lead, Dr Anojan Arulananthan said: "Eating a healthy diet in winter is important for the normal functioning of the body, including the immune system. Many essential nutrients play a role in the normal functioning of the immune system such as vitamin C, vitamin A, vitamin B6, vitamin B12, zinc, iron, copper and selenium. However, our complex immune system is dependent on many factors for optimal functioning, rather than a single nutrient. Eating a healthy, nutrient-dense diet, getting enough sleep, exercising, and watching our stress levels will help to set us up for fighting those seasonal coughs and colds."