United Kingdom Chemistry and Aerosols (UKCA) Model
To build and scientifically evaluate a new UK community atmospheric chemistry-aerosol model within various configurations of the Met Office Unified Model and to use for scientific research.
The United Kingdom Chemistry and Aerosols project began in 2003 with the specific aim of building and evaluating a state-of-the-art chemistry and aerosols model within the Unified Model environment. Funded by Defra, DECC, and the Natural Environment Research Council through the NCAS initiative, it began as a joint project between the Met Office and the Universities of Cambridge and Leeds. Since then, contributions to UKCA are also being provided by work at the Universities of Oxford, Reading, East Anglia and Lancaster.
For further information on UKCA, see UKCA hosted by the University of Cambridge.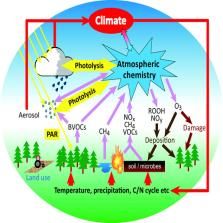 Key aims
Development of a state-of-the-art chemistry and aerosols model
Improved coupling between chemistry and aerosols
Joint troposphere-stratosphere chemistry and aerosol modelling
To improve our understanding of the role of chemistry and aerosols in climate forcing
To investigate and quantify feedbacks in the climate system
Air quality forecasts
Current projects
Development of the first Hadley Centre model (Met Office climate prediction model: HadGEM2 family) to include interactive tropospheric chemistry.
Atmospheric Chemistry and Climate Model Intercomparison Project (ACCMIP).

This will run timeslices parallel to the Coupled Model Intercomparison Project Phase 5 (CMIP5) integrations with sophisticated gas and aerosol chemistry to quantify the forcings from short-lived species, and also to quantify the impacts on air quality.

SSNIP: Scientific Support for National and International Policy.

A Defra funded project lead by the Met Office Hadley Centre in collaboration with 5 institutes to provide air quality policy advice.

MEGAPOLI: An EU project to quantify the air quality and climate impacts of megacities.

The Met Office Hadley Centre co-leads the workpackage on climate effects.

ACACIA: A proposed EU project to quantify the impacts of climate change on air quality, and the impacts of air quality pollutants on climate.
HTAP: 

Project under the UN Convention on Long-Range Transboundary Air Pollution to quantify the impacts of hemispheric transport on air quality in the northern hemisphere.

SPARC Chemistry-Climate Model Validation Activity CCMVal
Collaborators