Upscaling Climate Services
As part of the UK Climate Resilience (UKCR) programme, the Met Office has compiled an approach for upscaling climate services. This page introduces climate services providers to this resource.
Introduction
Upscaling is the process of moving beyond a pilot to repeatable and/or transferable services that are useful and accessible to stakeholders and users. It also includes enhancing existing services to increase reach and impact. 
As part of the UKCR Programme, we have investigated what this means for climate services. We have reviewed existing upscaling literature and resources, and adapted themes and concepts from them to produce an upscaling approach for climate services. We have tested this in three case studies with different services and service providers. A toolkit, to aid climate service providers in following the approach, is included below. In the scaling literature, the term 'innovation' is often used to refer to what is being scaled. 
Upscaling climate services 
Upscaling climate services is a task which requires special attention, including considerations beyond academic interest, and/or traditional marketing and business strategies. It has parallels with development efforts that involve scaling innovations to meet other global challenges, such as health, education and agricultural interventions. 
We reviewed existing scaling literature and toolkits and established how they can be applied to climate services, and what challenges this may help to overcome. More information can be found in this academic publication (Guentchev et. al., 2023). 
The following explainer introduces some of the main Upscaling concepts, including what upscaling is, what the different types of scaling are, and what are the associated challenges for climate services and emerging lessons to overcome them.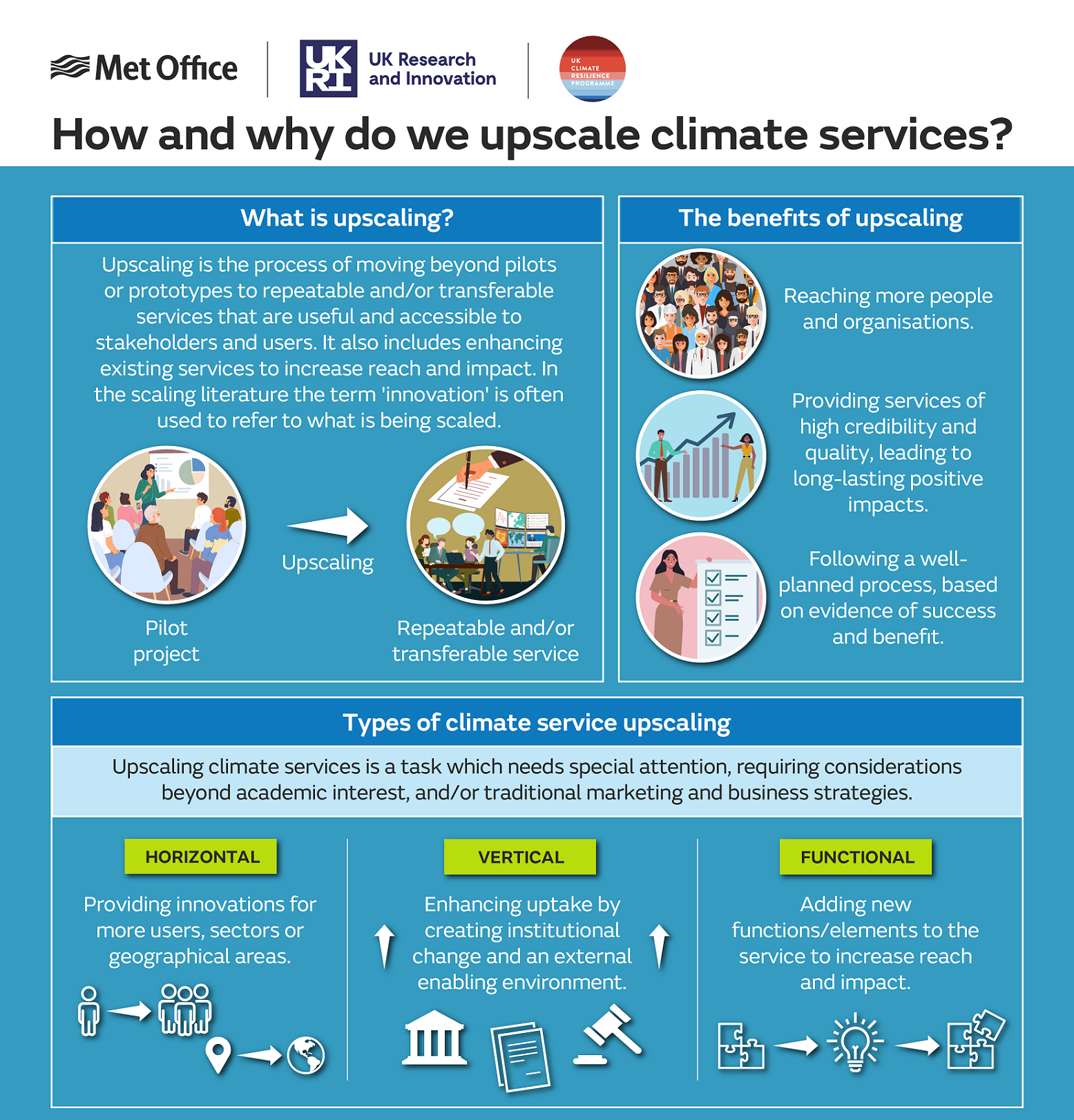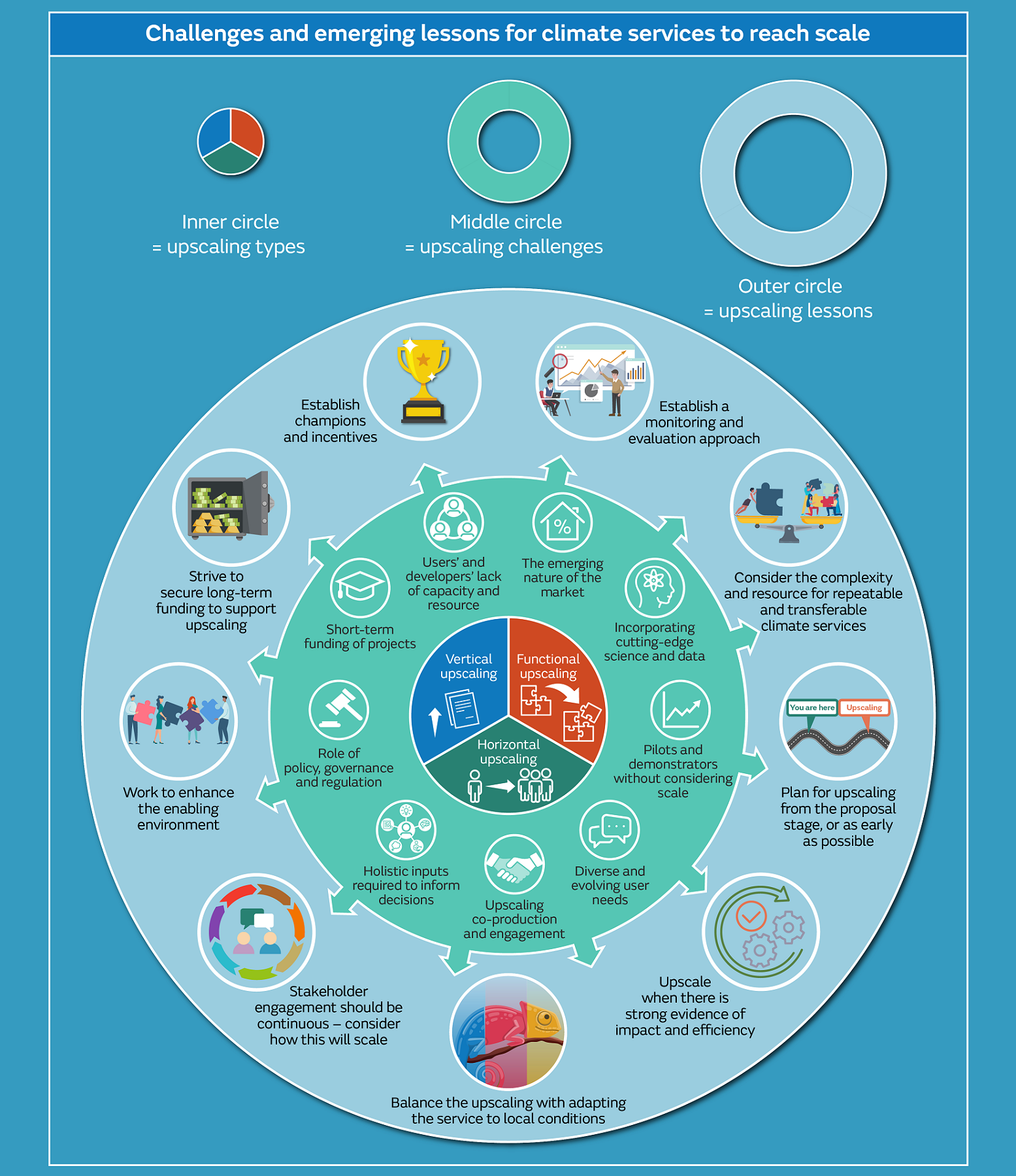 Download the UKCR upscaling overview explainer infographic (PDF format)
Upscaling approach
The explainer above introduced the main concepts of the upscaling approach and associated toolkit. These are: the development of a scaling vision; an assessment of the scalability of the service; and a discussion about the enabling environment, and user and developer teams. The following infographic outlines the main stages within the approach, what each stage involves, and what the outcomes are.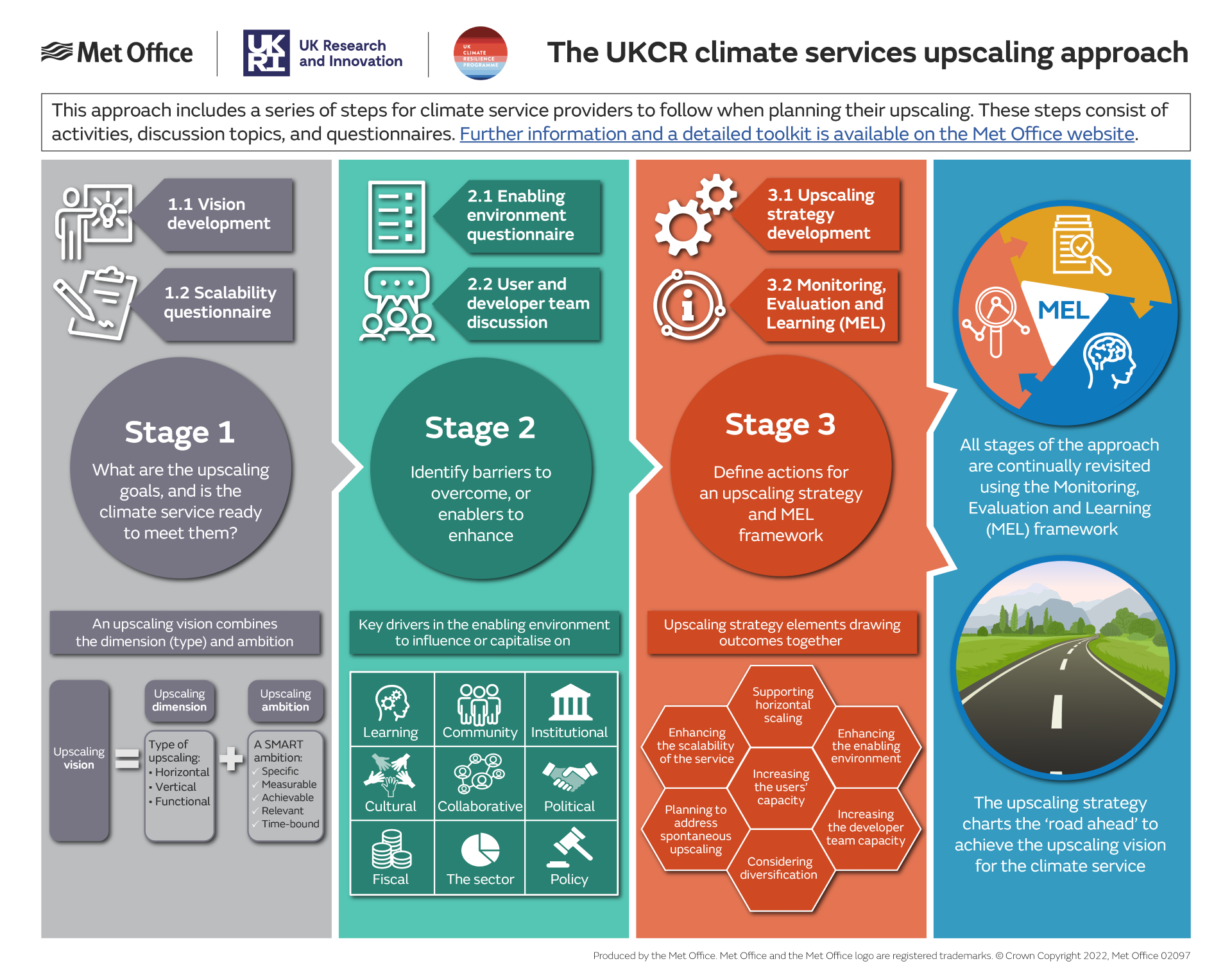 Download the UKCR upscaling approach infographic (PDF format) 
Upscaling approach case studies
Our development of the approach was supported by three case studies. These provided feedback on the approach, evidence of its applicability, and input for the toolkit.  
The case studies focussed on the following climate services:
The City Packs, produced by the Urban Climate Services team at the Met Office  
The first two case studies explored upscaling climate services created elsewhere in UKCR, and the third looked at upscaling two climate services external to UKCR. 
Download the City Packs case study
The toolkit
If you are a climate service provider, we think that you can benefit from this upscaling approach – whether that involves working through the toolkit in its entirety, focusing on some of the most relevant aspects, or just applying the overarching themes and concepts. While we recommend applying the toolkit during the initial scoping phase of a project or product development, the case studies have shown that it can benefit even established services.  
The toolkit material can be downloaded via the following links: 
Feedback and collaboration
We would like your feedback on the approach and toolkit, and whether you have used them. Consider using this short form to let us know (~10 minutes): https://forms.office.com/e/b45G1d1ZtM.  
If you think your climate service could make a good upscaling case study for inclusion in this webpage, and possible future publications, please email: [email protected].  
References
Articles on this upscaling approach: 
Guentchev et. al., 2023, 'Upscaling of Climate Services – what is it? A literature review'. Climate Services, 30, 100352.
Goddard et. al., 2023, 'Creating and testing an approach for upscaling climate services', Climate Services, in preparation. 
Some articles and resources used in producing the approach: 
Jacobs et al., 2018. 'The Scaling Scan – A practical tool to determine the strengths and weaknesses of your scaling ambition', Published by the PPPlab and CIMMYT.  
Management Systems International, 2016. 'Scaling up – From vision to large‐scale change: A management framework for practitioners'.  

World Health Organization, 2009. 'Practical guidance for scaling up health service innovations'. 

Linn et al., 2010. 'Scaling up the fight against rural poverty'. Working Paper 43. Brookings. 
Other articles and resources can be found within the publications and toolkit material.