Archived forecast data collections
Forecast data is held only in the National Meteorological Archive in Exeter
Forecast data is limited in its nature and extent as the purpose of the archive is to record observations rather than predictions. The main types of forecast information held are surface charts, marine forecasts and National Severe Weather Warnings.
1. Surface Charts
A range of forecast surface charts covering the north Atlantic and Europe (known as FSXX and MSXX charts) are held. These are synoptic charts showing the forecast position of weather systems at 12, 24, 36, 48, 60, 72, 84, 96 and 120 hours from the actual situation at noon or midnight on any given date. The series runs from 2003 and electronic charts are avialble from 2017.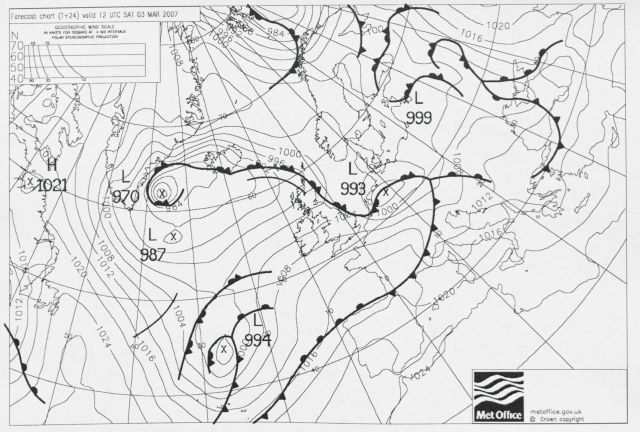 Example FSXX chart.

Note: For text based forecast data see note in the daily weather summary section.
 
Most useful for
Forecast charts show how the computer models predicted the developing weather situation and how this has changed and increased in detail and accuracy over time.
Things to bear in mind
The information is forecast data and will not provide actual observations. For actual observations you should consider the other types of data described here.

Some charts are produced for every day of every year and therefore can equate to a large amount of data. If you want to look at charts covering a long period of time you should be aware of the potential quantity of material this will represent and you may need to reduce the scope of your enquiry to a more manageable level.

All the forecast charts in the archive date from the period after the introduction of computer modelling.
2. Marine Forecasts
The archive holds Shipping Forecasts, Inshore Waters Forecasts and Gale Warnings from 1995. These are issued up to four times per day. These consist of text based forecsts and do not include any charts. 
Most useful for
Marine data is limited in extent and therefore forecasts can often provide additional information on the conditions at sea around the British Isles. 
Things to bear in mind
The forecasts are short range and only valid for a day, therefore a large number are required in order to gain a fuller picture of conditions over an extended period. 
3. National Severe Weather Warnings 
These warnings are issued by the Met Office when various meteorological parameters are considered likely to become hazardous. An archive of warnings is held back to 2012 and access is available via our Digital Library and Archive. Further information on NSWWS is availble here.