Ex-hurricane Ophelia impacts the UK
Author: Press Office
13:39 (UTC+1) on Mon 16 Oct 2017
Ex-Hurricane Ophelia will bring stormy conditions to western parts of the UK today (Monday 16 October).
Although this ex-hurricane will bring impactful weather to many northern and western parts of the UK, the forecast for other areas – such as South East England – is for warm and mainly dry conditions to dominate.
Met Office Chief Forecaster Paul Gundersen said: "Ophelia weakened on Sunday night and is now no longer classified as a hurricane. That said, storm force to hurricane force winds of up to 80mph across Northern Ireland, and some areas bordering the Irish Sea will result in travel disruption, power cuts and some damage to buildings such as tiles being blown from roofs.
"National Severe Weather Warnings are in place for Northern Ireland, and other western and northern parts of Britain for Monday afternoon and evening and everyone in these areas should prepare for longer travel journeys and ensure they take the necessary precautions to ensure they and their families and property are safe."
The rest of the UK will have a windy day, but wind gusts are not expected to bring widespread disruption.
Matt Crofts is a Lifesaving Manager with the RNLI. He said: "The severe weather which is due to hit parts of the UK and Ireland early next week could make our seas particularly dangerous and unpredictable, with large waves and swells being a major risk.
"Stormy conditions may be tempting to watch but big waves can easily knock you off your feet. The sea is far more powerful than you think and your chances of survival are slim if you are dragged into the swell. Our volunteer lifeboat crews will always launch to rescue those in danger at sea, but to launch into conditions like these could also put their lives at risk.
"We understand why people want to experience extreme weather, but it's not worth risking your life, so we strongly urge people to respect the water and watch from a safe distance. If you see someone else in trouble in the water, call 999 and ask for the Coastguard. Don't enter the water yourself as you could also end up in serious danger."
Temperatures across large parts of southern and eastern England are expected to exceed 20 °C on Monday, with isolated spots possibly reaching 24 °C. The average maximum temperature for England in October is around 14 °C. The high temperatures are, in part, due to the influence of ex-Ophelia which will draw up very warm air from Spain on its eastern flank.
An interesting phenomena that is a result of the movement of ex-Ophelia is the colour of the sky and the sun this morning (Monday), and dust on cars. The same southerly winds that have brought us the current warmth have also drawn dust from the Sahara to our latitudes and the dust scatters the blue light from the sun letting more red light through much as at sunrise or sunset.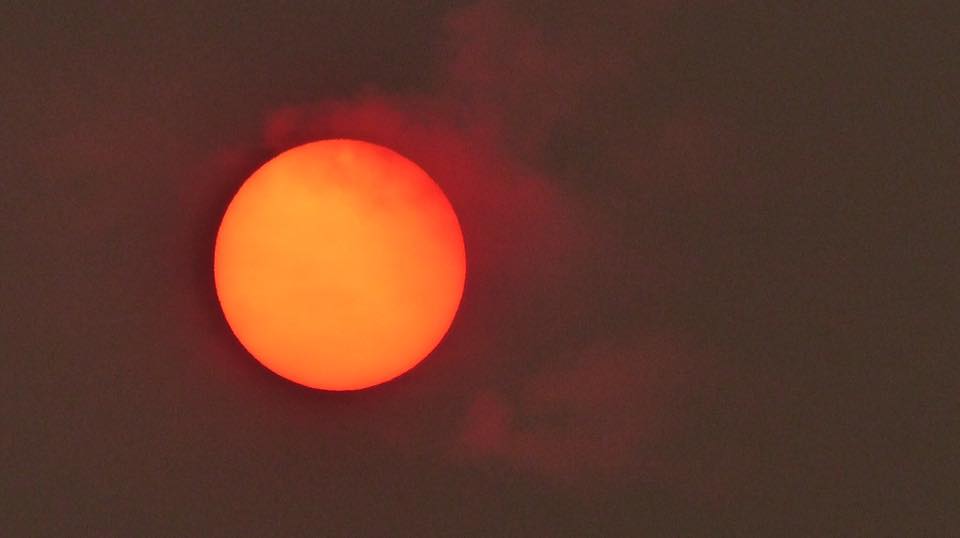 You can find out the current forecast in your area using our forecast pages and by following us on Twitter and Facebook, as well as using our mobile app which is available for iPhone from the App store and for Android from the Google Play store.