Met Office weather warnings
One of the Met Office's main priorities is to continuously evolve and improve the quality and delivery of Met Office weather warnings, as they are essential for protecting life and property in the UK.
History of Met Office weather warnings
The National Severe Weather Warning Service (NSWWS) began in 1988 as a threshold-based service following the Great Storm of 1987. This service involved Met Office meteorologists monitoring the weather and issuing warnings when certain weather thresholds, or levels, were reached.
As the service evolved over the years, we researched and listened to feedback from our broad range of users including emergency responders, members of the public and the media. It became clear that people did not need to know if there would be 40 mm of rain, for example, but instead it was more important for them to know how weather conditions would affect them. Based on this feedback from our users, we moved to an impact-based warning service in 2011.
In 2015, we again carried out more research, going back to the emergency responders, members of the public and the media with two aims. Firstly, we wanted to benchmark the warning service, making sure that it was continuing to work effectively and efficiently and serving the different needs of our various users. Secondly, we wanted to identify any potential improvements.
Feedback from this research focussed our work around two key areas: increasing the scope of the weather warnings and improving the way we communicate severe weather and impacts.
What changed?
Fundamentally, our warnings have not changed; we continue to issue them when the combination of severe weather impacts and the likelihood of these impacts occurring meet the criteria for a warning. However, we have enhanced the way users can access, understand and use our warnings.
We have improved the visual design of warnings across all of our channels from our website and app to Hazard Manager, a specialist product used by emergency responders.
We have also done lots of work behind the scenes bringing greater resilience to our production system as well as improving the efficiency and speed at which warnings can be prepared, issued and delivered.
Introducing new weather types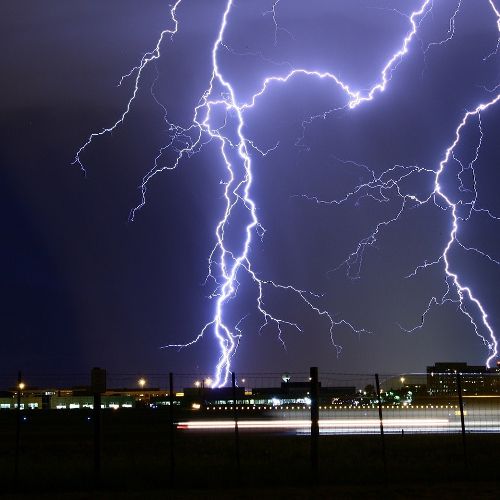 The decision to introduce two new warnings, specifically for thunderstorms and lightning, comes from extensive user research carried out with users of Met Office weather warnings.
When asked to describe the types of impacts expected with rain and with thunderstorms, people described rain as something that lasts for hours, maybe even days, possibly resulting in river flooding. In contrast, people think of thunderstorms as shorter periods of heavy or intense rain, leading to impacts such as rapid surface water flooding.
Understanding this difference means that we can better communicate the type of severe weather that is expected and the impacts associated with that weather.
Thunderstorms: feedback showed that during summer we have a communications challenge. In the past, we have issued rain warnings to cover impacts of heavy rain that, especially during the summer, are associated with thunderstorms. There was a big difference between the way people describe what they consider to be the impacts of heavy rain and thunderstorms. Therefore, we are introducing thunderstorm warnings to match the way that people think of the impacts.
Lightning: we are introducing this new weather warning for occasions when the main impacts will be from lightning strikes and when we are not expecting flooding. It also means that we can issue dual warnings of snow and lightning. 
Warnings out to day seven
Met Office weather warnings now provide a seven-day lead-time rather than five. This means that for some weather situations, such as the St Jude's Day storm or ex-hurricane Ophelia, we can give warnings with a longer lead-time.
Improved communication of risk
Not only has the design of our warnings been improved visually, there have also been extensive enhancements in terms of the language. Warnings on our digital channels show the most relevant information for a public audience first, followed by more details for more informed users, including emergency responders, the media and amateur meteorologists.
Each warning will now contain the following sections:
a short weather headline, which states what weather type, is forecast
a 'What to expect' section, detailing the types of impact expected and an indication of how likely those impacts are
a 'What should I do' section, which links to advice and guidance from our partners on how to stay safe in severe weather
a 'Further details' section, providing additional information on the forecast weather.
As a result of user testing, and working with academia to follow current best practice around communicating risk, our warnings now talk about likelihood and impact levels using probabilistic language. The potential for impacts will be communicated using language which conveys the level of likelihood. For example:
Flying debris is likely and could lead to injuries or danger to life
Spray and flooding probably leading to difficult driving conditions and some road closures
Flooding of homes and businesses could happen quickly, with damage to some buildings from floodwater, lightning strikes, hail or strong winds
Power cuts may occur and other services, such as mobile phone, may be affected
A more holistic service
Weather warnings are only one part of the wider service that the Met Office provides. We also deliver additional content to support the warnings and communicate the weather story associated with the forecast of severe weather including:
additional graphics
explainer videos
severe weather blogs
weather updates across our social media channels
guidance to emergency responders