Hot and sunny with thunderstorms this week – June 2020
Author: Press Office
12:33 (UTC+1) on Thu 25 Jun 2020
It'll stay hot and sunny with the risk of thunderstorms on Thursday and Friday, before fresher and cooler weather arrives through the weekend.
Hottest day of the year
Wednesday was the hottest day of the year so far as temperatures climbed to 32.6 Celsius at Heathrow.  Today (Thursday) will be another hot and sunny day with temperatures widely reaching into the high twenties and low thirties Celsius, with highs of 33 or 34 Celsius likely in parts of Wales and the west Midlands and a slight chance of 35 Celsius being reached.  Wales could see it's current maximum June temperature of 33.7 Celsius challenged, set in Machynlleth, Powys on 18 June 2000. 
With the hot weather lasting for at least three days, heatwave conditions will be met in some areas.
National Severe Weather Warning
The Met Office has issued several thunderstorm warnings for large parts of the UK this week.  Met Office Chief Meteorologist, Steve Willington, said: "Although many areas will enjoy dry and sunny weather over the next few days, the high temperatures will trigger thunderstorms which may cause flooding and disruption in a few places.
Upcoming forecast
"On Thursday thunderstorms could break out over Wales and Scotland from late afternoon and then across southwest England and Northern Ireland later in the evening.  On Friday thunderstorms could break out more widely across Scotland, England and Wales.  Where thunderstorms do occur, they will develop quickly with intense rainfall of 30 to 50 mm in just a few hours with lightning an additional hazard.  As such we're urging people to continue to check the forecast and app for updates over the next few days."
Highest temperature on record
The highest UK maximum temperature recorded in June is currently 35.6 Celsius, set at Mayflower Park, Southampton on 28th June 1976.  The highest UK minimum temperature recorded in June is currently 22.7 Celsius, recorded in Ventnor Park on the Isle of Wight on 28th June 1976.
Stay cool
With plenty of strong summer sunshine in the forecast, UV levels will be high or very high across the UK - you can check the Met Office UV forecast here and tips on keeping cool in hot weather here.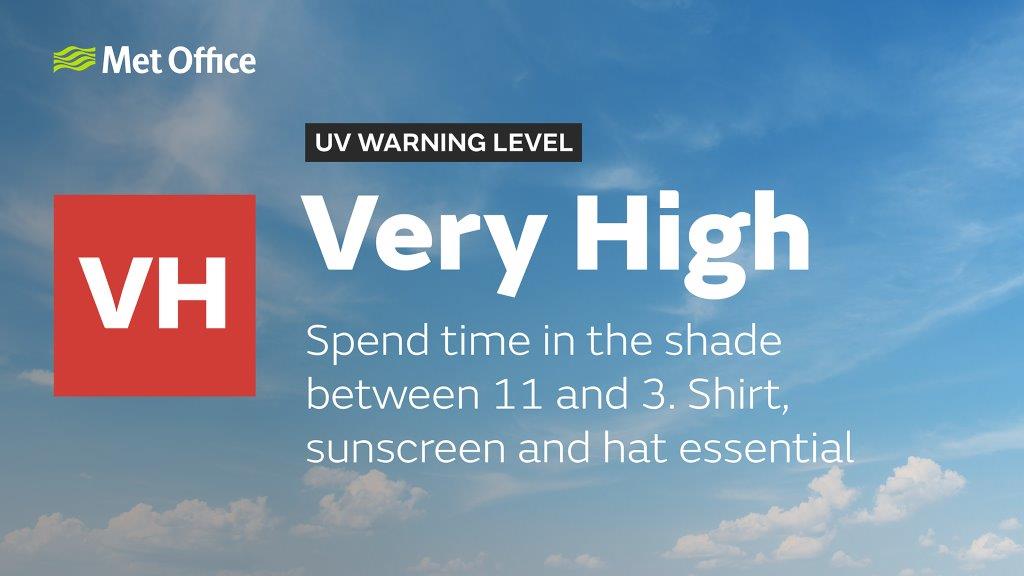 Weekend weather
Commenting on the return to fresher weather over the weekend, Met Office Deputy Chief Meteorologist, Jason Kelly, said: "We'll see an end to the current hot spell this weekend as low pressure arrives from the Atlantic, bringing temperatures more typical for June.  It'll be breezy for all this weekend with heavy showers and longer spells of rain for most, though Sunday could brighten up across the southern half of the UK."
Stay connected
You can check the latest weather warnings on our severe weather warnings pages and you can get the most accurate and up to date forecast for your area using our forecast pages and by following us on Twitter and Facebook, as well as using our mobile app which is available for iPhone from the App store and for Android from the Google Play store.
Latest guidelines
Whatever the weather we are all being urged to remember the Government Coronavirus guidelines 
Updated at 12:33 (UTC+1) on Thu 25 Jun 2020