Heatwave
What is a heatwave? Find out more about heatwaves and what to do when they occur.
What is a heatwave?
A heatwave is an extended period of hot weather relative to the expected conditions of the area at that time of year, which may be accompanied by high humidity. 
What is the definition for a UK heatwave?
A UK heatwave threshold is met when a location records a period of at least three consecutive days with daily maximum temperatures meeting or exceeding the heatwave temperature threshold. The threshold varies by UK county, see the UK temperature threshold map below.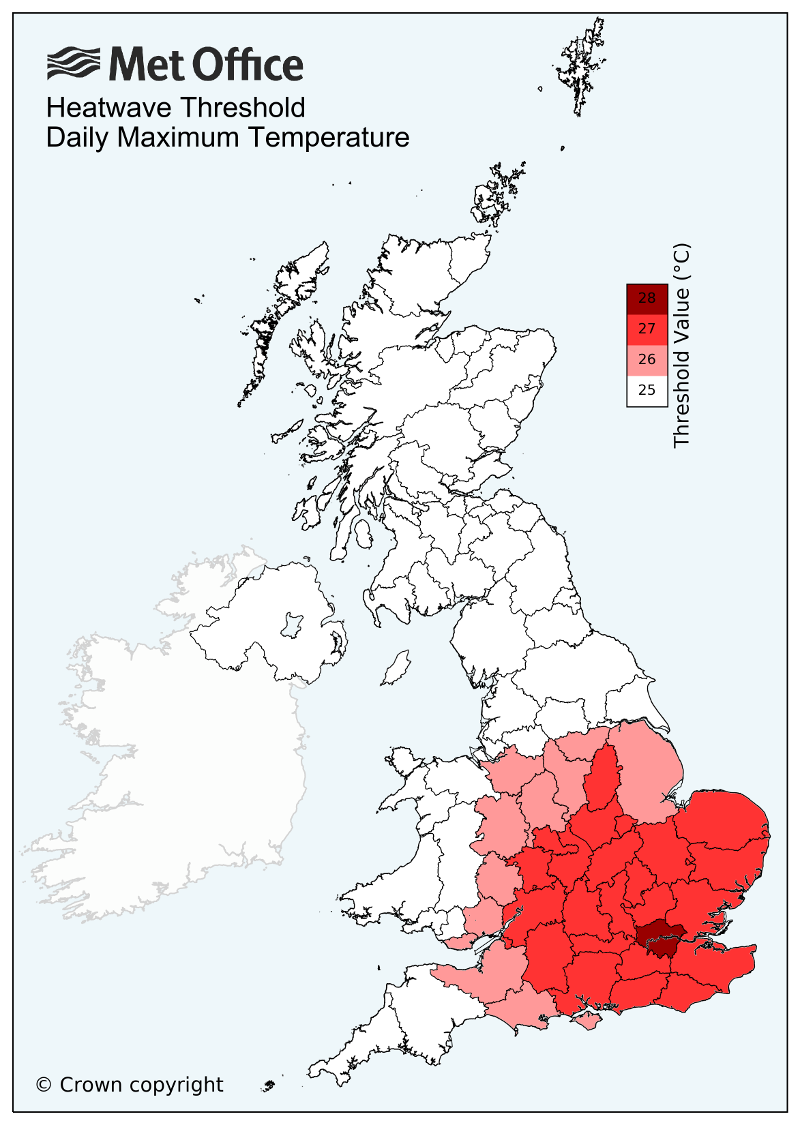 The geographical differences reflect the differences in climate across the UK. The threshold temperatures have been calculated using the 1981-2010 climatology of daily maximum temperature at the mid-point of the meteorological summer (15th of July).
Why do heatwaves happen?
Heatwaves are most common in summer when high pressure develops across an area. High pressure systems are slow moving and can persist over an area for a prolonged period of time, such as days or weeks. They can occur in the UK due to the location of the jet stream, which is usually to the north of the UK in the summer. This can allow high pressure to develop over the UK resulting in persistent dry and settled weather.
Are heatwaves linked to climate change?
Summer 2018 was the equal-second warmest summer in a UK series from 1910 for mean maximum temperature (shared with 1995) with summer 1976 hottest. 
Heatwaves are extreme weather events, but research shows that climate change is making these events more likely. A scientific study by the Met Office into the Summer 2018 heatwave in the UK showed that it was 30 times more likely to occur now than in 1750 because of the higher concentration of carbon dioxide (a greenhouse gas) in the atmosphere. As greenhouse gas concentrations increase heatwaves of similar intensity are projected to become even more frequent, perhaps occurring as regularly as every other year. The Earth's surface temperature has risen by 1 °C since the pre-industrial period (1850-1900).
Impacts
The UK experiences occasional heatwaves but of a lesser frequency and intensity of those seen elsewhere globally. The summer of 2018 was the equal-warmest summer for the UK along with 2006, 2003 and 1976. The hottest day of the summer was on 27 July, with 35.6 °C recorded at Felsham, Suffolk.
In August 2003, the UK experienced heatwave conditions lasting 10 days and resulting in 2,000 deaths. During this heatwave, a record maximum temperature of 38.5 °C was recorded at Faversham in Kent. In July 2006, similar conditions occurred breaking records and resulting in the warmest month on record in the UK.
To aid in the preparation and awareness before and during a spell of very hot weather, a heatwave plan has been created by Public Health England in association with the Met Office and other partners. It recommends a series of steps to reduce the risks to health from prolonged exposure to severe heat for:
The NHS, local authorities, social care, and other public agencies
Professionals working with people at risk
Individuals, local communities and voluntary groups