Wet and windy weather this weekend
Author: Press Office
13:56 (UTC) on Fri 28 Feb 2020
Storm Jorge will bring heavy rain, strong winds and snow to parts of the UK this weekend.
Named by the Spanish meteorological service Agencia Estatal de Meteorología (AEMET) on Thursday, Storm Jorge will track across the north-west of the UK over the weekend bringing another spell of strong winds and heavy rain.  The system will also bring a spell of strong winds to northwest Spain on Saturday, prompting AEMET to issue orange wind warnings and name the system.
Chief Meteorologist at the Met Office, Frank Saunders, said: "For the rest of today (Friday) - and ahead of Storm Jorge's arrival - there are warnings for rain and snow. The heaviest snowfall – with accumulations of 5-8 cm on higher routes – is likely to occur across central Scotland, where snow may fall to lower levels for a time.
"From Saturday Storm Jorge will bring strong winds and heavy rain to parts of the UK, with potentially heavy snowfall being a hazard for parts of Scotland. Areas above 400 metres could see accumulations of 20-30 cm of snow, with lower areas - roughly above 250 metres - seeing accumulations of up to 10 cm. On Saturday and Sunday, the majority of the UK is covered by Yellow weather warnings with some areas being covered by more than one warning, indicating multiple weather hazards.
"The heavy rain warnings for parts of Wales, South West England and North West England are indicating that some isolated areas of Wales could see as much as 100 mm of rainfall. Storm Jorge is not expected to bring wind gusts as strong as Storms Ciara or Dennis, but it will still bring gusts of 60 to 70 mph in some exposed locations during the warning period, which ends at midday on Sunday. But it's worth saying that parts of the south and east of the UK, once the rain clears early on Saturday, should often be bright, windy and cold over the weekend."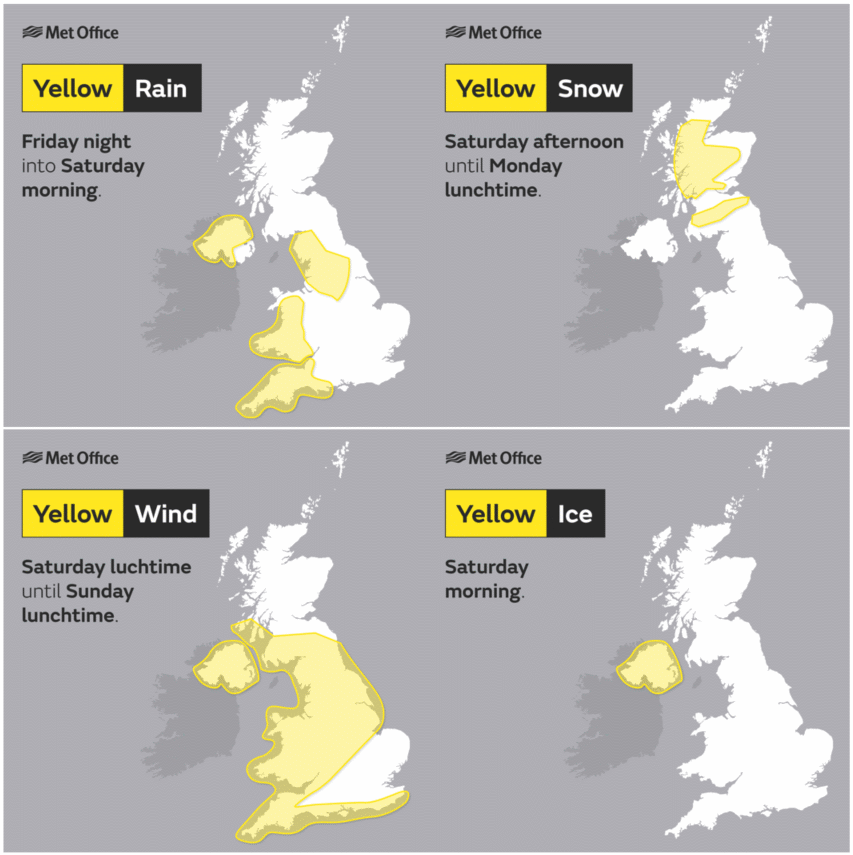 With rain falling on already saturated ground, further flooding is possible places.  You can check your flood risk and stay up to date with flood warnings in your area with Natural Resources Wales, SEPA, NI Direct and the Environment Agency."
Why is this storm not called Ellen?
The Spanish meteorological service - part of the south-west Europe storm-naming group - named Storm Jorge on Thursday (27th).  It is convention for all other national meteorological services to then use that name when referring to the area of low pressure. As such, the system has not been named Ellen but will align with our European partners and be referred to as 'Jorge': pronounced 'Hor-hay'. The fact that the system may have a different name than some expected should not influence their response. The weather over the weekend could have impacts due to the strong winds and those in the warning areas should take the advice of local emergency services seriously.
Met Office Deputy Chief Meteorologist, Dan Harris, said: "As Storm Jorge begins to weaken and slowly clear over the weekend we'll see a trend back to slightly colder conditions, with some potentially disruptive snow over hills and mountains of Scotland and less severe wintry conditions over other hills in the north of the UK. A mixture of rain and hail showers looks likely elsewhere.  Away from much of Scotland it'll remain blustery on Sunday, although not quite as windy as Saturday.
"The weather looks likely to remain rather cold and showery into next week and there's a chance of further wet and windy weather around the middle of the week, although confidence in details is very low at this stage."
Stay up to date
You can check the latest weather warnings on our severe weather warnings pages and you can get the most accurate and up to date forecast for your area using our forecast pages and by following us on Twitter and Facebook, as well as using our mobile app which is available for iPhone from the App store and for Android from the Google Play store.
Updated at 09:44 (UTC) on Fri 28 Feb 2020