UK Storm Centre
Find out the latest information about storms in the UK as we name them as part of our Name our Storms project.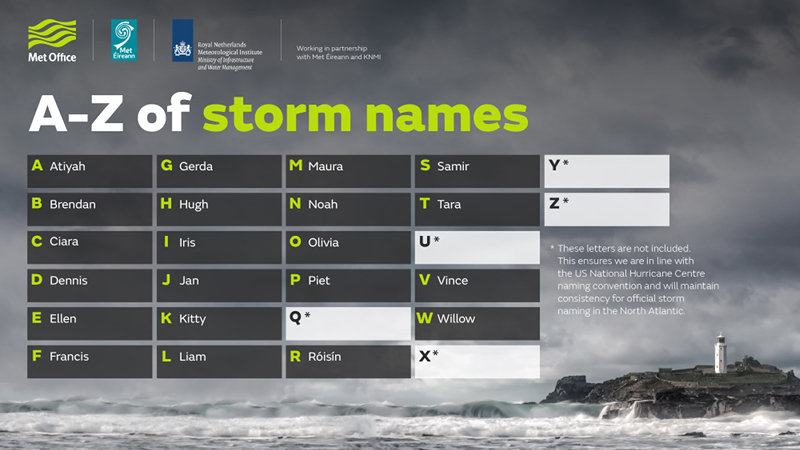 Throughout the year these pages will provide the latest updates and information as we name storms which we forecast will have an impact upon the UK.
A-Z of UK storm names 2019/20

| Name | Date named | Date of impact on UK and/or Ireland |
| --- | --- | --- |
| Atiyah | 06 December 2019 | 08 - 09 December 2019 |
| Brendan | 11 January 2020 | 13 - 14  January 2020 |
| Ciara | 05 February 2020 | 08 - 09 February 2020 |
| Dennis | 11 February 2020 | 15 - 16 February 2020 |
| Jorge | 27 February 2020 (Named by AEMet) | 28 February - 01 March 2020 |
| Ellen |   |   |
| Francis |   |   |
| Gerda |   |   |
| Hugh |   |   |
| Iris |   |   |
| Jan |   |   |
| Kitty |   |   |
| Liam |   |   |
| Maura |   |   |
| Noah |   |   |
| Olivia |   |   |
| Piet |   |   |
| Róisín |   |   |
| Samir |   |   |
| Tara |   |   |
| Vince |   |   |
| Willow |   |   |
Frequently Asked Questions
Why are we naming storms?
The naming of storms using a single authoritative system should aid the communication of approaching severe weather through media partners and other government agencies. In this way the public will be better placed to keep themselves, their property and businesses safe.
Can I suggest a storm name?
Earlier this year the Met Office and Met Éireann asked people to send in their ideas for future storm names, receiving thousands of suggestions.
A new list of names will be compiled jointly between Met Éireann, the Met Office and KNMI (The Dutch national weather forecasting service).
The Met Office component will make use of suggestions submitted via social media and email, although everyone is welcome to suggest names for future consideration - email to nameourstorms@metoffice.gov.uk
When is a storm named?
The criteria we use for naming storms is based on our National Severe Weather Warnings service. This is based on a combination of both the impact the weather may have, and the likelihood of those impacts occurring. 
A storm will be named when it has the potential to cause an amber or red warning.
Other weather types will also be considered, specifically rain if its impact could lead to flooding as advised by the Environment Agency, SEPA and Natural Resources Wales flood warnings. Therefore 'storms systems' could be named on the basis of impacts from the wind but also include the impacts of rain and snow.
How is a storm named?
When the criteria for naming a storm are met, either the Met Office, Met Éireann or KNMI can name a storm.
We then let the public, our partners in government and the responder community and the media know through various routes including publishing details on our website and social media channels.
You can also follow the Met Office on Facebook or Twitter for the latest updates.
Why are there no storms for Q, U, X, Y and Z?
To ensure we are in line with the US National Hurricane Centre naming conventions, we are not going to include names which begin with the letters Q, U, X, Y and Z. This will maintain consistency for official storm naming in the North Atlantic.
How are storm names chosen?
Earlier this year the Met Office and Met Éireann asked people to send in their ideas for future storm names. 
We received thousands of suggestions and this years list has been compiled from these public suggestions, choosing some of the more popular names and names that reflect the diversity of Britain, Ireland and the Netherlands.
UK and US Storm names?
To avoid any confusion over naming, if a storm is the remnants of a tropical storm or hurricane that has moved across the Atlantic, the well-established method of referring to it as, e.g. 'Ex-hurricane X' will continue.
We will only use names that have been officially designated by the National Weather Service in the US.
Are we having more storms?
Stormy weather is not unusual in the winter and we only need to go back to the winter of 2013-14 to see a similarly stormy winter. Overall, the period from mid-December 2013 to mid-February 2014 saw at least 12 major winter storms, and, when considered overall, this was the stormiest period of weather the UK has experienced for at least 20 years.
We have seen comparable or more severe storms in recent years, including 3 January 2012 and 8 December 2011, each of which caused widespread impacts.