Our journey to Net Zero; carbon neutral by 2030
As a leading contributor to United Nations climate research the Met Office knows first-hand how greenhouse gas emissions are impacting our climate.
We have therefore set out on our journey to Net Zero and charted a pathway to neutralise the harmful greenhouse gases from our operational activities and supply chain. We aim to substantially reduce these, eliminating them where possible over the next decade, and offset residual emissions that are not currently possible to remove in their entirety.    
Our emissions are measured in tonnes of carbon dioxide (CO2), the most common greenhouse gas, or an equivalent (CO2e) amount of other greenhouse gases such as methane, nitrous oxide or hydrofluorocarbons. Our total CO2e emissions are often referred to as our carbon footprint. 
Contents
Our starting point 
To understand our carbon emissions an initial baseline assessment was conducted of the Met Office CO2e emissions for the 2019/20 financial year. Three years later, we have completed a thorough re-assessment of our baseline, incorporating all we have learned since we embarked on our journey. This includes a comprehensive view of the emissions from all the equipment and services we need to deliver our essential customer services. This allows us to identify key areas to tackle and those where we can make the biggest improvements. 
Our baseline assessment divides emissions into four broad components: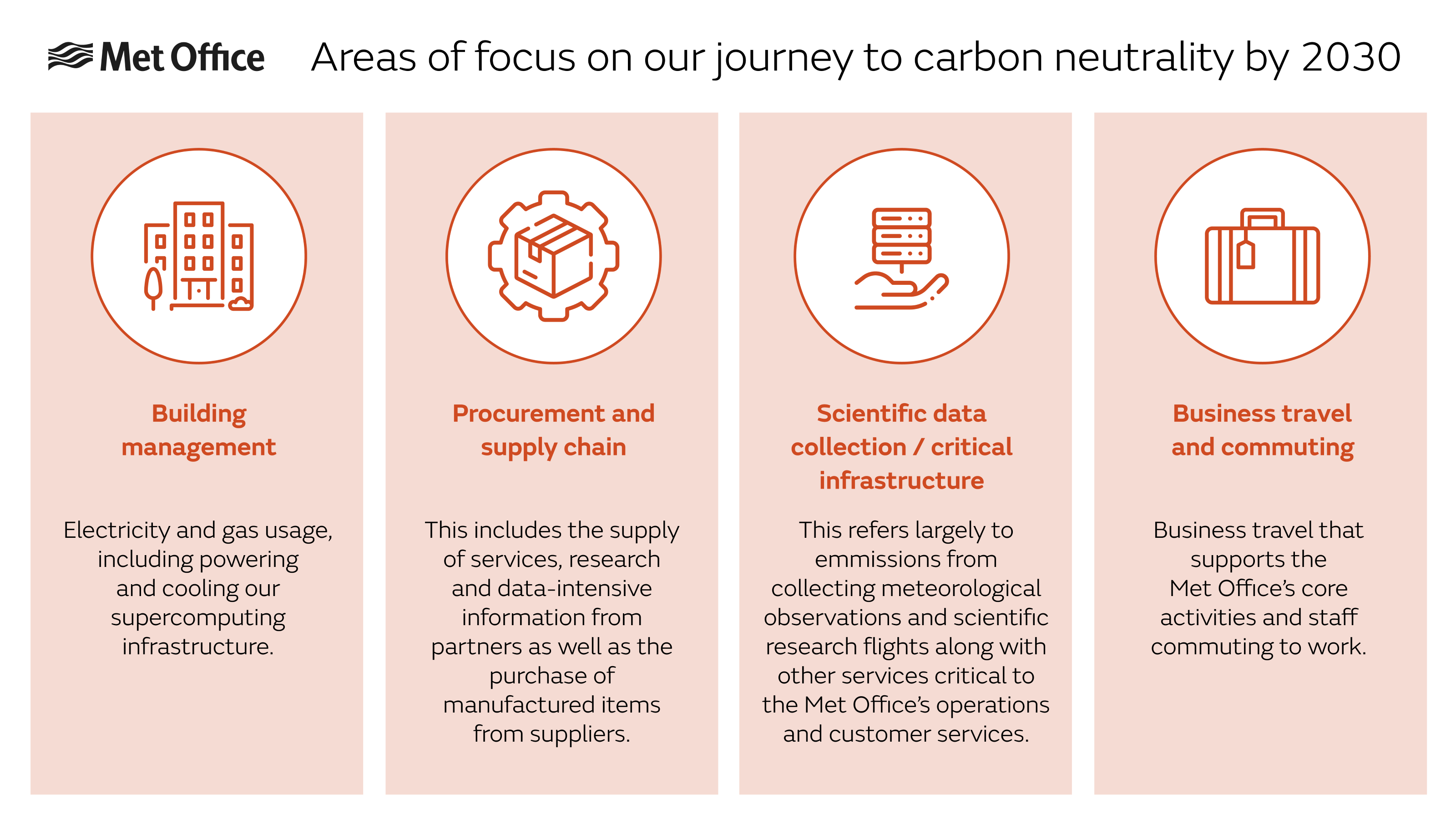 Existing successes 
We have already made significant achievements on our journey towards Net Zero. 
In 2020, the electricity supply to our main operational locations was switched to zero carbon electricity. As this included our current supercomputing capability located in Exeter, this has already saved over 15,000 tonnes CO2e emissions a year.  

We have taken a number of other measures to improve our building management efficiencies. This includes the installation of solar panels, the use of borehole water, recycling IT and improvements in waste management.   
We have set (and so far, exceeded) targets aiming to reduce business travel emissions by 40% by 2030. We have reduced our commuting emissions and will formulate plans to reduce them much further by 2030. 

We have used certified offsets for our remaining business travel emissions and continue to research whether we can help develop UK nature-based offsetting going forward. 

We have engaged with our major suppliers, from those providing satellite data to those supporting our world leading computing facilities, to understand their emissions and start working with them on their own net zero journeys. 

We have worked together with the international meteorological community to ensure all our future weather and climate services are provided in as sustainable way as possible.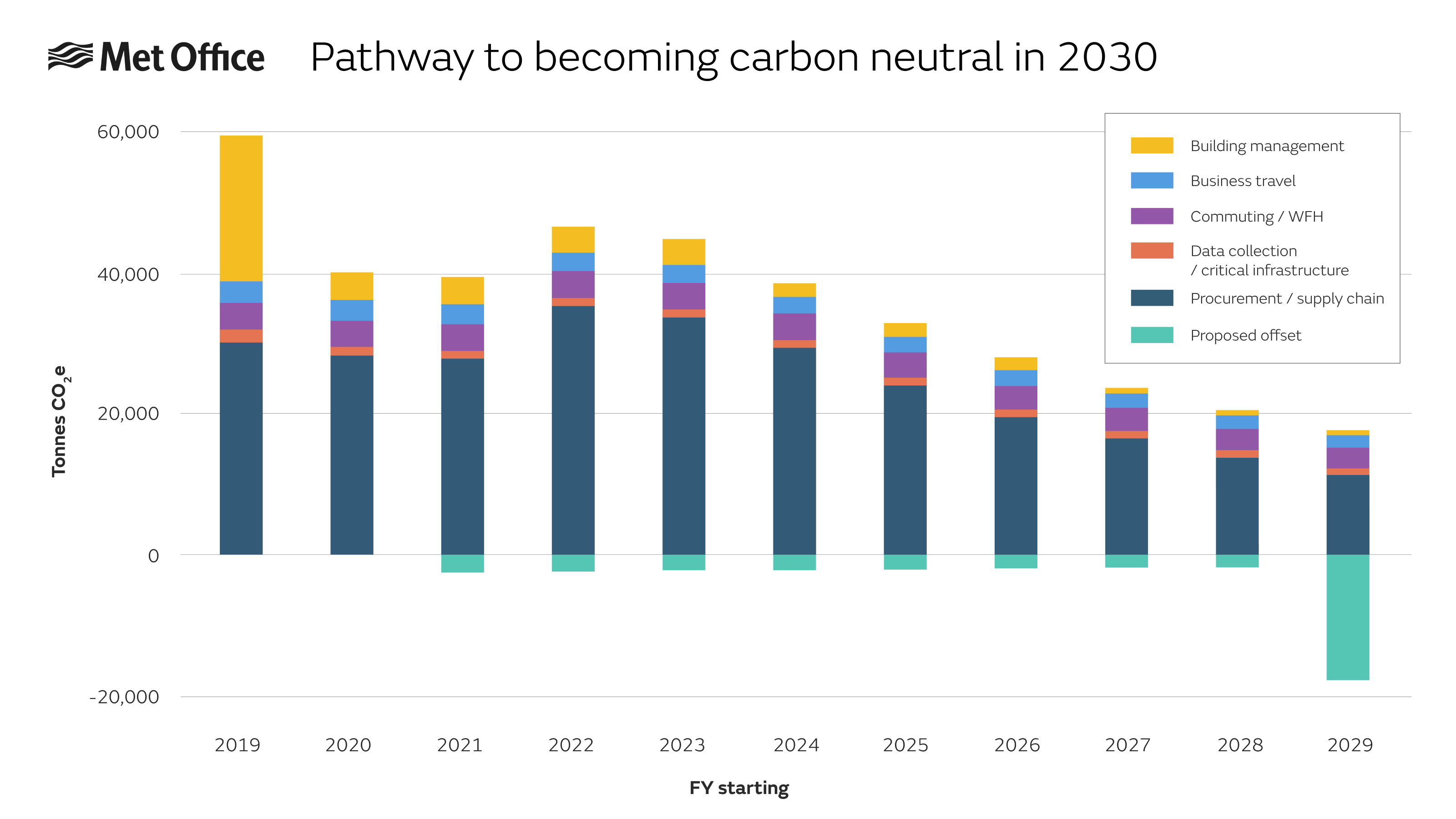 Our updated pathway shown on the graph above outlines our ambition to reduce the Met Office's baseline annual emissions, which were c. 59,000 tonnes of CO2e in FY2019/20. Achieving our projections would leave residual emissions of c. 17,500 tonnes CO2e by 2030, which could be reduced further or neutralised by offsetting. 
Support for other organisations 
Our substantial increase in supercomputing capability will lead to improvements in weather forecasts and climate change predictions. As the national deadline to reach Net Zero by 2050 looms, the new supercomputing capability will play a central role in understanding how carbon budgets and mitigation scenarios will avoid the most dangerous impacts of global climate change.  
The Met Office is already working with leading businesses and organisations to increase energy efficiency and improve resilience with the long-term goal of reducing carbon emissions. Detailed forecasts are being used to optimise energy usage, improve efficiency of renewable energy sources and even reduce the carbon footprint of air travel, thanks to detailed wind forecasting helping to plan flight paths. 
Next steps 
To maintain our focus on becoming carbon neutral by 2030, we will work closely with our staff, partners, customers, supply chain and stakeholders in government and the wider meteorological community. Together we can make further real changes and adapt the way we work while still providing safety critical meteorological services and world-renowned climate science. Having prioritised organisation effort, from October 2019 to March 2023, to develop a science-based approach to reducing our CO2e emissions, we will now embed our Net Zero approach into everything we do as a business.   
We have already learned from those around us and the Met Office journey to zero net emissions by 2030 will continue to be re-evaluated and adapted over the course of the 2020s as more technologies become available. We will continue to develop detailed action plans to put in place for each step of our journey.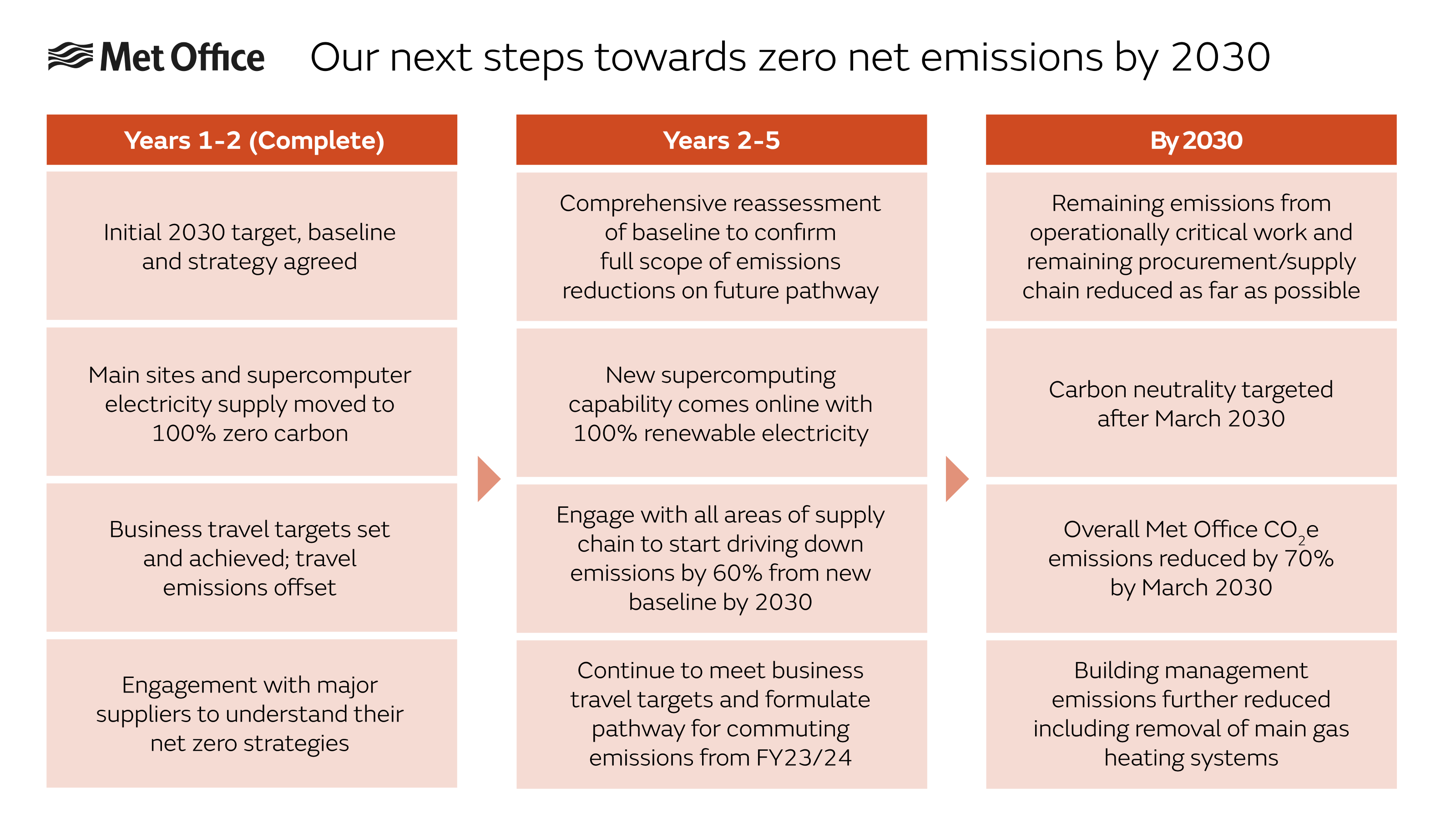 Met Office journey to zero net emissions by 2030 report
This report outlines the full details of our Net Zero journey, as of June 2023.