Cool, wet May brings a Spring of marked contrasts
Author: Press Office
13:25 (UTC+1) on Fri 28 May 2021
A cool and wet May has brought a Spring of marked contrast, according to provisional figures from the Met Office.
UPDATE: This article has now been updated to reflect the full provisional figures for May and Spring. 
As summer starts with warm spells for many and a risk of thunderstorms, May was a month dominated by low pressure, bringing heavy downpours or prolonged spells of rain for much of the UK. Wales has seen its wettest May since records began in 1862, with 214.2mm of rainfall, well over twice the long-term average, topping the previous record of 184mm set in 1967.  
It has been a similar story in May for much of the UK, with all countries seeing rainfall well above the long-term averages for the month. The wettest locations, receiving more than twice the average rainfall, were southwest and northeast England, as well as Wales and parts of eastern Scotland. The UK has seen its second highest amount of rainfall on record for the month, with an average of 131.7mm falling. England had its second wettest May on record, and its wettest since 1967, with 121.4mm of rain. Devon also had its wettest May on record with an average of 199.3mm of rainfall topping the 169.8mm record set in May 1942.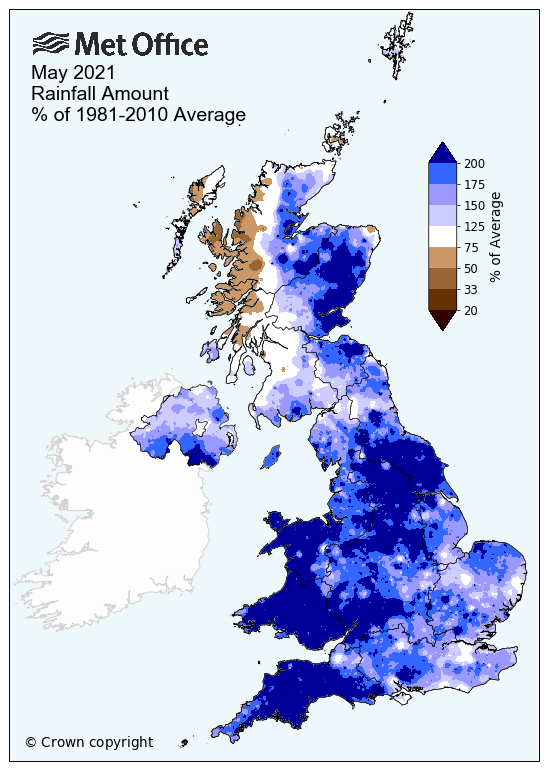 The often dull and wet conditions resulted in subdued temperatures across the board, thanks largely to the southern-shifted jet stream inviting prolonged periods of low pressure throughout the month. Wales, Scotland and the UK had been seeing May's average maximum temperatures among their lowest ever recorded until the last week of the month, but the warm bank holiday weekend shifted May's average figures away from historically low figures, although the month remained below average.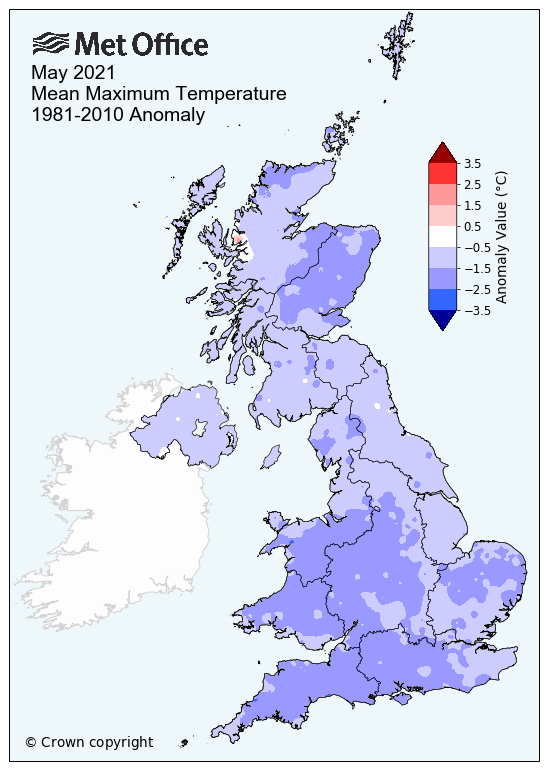 Mike Kendon of the National Climate Information Centre said: "May 2021 has been a cool and wet month for most. Heavy showers, which normally characterize April, more than made up for their earlier absence during May. The start of the month continued how April concluded, with cold conditions in charge but then this unsettled theme dominated for most of the month.  
"As well as the rain, the cooler than average temperatures have been notable, with maximum temperatures having been particularly suppressed, often struggling to reach the high teens Celsius. The average maximum temperatures reported in the month for the UK is around 1.5°C lower than the long-term average and both minimum and mean temperatures are also well below where we would expect them to be. There have also been some unusually late frosts." 
Provisional May 2021 statistics
Mean temp
Rainfall
Sunshine
Area
Actual

°C

Anomaly
Actual mm
% Anomaly
Actual Hours

%

Anomaly

UK
9.1
-1.3
121.4
 
160.4
86
England
9.9
-1.3
114
 
165.8
87
Wales
9.2
-1.4
214.2
 
167.5
89
Scotland
7.6
-1.2
111.4
 
143.2
80
Northern Ireland
9.3
-1.0
108.6
 
192.8
105
Spring 
Spring 2021 (March, April and May) will be remembered for a real mix of weather conditions. March was slightly warmer than the long-term average, but April and May's below normal temperatures have dragged the season's mean temperature 0.7°C degree lower than would normally be expected, at 7.1°C. The cool temperatures seen in the season are particularly notable in the context of the long-term trend towards a warming climate.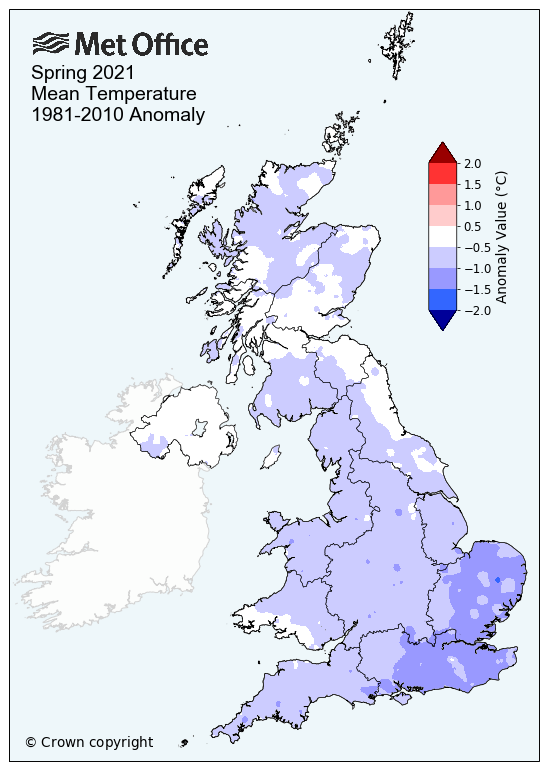 April was dominated by high pressure and was, unusually, a cooler month than March. Despite this, it was the sunniest April on record in a series from 1919 with 225.1 hours of sunshine, marginally topping 2020's figure of 224.5 hours. However, this has been largely offset by the dull, cloudy conditions during most of May, with overall Spring sunshine 12% more than average for the UK, with 487 sunshine hours. 
The starkest contrast in the season was between April and May's rainfall statistics. April saw just 28% (20.1mm) of the average rainfall for the UK, putting it as the fourth driest on record, while May's downpours, as previously stated, has seen the month be the fourth wettest May ever recorded for the UK.  
As often happens in the UK, the variability in monthly rainfall statistics have largely balanced out for the season overall, to bring the UK close to the average, with 94% (224mm) of expected rainfall, England 95% (172mm), Wales 111% (324mm), Scotland 91% (285mm) and Northern Ireland 89% (215mm).  
This Spring also shows a markedly different character to Spring 2020, when warm temperatures and long spells of sunshine saw the UK record its sunniest Spring ever, with only three summers topping it overall (1976, 1989 and 1995).  
Mike Kendon added: "Spring has seen some real swings in weather conditions, particularly with rainfall between April and May.  
"In addition, despite a March with temperatures slightly above average, April and May's cold conditions have seen the whole season look cool, which is very different to Spring 2020 when sunshine records were broken in what was the eighth warmest Spring on record. Last May, 2020, was the UK's sunniest calendar month on record. 
"It's also important to note the unusually stormy conditions seen at times, with intense low pressure on 20 May giving strong winds, especially in exposed coastal areas of Wales and southwest England. Spring 2021 has once again emphasised the huge inherent variability in the UK's climate." 
Provisional Spring 2021 statistics
Mean temp
Rainfall
Sunshine
Area
Actual

°C

Anomaly
Actual mm
% Anomaly
Actual Hours

%

Anomaly

UK
7.1
-0.7
223.9
94
487.3
112
England
7.7
-0.8
172.3
95
506.1
112
Wales
7.3
-0.7
323.7
111
504.8
114
Scotland
5.8
-0.5
285.2
91
450.9
111
Northern Ireland
7.5
-0.4
215.2
89
483.8
113
Updated at 13:21 (UTC+1) on Tue 1 Jun 2021