Using UKCP data
Find out how to use climate projections for future planning or communications. This page is for people who are new to climate projections or have not used them for some time.
The UK Climate Projections contain a range of climate information. You can use this information to understand future changes to the climate in the UK through the 21st century. 
The climate information is available in many formats. You can access information in the following ways:
Together with observations, climate projections can be used to help plan for the future and support communications.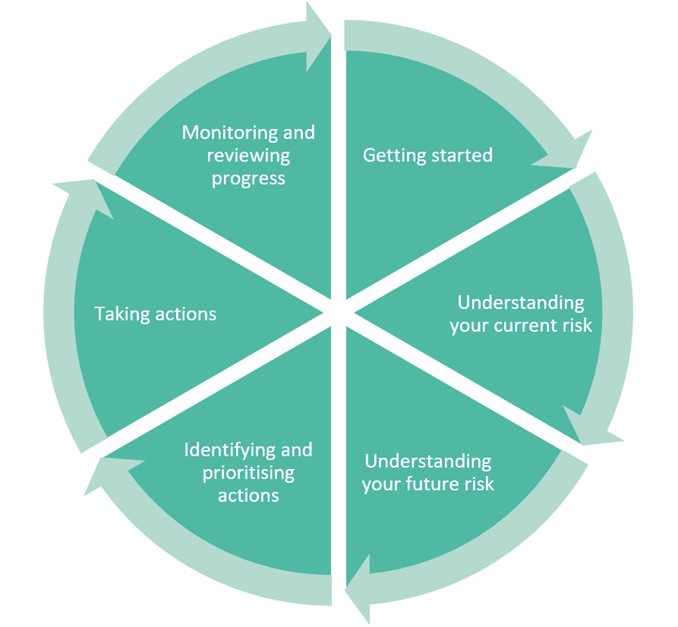 The adaptation cycle, based on the UKCIP Adaptation Wizard and Adaptation Scotland Cycle. 
When planning for the future, you may wish to do a climate change risk assessment. Any assessment needs to consider the hazard, exposure, vulnerability and how these factors interact with each other.
To begin a climate change risk assessment, first follow the process outlined in the adaptation cycle.
Understanding your current risk
This stage focuses on identifying the current vulnerabilities of your organisation to climate and climate change.
Start by looking back in time and assessing how past climatic events have affected your organisation's operations. Don't just consider direct impacts — think about indirect impacts, such as disruption to supply chains.
To support this assessment, data and information is available in the State of the UK Climate report and underlying observed datasets (HadUK-Grid).  
If you are seeking guidance on assessing your current exposure to climate hazards, you can find guidance online, such as UKCIP's Local Climate Impacts Profile.
Understanding your future risk
This stage focuses on developing an understanding of how changes in future climate could impact your organisation.
Before beginning this phase, it is important to determine the timescale that impacts your business. You should also consider if you can collaborate with partner organisations who have produced their own assessment of the risks.
Conduct a high-level assessment of climate risk
Start with a high-level assessment of your climate risk.
To support this, UKCP provides Headline Findings about future climate over the UK. If you want a more regional focus, UKCP18 key results are available by country, administrative and river basin regions. 
If you're more interested in climate projections over land, use this schematic diagram to understand which datasets you should use.
You can also find summary information on climate impacts in Living With Environmental Change's (LWEC) report cards, Marine Climate Change Impacts Partnership's report cards, and the UK Climate Change Risk Assessment. 
You can find guidance on how to approach high-level risk assessments online. Examples include ISO's forthcoming new standard on adaptation to climate change.
Obtain detailed information on the future climate
The UKCP18 Science Overview provides an introduction to the detailed information available on the future climate of the UK. The overview is accompanied by guidance that will help you use the UKCP18 products.
The overview is underpinned by three scientific reports for land projections, marine projections and derived projections.
You can find out more about climate change in your local area in this climate change visualisation tool. This tool is a collaboration with the BBC. It combines our climate projections and records to visualise climate change in the UK.
All of this information can provide the detailed information on climate hazard that you need for your assessment. You can use this to inform your impacts and risk analysis of your assets. 
Conduct detailed, quantitative climate impacts or risk assessment
In many circumstances, you will need an applied product to get quantitative information on climate impacts. 
Careful scoping of a risk assessment is crucial to make it an effective decision-making tool. You should assess your information needs and check whether the right level of information already exists.
If you are already setup to use quantitative climate information, use the UKCP User Interface to download data and custom maps and graphs. Before doing so, though, make sure you read the caveats, limitations and accompanying guidance.
You can see how other organisations and businesses have used UKCP18 data in the UKCP18 demonstration projects.
Identifying and prioritising actions
Once you have identified the risks that changes in climate pose to your organisation, it is crucial to develop actions that will reduce the impacts of these risks.
If you are seeking further information on adaptation to climate change, there are a number of organisations that can provide information, guidance and support:
You can also find further support through these organisations:
Monitoring and reviewing progress
The adaptation cycle is an ongoing process. An improved understanding of climate risks, changes to local infrastructure and your own organisation's development will influence the level of risk you face. 
It is critical to make sure that you return to this cycle regularly, so you can recognise risks and adapt in the future. 
This page was developed in collaboration with Adaptation Scotland and the Environment Agency.