UK extreme events - Cold
Determining the likelihood and severity of extreme events for the past, present and future.

Cold events
Are we experiencing less cold events?
The latest State of the UK Climate report shows that in the most recent decade (2008–2017) there have been 5% fewer days of air frost (when daily minimum temperature falls below 0°C) and 9% fewer days of ground frost compared to the 1981–2010 average, and 15%/14% fewer respectively compared to 1961–1990.
The number of icing days (when the daily maximum temperature falls below 0°C) has been decreasing since the 1960s. During the most recent decade (2008-2017) a significant area of the UK has had less than 1 icing day per year on average, compared to the long-term average of about 5.
Are these changes due to human influence on the climate?
Intuitively, a warmer climate will lead to less cold events on average. December 2010 was the coldest December in over 100 years with mean temperatures some 5 °C below the 1971-2000 average, leading to widespread travel disruption and increased hospital admissions. A study showed that the chance of experiencing such a cold December is about half of what it was in the 1960s*.
Spring 2013 was the coldest spring for the UK since 1962 and the fifth coldest in a series since 1910. The unseasonably late snowfall disrupted the farming community and caused flooding across south Devon and Cornwall. A Met Office study showed that human-induced climate change has reduced the odds of such a cold spring by at least 30 times**.
How are UK cold spells going to change in the future?
UKCP18 showed that the UK will experience warmer, wetter winters and hotter drier summers on average. Colder than average winters and summers will still occur but will become less likely the further we go into the 21st century.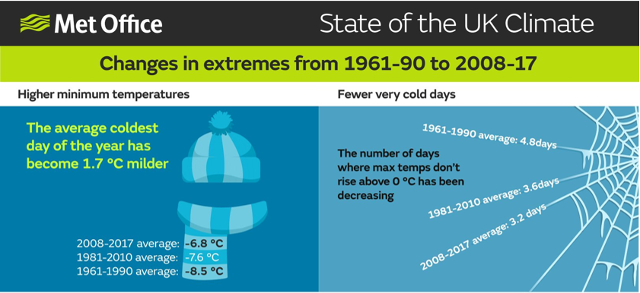 References:
* Massey et al. 2012. Have the odds of warm November temperatures and of cold December temperatures in central England changed? Bulletin of the American Meteorological Society, Explaining Extreme Events of 2011 from a climate perspective.
** Christidis et al. 2014. The effect of anthropogenic climate change on the cold spring of 2013 in the United Kingdom. Bulletin of the American Meteorological Society, Explaining Extreme events of 2013 from a climate perspective. S79-S82.
Related pages
Weather extremes and climate change
Global extreme events - Heatwaves
Global extreme events - Heavy rainfall
Global extreme events - Drought
Global extreme events - Tropical storms
UK extreme events - Heavy rainfall and floods