UK extreme events - Wind storms
Determining the likelihood and severity of extreme events for the past, present and future.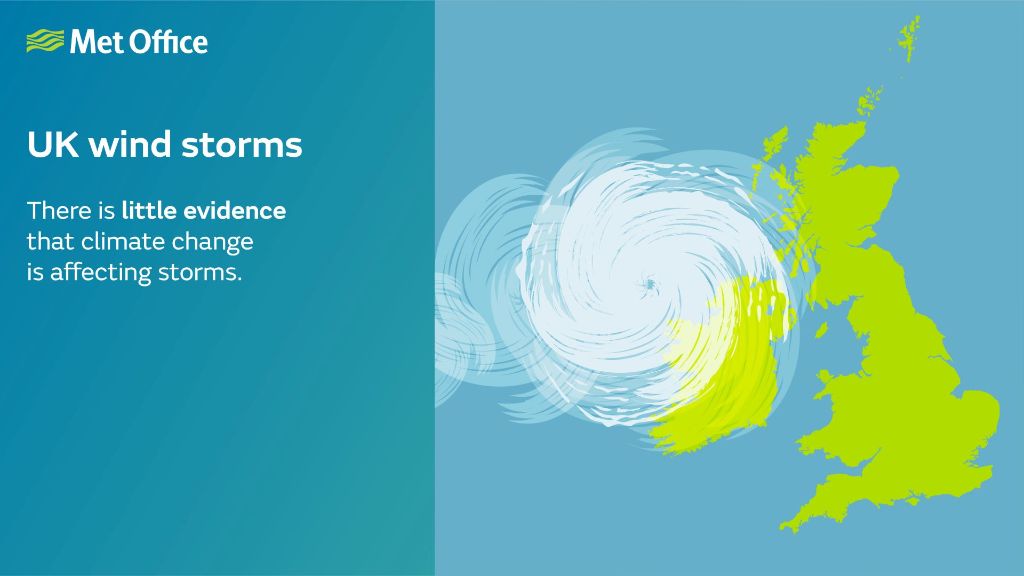 Reference - State of the UK Climate report
Extreme weather events such as heatwaves and floods impact all levels of society and can lead to large economic costs, population displacement and loss of life. This page outlines the latest research on whether we're experiencing more wind storms in the UK, whether they're due to climate change and what we can expect in the future.
Wind storms
Have wind storms become more common in the UK?
The latest UK State of the Climate Report states that there are no compelling trends in storminess when considering maximum gust speeds over the last four decades.
Is human-induced climate change affecting the number or intensity of wind storms in the UK?
Due to the lack of any observed trends, there haven't been any studies so far which provide a link between changes in UK storminess and climate change. For example, the all-time record number of storms over the British Isles in winter 2013/14 couldn't be linked to human-induced warming*.
Is the frequency or intensity of wind storms expected to change in future?
UKCP18 found an increase in near surface wind speeds over the UK for the 2nd half of the 21st century for the winter season when more significant impacts of wind are experienced. However, the increase in wind speeds is modest compared to natural variability from month to month and season to season.
The naturally occurring North Atlantic Oscillation (NAO) is one of the most important influencers of winter climate in northern Europe, including the UK. IPCC AR5 WG1 stated that the NAO is likely to become slightly more positive on average which would favour milder, wetter and windier winters in the UK. However, the influence of climate change on the NAO is expected to be much smaller than the natural variability it exhibits from month to month and season to season.
Reference:
* Wild et al. 2015. Was the Extreme Storm Season in Winter 2013/14 Over the North Atlantic and the United Kingdom Triggered by Changes in the West Pacific Warm Pool? Bulletin of the American Meteorological Society, 96(12), S29-34
Related Pages
Weather extremes and climate change
Global extreme events - Heatwaves
Global extreme events - Heavy rainfall
Global extreme events - Drought
Global extreme events - Tropical storms
UK extreme events - Heavy rainfall and floods