Flood warnings guide
The Environment Agency (EA), Natural Resources Wales (NRW) and Scottish Environment Protection Agency (SEPA) constantly monitor rainfall, river levels and sea conditions to forecast the possibility of flooding.
 If flooding is forecast, three types of warning are issued: flood alerts, flood warnings and severe flood warnings.
The information on the flood warnings page is updated every 15 minutes. Remember to refresh your browser to ensure that you are viewing the latest warnings.
Warning services for areas at risk of flooding from rivers or the sea are provided by the Environment Agency (EA) for England, Natural Resources Wales (NRW) for Wales and the Scottish Environment Protection Agency (SEPA). In Northern Ireland the Met Office works closely with partners to raise awareness of weather events which may result in flooding impacts on people and property.
Flood Warning Widget

The homepage Flood warning widget shows the warnings and alerts in force for your chosen location. You can change your location via the "Find a forecast" box in the top left corner of the homepage.
To view the detailed warnings click through the warnings and alerts triangles or the link below.
Summary Tab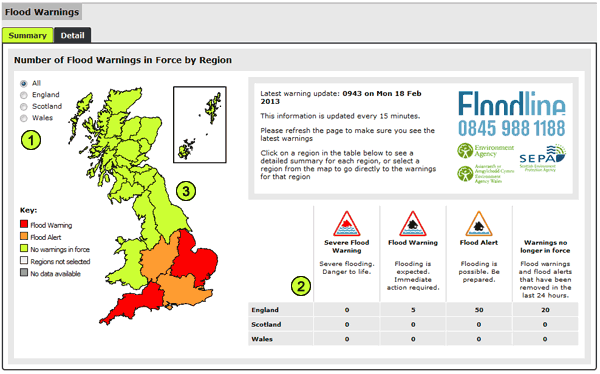 You can view flood warnings for:
England
Scotland
Wales
All areas combined
1. Click on the radio buttons above the map to select your region.
If you have all areas selected on the map, the table to the right will show the number of warnings in force for each area.

2. The different columns in the table show the types of flood warnings in place:
Severe Flood Warnings
Flood Warnings
Flood Alerts
Warnings no longer in force
Click on the relevant row in the table to view a summary of warnings in force for that country.
Then click on your region to view the detail of the warnings in force.
3. Alternatively, you can select a region on the map to view the warnings in force for that area.
Detail Tab
The detailed view shows a list of each of the Flood Warnings and Alerts in force for your selected region as well as the Warnings no longer in force for the area.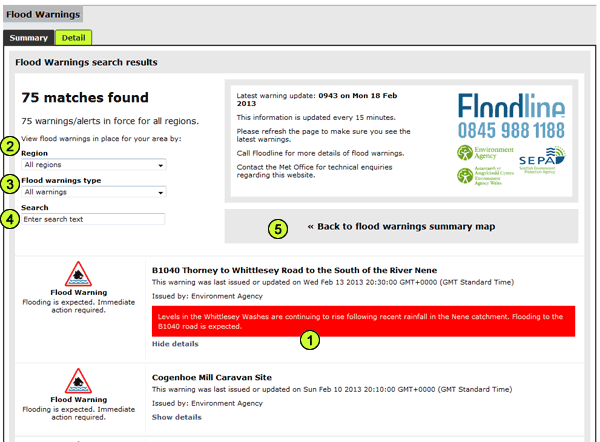 1. To view more detailed information for each Warning or Alert in force click on the "show details" link.
2. To select a different region or country, use the "Region" drop down list at the top of the page.
3. You can also view the information by warning type by using the "Flood warnings type" drop down list.
4. Finally you can search within the warnings text by using the "Search" box.
5. To return to the warnings and alerts summary, click on the "Summary" tab or click on the "Back to the flood warnings summary" link under the Floodline contact information.