My Summer - Fire Control Room Manager, Dave Smith
Dave Smith is Fire Control Room Manager for Bedfordshire Fire and Rescue Service.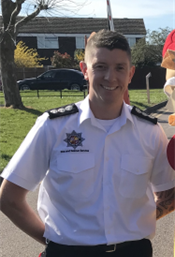 I lead a team that answers 999 calls and mobilising to emergency incidents 24 hours a day, 365 days a year. 
Summer's impact
Summer often sees demand for our service surge especially during prolonged dry spells which leave grass and woodlands particularly dry and susceptible to fires. Conversely, some of the most severe flash floods I've worked through have actually occurred during the summer and after particularly hot spells.
On a personal note, Summer is a lovely time for us as a family with our two young children enjoying days out (well, not during 2020 anyway!). In the Control room good air-conditioning and plenty of cold drinks keep the team working at their best.
Challenges of summer weather
The summer presents us with its own challenges. With large areas of woodlands and open spaces in Bedfordshire these can be prone to fires in the open. At the end of May, across the UK we've seen significant forest fires, not to mention the serious heathland fires many areas have experienced over the last few years. One thing that causes us repeated concern is the amount of bonfires we are called to that have got out of control and caused serious damage to property and a very real risk to people's safety.
As described above, prolonged dry spells and conversely periods of significant rainfall during the summer, have a significant impact on my work. As well as these summer conditions, the storms from earlier in 2020 also presented us with a spike in calls to structural damage to properties and many fallen trees on roads and properties.
Staying ahead
The Control team uses the Met Office on a daily basis to check the forecast and is alerted to any weather warnings which we can use to prepare early.
We use the Met Office Hazard Manager tool to help us prepare. The Control team will make sure all of our Fire Stations and Officers are alert to conditions that may impact us and ensure we are always ready to respond. Equally we use our dedicated Twitter channel @Beds_FireCtrl to help communicate key messages to our public audience and share advice on how to prepare for expected inclement conditions.