My Summer - Environment Officer, Lucy
Environment Officer Lucy talks about her job testing the water quality of UK bathing spots and how summer weather can impact her role.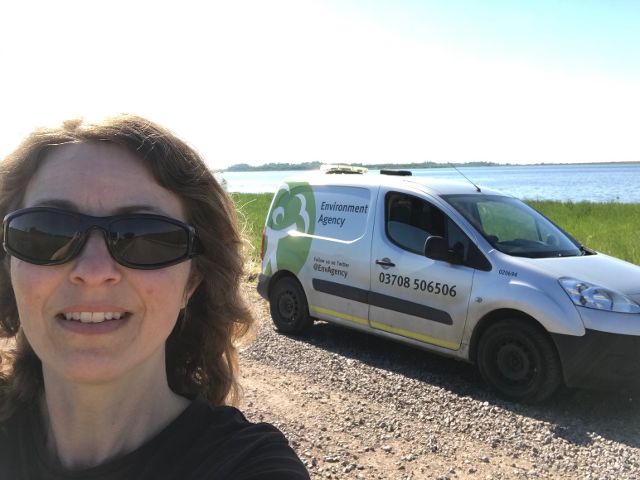 My name is Lucy and I'm an environment officer for the Environment Agency.
There's not many who can boast a daily trip to the seaside as part of their job, but during the summer months my job consists of sampling the water along England's longest coastline – Essex.
The county of Essex has a coastline spanning more than 350 miles and has 9 bathing waters dotted along this length, but while it may be the second longest coastline in England, topped by the county of Cornwall, the number of bathing waters is just a fraction of the 400+ bathing waters in England. 
With there being so many bathing waters in England and each being sampled several times, we have to have our programme of water sampling prepared ahead of the start of bathing water season in May. So it's not a fair weather job – I'm out taking samples come rain or shine, and quite often armed with my woolly hat even in summer!
Daily summer routine
My daily summer routine starts with checking the Met Office forecast on my phone before turning the fridge on in my van and placing freezer blocks in it so that the fridge is good and cold to keep the bathing water samples in the best possible condition.
With the ever-increasing popularity of wild swimming and recreational activities on the water, we know that people like to get out there and enjoy coastal and inland waters, even when the sun doesn't make an appearance. The fact that I'm out there in a range of weather conditions means the samples I collect provide a realistic view of the water conditions people experience on a day to day basis.
But, if a warm, sunny day is forecast, I have to be prepared. Waders and other items of personal protective equipment (PPE) are standard kit for bathing water sampling. Wearing these can make the job far more tiring in the heat. So plenty of water, sun cream and sunglasses are a must, as is insect repellent – horseflies can be a real nuisance at this time of year.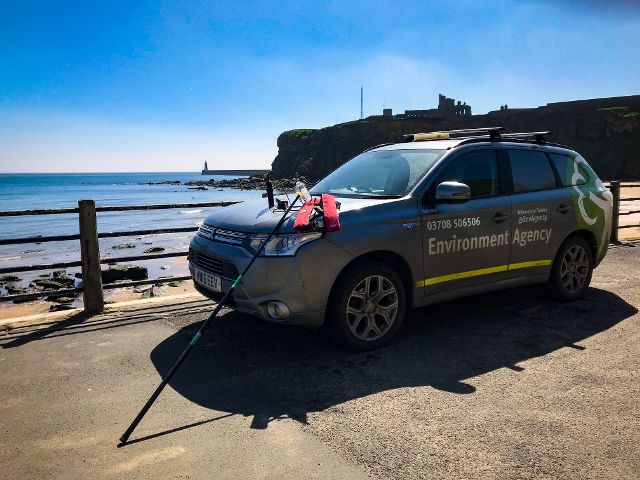 Relying on Met Office forecasts
I rely heavily on Met Office forecasts for my job, not just to prepare for the sunny days, but also when the weather takes a turn for the worse. If it's stormy and a little too choppy I have to make a call as to whether it's safe to take the sample. Samples aren't taken from the water's edge, but at about a metre's depth. We also need to be really conscious of tide times for summer bathing water sampling. Some bathing waters can be difficult or dangerous to access at certain states of the tide, so if the weather's not so great, it can be even more dangerous to try and collect a sample.   
When taking the sample, I have to go about knee height into the sea and then fill the sample bottle by throwing it out on a secure line and letting it fill as it sinks. I then put the sample bottle in a fridge in my van where it remains until I get back to the depot and it is collected by the courier and taken for analysis at our laboratory in Devon.
Seaside forensics take over when the samples reach our lab. Our scientists in the Microbiology and Molecular team test for two types of bacteria that can indicate pollution in the water; E. coli and intestinal enterococci. The lab receives between 100-200 bottles of bathing water samples every day and uses specialist techniques to make the bacteria show up in bathing water samples. Once the results are in, they wing their way over to another team whose job it is to upload them onto our Swimfo website so the public can get regular updates on water quality throughout the bathing season.
Bathing water quality is sensitive to sources of pollution washed into the water during wet weather which can cause a temporary dip in water quality.  At some bathing waters it's possible to forecast when a reduction in quality might happen. We use rainfall, tide, wind and sunlight data we get from the Met Office to produce pollution risk forecasts between May and the end of September at over 170 bathing waters. We issue warnings on Swimfo and temporary signs are put up at beaches advising against swimming when a reduction is expected.
I'm very lucky that my job is so varied and changes with the seasons. But just as summer brings the challenges associated with the heat, winter brings extra challenges due to the cold. All year round I am out and about in my van collecting samples, so extra layers are essential, particularly a pair of thick gloves, as bitterly cold fingers are another hazard of the job!